Ten insane things said at the Conor McGregor-Nate Diaz press conference
Conor McGregor has a new opponent for UFC 196 in Nate Diaz. The two have no problem with throwing verbal jabs, including some stuff that will dig deep.
When the UFC announced on Tuesday that Nate Diaz would replace Rafael dos Anjos and face Conor McGregor at UFC 196, we knew one thing was for certain: These two guys can talk. McGregor verbally obliterated dos Anjos at the first press conference for this event and Wednesday's proceedings with Diaz certainly did not disappoint.
Diaz is known for his brashness, and it showed during the press conference, which was held at the UFC Gym in Torrance, California. 
Here are the 10 best quotes from the verbal sparring between McGregor and Diaz; the two will clash March 5. 
1. McGregor on Nate Diaz brother, Nick: "He makes gang signs with his right hand and animal balloons with his left hand."
2. Diaz: "F--- you, and f--- your belt."
3. Diaz: "Everybody does steroids. The whole UFC. Everybody." McGregor: "I'm not on steroids. ... I'm just an animal."
4. McGregor: "Nate, congratulations. You're rich now." Diaz: "Congratulations, to you. I'm the show."
5. McGregor: "I'm gonna create my own division. I don't care about weight. It makes no difference. As long as there's an opponent and a date, I'll be there."
6. McGregor: "[After] a man fights me, they need to take 10 months to a year off."
7. Diaz: "You fight midgets. I got a 145-pound homeboy that will beat your ass."
8. McGregor: "I should create my own belt. I am, in myself, my own belt. It doesn't matter if its featherweight, lightweight, welterweight. It's the McGregor belt. That's it, I'm fighting for my own belt."
9. McGregor: "I don't care about the belt. All I care about is my checks and my checks are super heavy." McGregor, later: "I'm motivated by movement and money ... and the movement of money."
10. Diaz: "This is America." McGregor: " I run the West Coast. I run the East Coast."
OK here's one more ...
11. Diaz: "I train to kill."
Yeah, it didn't take much more to get me ready for this fight.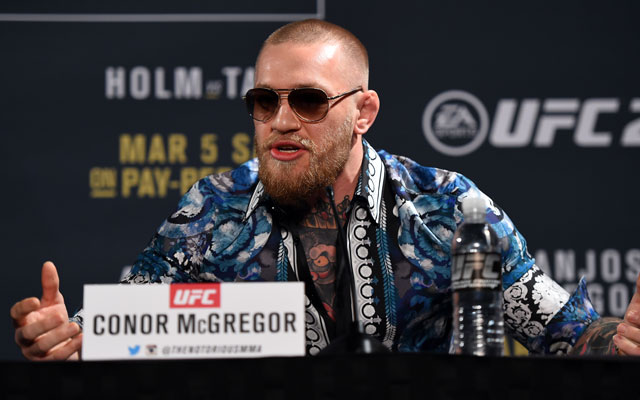 Rowdy is the only driver in NASCAR history to accomplish the feat and he has now done it t...

Rowdy took to Twitter after winning Friday night's NASCAR Xfinity Series race

Rowdy will go for the sweep Saturday night after winning both the Xfinity and Truck races.
Truex's Furniture Row Racing teammate Erik Jones will lead to field to green on Saturday n...

Rowdy swept all three stages en route to his eighth NASCAR National Series victory of the...

NASCAR drivers had some fun with Kenny Wallace after he posted a 'crazy story' to his Twitter...