Texans must draft Johnny Manziel at No. 1, or Houston has a problem
Johnny Manziel may not be the next star NFL QB, but the Texans must take him No. 1 overall because the potential alternative -- Johnny Football a star elsewhere -- is too big a risk for Houston.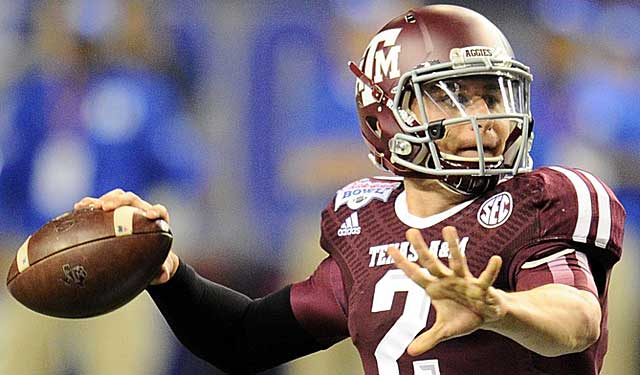 More NFL Draft: Report: Texans like Manziel or Bortles | Mocks | Draft news
This is a smokescreen, what the Houston Texans are doing with Blake Bortles. It's a bluff, what owner Bob McNair has been saying about Jadeveon Clowney.
Either that, or it's stupid.
Because it's absurd, the idea that the Texans are seriously considering taking anyone not named Johnny Manziel.
The Texans don't just need to take Manziel with the No. 1 overall pick. They have to take Manziel. They have no other choice, for reasons that are football and business and public relations.
Having the No. 1 overall draft choice, in Houston, in the exact year that the south Texas supernova known as Johnny F---ing Football has entered the draft? That takes all the pressure off the Texans, because there is no other choice. In part, because there is no other choice.
Seriously, Blake Bortles? Look, if there was a no-brainer choice out there for the first overall pick, someone like Andrew Luck or Cam Newton, then the Texans should draft that guy. But that guy doesn't exist in this draft. This one is a crapshoot, with the broad-shouldered Bortles drawing comparisons to Ben Roethlisberger ... and Tim Tebow. Jadeveon Clowney? Sure, he could be another Julius Peppers. But what if he's the next Courtney Brown?
Teddy Bridgewater? Nobody has any idea what kind of pro quarterback he's going to be.
Since there isn't a no-brainer with that No. 1 overall pick, that leaves a no-brainer with the No. 1 overall pick: Johnny Manziel.
This is one of those perfect-storm situations. Manziel wouldn't be the no-brainer No. 1 pick for just any team, even a team needing a quarterback. His ceiling is high, but the risk factor is high too. A safer quarterback for a team like, say, Cleveland to draft would be Bortles. I guess. Look, I'll be honest when I say I've not seen nearly as much of Bortles as I've seen of Manziel. Is Bortles the next big thing? Could be. People seem to think so. He could be the flavor of the month, too. His stats this past season at Central Florida were lovely -- 3,581 yards, 25 touchdowns, nine interceptions -- but he did it in the, um, American Athletic Conference conference. I think. Let me look it up and ... yes. UCF plays in the ACC AAC.
Just looked at UCF's schedule, and this past season the Knights played the following team of note: Penn State. Guess who coached Penn State? Bill O'Brien, now the coach of the Texans. O'Brien has said that he really likes Bortles. Why? The same reason people like Katy Perry or OneRepublic, is my guess. Because they hear it on the radio. They know it. They recognize it. Therefore they like it. O'Brien saw Bortles; he likes Bortles. Terrific.
Look, I'm getting away from my point here, and my point is not to bash Blake Bortles. Seriously. To bash Bortles I'd have to know a lot about him, and I don't. Which is part of the problem, really. If your college career is something of a mystery, if you've put up lovely numbers against teams like Temple and Connecticut and SMU in the AAC, that's a mark against you as the No. 1 overall pick.
Another mark against Bortles?
He's not Johnny Manziel.
Like I said earlier, this is the perfect storm for the Texans. Manziel is a national phenomenon, but he's also a state legend. He's the Texas Tebow, only better, and the Texans need a quarterback. And to draft anyone but Manziel, and to watch Manziel become a star in some other market ...
"That would be the apocalyptic scenario for the Texans," says Nick Wright of CBS Radio 610 AM in Houston.
I called Wright for the perspective from Houston on the No. 1 overall pick, and Wright says the city is as divided now as it was in 2006 when Texas junior Vince Young was available and the Texans needed a quarterback and they passed up Young -- a Houston native, no less -- to draft defensive end Mario Williams.
Young was a bust in Tennessee, but even so that pick has left a bad taste around town.
"To this day we still get calls about the 2006 draft," Wright says. "People wanted Vince Young then, and people want Johnny Manziel now, and if they draft someone else -- if they draft anyone else -- and he does fine but Manziel becomes a franchise quarterback somewhere else, that's as close to a fatal blow as this franchise could have."
Not that the Texans' future hangs in the balance. This is not Jacksonville, using banners to hide entire sections of empty seats, sitting there with a shrinking fan base and a chance to draft the immensely popular Tebow. Wright points out that the Texans sell out every game and are a talk-radio obsession in a town with NBA and Major League Baseball franchises. But letting Manziel go somewhere else, and watching him become a star there, while the Texans try to dig out of their 2-14 crater from this past season ...
Every fan base has its limits. Texans fans returned after the David Carr drama. They returned after Mario Williams was drafted instead of Vince Young. They'll probably return after last season's 2-14 embarrassment.
But would they return if Manziel is a star somewhere else? Especially if Bortles or Clowney or Bridgewater is a bust in Houston?
To be clear, there are reasons not to draft Manziel. He has had maturity issues, though he came a long way -- a long, long way -- as the 2013 season unfolded. He is small, though he's slightly bigger than the quarterback who just won the Super Bowl, Russell Wilson of the Seahawks. Granted, Wilson is 25 going on 35 while Manziel has been a 20-year-old acting 16. Manziel turned 21 in December, but there's no denying his maturity issues of not so long ago. He's a risk. Obviously. You're not reading an assertion that he's a can't-miss prospect, because he could miss. He could miss big.
But he could be a star, too. The NFL is trending in his direction, with athletic quarterbacks who can run and throw, and nobody in college has ever run and thrown it like Manziel. He's not big, no, but like Wilson he has enormous hands that will allow him to throw the ball in cold weather.
Best-case scenario for the Texans? Johnny Manziel is a more dynamic Russell Wilson.
Worst-case scenario for the Texans? Johnny Manziel is a more dynamic Russell Wilson ... for Cleveland.
Flanagan, after winning the New York City Marathon, is out to win her 'hometown race'

How to watch the Professional Rodeo Cowboys Association's 2017 National Finals Rodeo event
John John Florence and Gabriel Medina will look to catch the wave to a championship

It's probably better to just buy your shoes online these days

Settle in for the holidays by watching other people do grueling obstacles like the Funky M...