The Decision 2.0: Where will LeBron James end up after this debacle?
The San Antonio Spurs beat the Miami Heat 104-87 on Sunday night to win the 2014 NBA Finals and send LeBron James off into another offseason where he will have to make The Decision.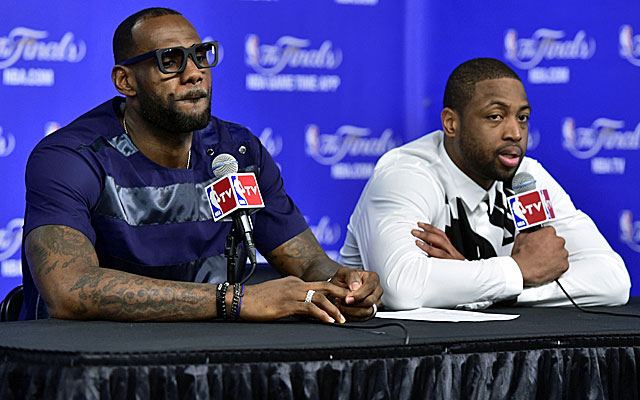 More NBA Finals: San Antonio wins title, beats Miami 104-87 | Court Vision
SAN ANTONIO -- It wasn't over, but it was, and LeBron James was standing by himself at the corner of the Miami Heat bench -- more than three minutes left in the last game of this season, maybe the last game of a lot more than that -- watching teammates hug. And he wanted nothing to do with it. What was he thinking? A penny for those thoughts.
Chris Bosh was grabbing teammates and squeezing them, and LeBron moved a little farther away, now on the baseline, as close to some of the photographers as he was to his teammates. The San Antonio Spurs had almost three minutes left to name their score in Game 5 of the NBA Finals -- they settled on 104-87 to finish off a 4-1 series win -- and LeBron was standing as he had played all night, all series:
All by himself.
Bosh never got that hug. LeBron had moved too far away. But when 38-year-old Ray Allen, a future Hall of Famer and the classiest man on the team, started hugging his way down the bench, LeBron relented. He took a few steps toward Allen, toward the rest of his teammates, and allowed himself to be hugged. And then LeBron took a step back, away from everyone, and hung his head as the final minutes of the final game ticked away. He was pondering, but what?
The Decision 2.0? Staying in Miami? Going back to Cleveland? Uniting with Carmelo Anthony?
That's where this offseason is headed, another voyage with LeBron, even if that voyage ultimately docks again in Miami. LeBron isn't the 2014 MVP or a member of the 2014 NBA champion, but in 2014 he remains the best and most powerful player in the league, the guy every team will want next season and the guy almost everyone else will want to play with. What happens next won't impact just LeBron's future. It will impact the whole league. He is that much of a draw, the same force of nature who led a nothing Cleveland team to the 2007 NBA Finals and then led the Miami Heat, who looked a lot like those nothing Cavaliers in these 2014 NBA Finals, to four consecutive final appearances and to NBA titles in 2012 and '13.
If this was LeBron's final game with the Big Three, he went out with an empty clip. He had 31 points, 10 rebounds and five assists. He spent the game as the point guard on offense and defense, hounding Tony Parker into an 0-for-7 start from the field. In the first quarter when the Heat were surging to a 22-6 lead, LeBron had 17 points and five rebounds. He took six shots and hit five. He got to the foul line five times and made them all. With 18.8 seconds left in the quarter and Heat teammate Norris Cole about to shoot two free throws, LeBron told coach Erik Spoelstra he needed out of the game. Not bothering to wait for his sub or even for Spoelstra to agree, LeBron walked to the bench and collapsed.
When the Spurs went to the line with 4.6 seconds left, meaning the Heat would have one more possession, LeBron rose and walked past Spoelstra to the scorer's table. He didn't tell Spoelstra what he was doing, he just did it, and with 4.6 seconds left he had the ball in his hands and was dribbling 60 feet before pulling up for a 3-pointer. He missed, and it was over. After scoring 17 points on his first six shots from the field, he scored 14 points the rest of the way, scoring those 14 points on 15 shots.
At least LeBron had his moment earlier. Dwyane Wade never had a moment. Neither did Bosh. Big Three? Big rumor. They scored a combined 24 points on 26 shots, misfiring on an alley oop when Wade threw it too high or Bosh wasn't able to finish or whatever. They tried and failed on a night and in a series in which they'd given LeBron the kind of help he used to get from Donyell Marshall and Sasha Pavlovic in Cleveland -- the kind of help LeBron left behind when he took his talents to South Beach. These last three games have been the 2007 NBA Finals all over again, when the Spurs (come to think of it) were way too much for the greatness of LeBron and the irrelevance of his supporting cast.  
Wade has been aging in dog years, his body broken after playing so hard and so viscerally for so long. He has nothing left, unable to play a full season and now unable to play even a five-game series. These last two games, Wade has become a punch line for his listless defense and missing shots.
Bosh? He's just not that good. He has his defenders, stubborn people who would have insisted the world was flat in early 1492 because that's what everyone always believed, but Bosh isn't what we thought he was. He's not a big-time star, not one-third of a Big Three. He accumulated nice numbers at Toronto but has been a shell of that guy in Miami, a shell that has broken into smaller and smaller pieces as these four years with LeBron and Wade have unfolded.
Bosh is talented but unreliable, the player voted by his classmates as Most Likely to Disappear. Wade is a car with an empty gas tank, and that has happened after he skipped a third of the regular season. What will he look like next season? That's not a question for Wade or even for the Heat to ponder. That's a question for LeBron to answer, because he is the first domino that will dictate how the rest of the NBA falls this offseason. LeBron knew the questions were coming, and tried to hide behind sunglasses on Sunday night as he met the media for perhaps the final time as a member of the Miami Heat.
Someone asked LeBron -- OK, it was me -- if the Heat as constituted had enough to win the titles he craves. He answered as he had every right to do.
"I'm not even nowhere near at that point," he said.
Another reporter tried a different tack later, reminding LeBron that he had said earlier this season that he can't imagine leaving Miami. Did he still feel the same way?
Silence.
LeBron was thinking about it. He paused, then he started to mumble.
"Ah, I mean. Um," LeBron said. "I will deal with my summer when I get to that point. Me and my team will sit down and deal with it. I love Miami. My family loves it. But obviously right now it's not even what I'm thinking about."
LeBron looked around, knowing what every microphone and camera wanted.
"You want answers, and I'm not going to give you one," he said. "I'm not going to give it to you."
He kind of did. The pause? That's one answer. The terminology? The way he said he'd get with "my team" to make a decision on the future? That's another answer.
Miami Heat fans, understand what he was saying. Understand who you are dealing with. Bad guy? Nah, he's not a bad guy. But when LeBron says, "Me and my team will sit down and deal with it," he doesn't mean the Miami Heat. Same thing happened after the 2010 season ended, when he said he'd consult with "my team" -- he didn't mean the Cleveland Cavaliers. Ken Berger was there that night in 2010, there in Boston when LeBron's 29-point, 19-rebound, 10-assist monster triple-double was good enough to lose 94-85 to the Celtics, and LeBron had said the same stuff.
"With me and my team," LeBron had said on May 13, 2010, "we're going to figure out what's the best possibility for me."
He didn't mean the Cavaliers. He meant Maverick Carter and the rest of his cronies from high school in Akron, former teammates who have become multi-millionaires by taking leading positions in Team LeBron. When LeBron walked off the podium and toward the exit on Sunday night, the last person he hugged inside AT&T Center was Maverick Carter.
And then he was gone. LeBron walked away from the spotlight and into the hot, humid night of San Antonio, where his team had just lost because his team looked a little too much like the Cleveland Cavaliers, circa 2010.
And they aren't his team anymore. Maverick and Friends are his team now. The rest of us -- that includes his former team, the Miami Heat -- are awaiting The Decision 2.0. We have entered the offseason, and LeBron is on the clock.
Let the truth set you free, sir

The poor kid never even saw it coming

The burglars that Childress fired at were carrying military-grade weapons on them, the cops...
'Kong Infinity' and 'Happy Ending' headline two additions to the ultimate endurance course...

Nik Kayler's body has been found after going missing last week during a fishing tournament

Florida officials are still searching for Nik Kayler after his boat didn't show up