Tiger in the Ryder Cup is a no-brainer: Emphasis on no
Sure Tiger Woods would draw more eyeballs to the Ryder Cup. But based on stats, he has no business on the team.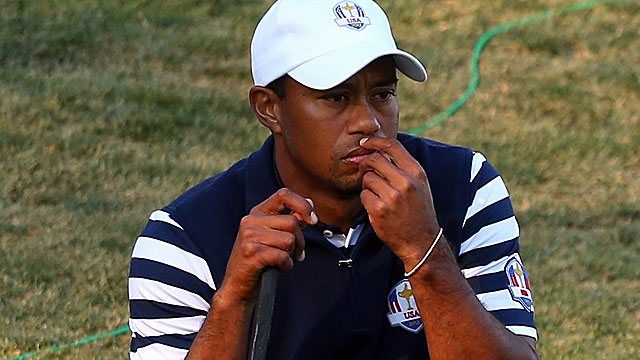 More on Ryder Cup: Nicklaus wants Tiger on US team | US outlook not good
Unless there's a lifetime achievement award, Tiger Woods doesn't belong on the 2014 US Ryder Cup team. There isn't. So he doesn't.
NBC won't like it. Fans won't watch it. Jack Nicklaus won't agree with it. None of which matters, given that this is an important international competition between the United States and Europe, and above all else we should want to win the thing.
In the best of times, Tiger's not a winning Ryder Cup player.
And these aren't those times.
The decision ostensibly will rest with US captain Tom Watson, who will use three captain's picks to fill out his 12-player roster, but Nicklaus says the decision should rest with a higher power:
Tiger.
"If Tiger wants to play," Nicklaus said last week, "I would certainly choose him. My guess is that Tom feels pretty much the same way."
Hope not, Bear -- Tiger's lousy right now. And lousy right now matters more than the 14 major titles he has won. Lousy right now matters more than the enormous boost his presence would mean for the Ryder Cup. Lousy right now matters more than pretty much anything, though there's another factor for Watson to consider, in addition to the one about Tiger being lousy right now.
He's lousy in the Ryder Cup.
No US player has lost more Ryder Cup matches than Tiger. That's not a huge surprise, given that only three players (Phil Mickelson, Billy Casper, Lanny Wadkins) have played more Ryder Cup matches than Tiger. Play a lot, lose a lot. But the point remains: When it comes to the Ryder Cup, Tiger Woods has lost at a historic level.
Take out the weighted nature of his lousiness and focus instead on his actual performance, and he's still lousy. Not mediocre, because mediocre would be an improvement -- and it would be understandable given the stakes, pressure and competition. Play enough Ryder Cup matches, and most great golfers are going to break even. Why? Because they're playing other great golfers. Someone has to lose.
In Tiger's case, though, mediocrity would be an improvement over his first seven appearances in the Ryder Cup. Of the 14 US players with the most Ryder Cup matches, Woods' scoring percentage (.439 points per match) is 12th.
Third from last. Out of 14 golfers. The only players worse, bless their heart, are Jim Furyk (.367) and Curtis Strange (.350). That's truly lousy, but someone has to lose right? In the Ryder Cup that has been Furyk's and Strange's role, and who really cares? They've won majors. They've been to the Ryder Cup a combined 14 times times, including Strange's captaincy in 2002. They've had great careers, and their Ryder Cup lousiness is a blip.
So is Tiger's -- assuming he isn't gifted a spot on the 2014 team. Then his Ryder Cup lousiness would become a blot, something that dirties up our whole team.
Let's be reasonable about this, and hope that Tom Watson is the same. Look at that sub-mediocrity Woods has shown in seven Ryder Cup appearances, six of them when he was either his sport's rising star -- or its reigning star. Those were the days when Woods was winning his 14 majors, sometimes by ridiculous margins, and winning 10 Player of the Year trophies. He was the best player in the world, he was the most intimidating player in the world, and he was lousy in the Ryder Cup.
After the 2009 infidelity scandal that cost him his marriage and reputation, Tiger's aura was utterly pierced for the 2012 Ryder Cup, played on US soil at Medinah. Woods won three times on the PGA Tour in 2012, so he was pretty good that year, but in the Ryder Cup he was a disaster -- going winless in four matches, with three outright losses.
That's pretty much what Tiger does in the Ryder Cup -- lose. No American has lost more than his 17 times, and of the seven Ryder Cup competitions where he has participated, the US has lost six. Our most recent victory in this event came in 2008, when Woods didn't play because of knee surgery. In fairness to Woods, he has been tremendous in singles play (4-1-2 overall), but there are two caveats to that: One, singles play is just one portion of the Ryder Cup; in the bigger portion, foursomes and four-ball, Woods is 9-16-1. Two, Tiger's four wins in singles (1999, 2004, '06, '10) came when he was the most dominant golfer in the world; he's not close to that guy anymore.
For Watson to take Woods with a captain's pick this year, even with automatic selection Dustin Johnson removing himself from consideration, he would have to ignore: all that history that says Tiger is lousy in this event; how much time Tiger has missed this season with health issues; how ineffective Tiger has been when he has played this season (zero top-20 finishes and one missed cut in eight events here and in Europe); and he would have to ignore a deserving player just outside the Ryder top nine, like Brendon Todd (12th) or Chris Kirk (13th). Each has won a PGA Tour event this year. Todd has seven top 10s in 23 starts. Kirk has 10 finishes in the top 25 in 22 starts. Or Webb Simpson (15th), who has one victory among four top-three finishes in 18 starts.
(Tiger is ranked No. 72 in Ryder Cup standings, by the way.)
Or Watson would have to ignore another player slightly down the Ryder Cup rankings, Keegan Bradley (16th), the 2011 PGA champion -- Tiger missed the PGA cut that year; just saying -- and the closest thing the US has to a young Ian Poulter.
What's so special about Poulter, who has never won a major? He's the anti-Tiger when it comes to the Ryder Cup: He's incredible. His 12-3 record is the highest winning percentage (80.0) for anyone on either side of the ocean with at least 15 matches.
Bradley looks to be that kind of killer on the course. He has been in three PGA Tour playoffs, and won two. He has played in four Ryder Cup matches, all in 2012, and won three. The sample size is small, but I like it.
When it comes to the Ryder Cup, Tiger Woods' sample size is large -- and I hate it.
Surely Tom Watson does too. Surely Watson wants to win the Ryder Cup more than he wants to appease one of the most powerful individual forces in golf. Surely Watson knows just how lousy Tiger Woods has become in 2014.
Hell, the last time Tiger played on a links course was the British Open two weeks ago at Royal Liverpool, where Woods finished 69th -- four shots from dead last, and five shots behind 64-year-old Tom Watson.
Hamlin wasn't thrilled with Bubba's driving, or his post-race comments

The Richard Childress team went all out after their win on Sunday

Wallace is a jumble of emotions after finishing second in his first Daytona 500
Danica got in some beach time with her famous boyfriend before Sunday's big race

Junior reflects on the legacy of his father at Daytona at an emotional pre-race press conf...

Dillon won the race while driving the famed No. 3 car originally driven by Dale Earhardt S...