Tiger leaning on Golf Channel to fire Brandel Chamblee a dirty move
Brandel Chamblee wrote something Tiger Woods didn't like, and now the world's most powerful golfer is trying to get him fired. Bad guy, that Tiger.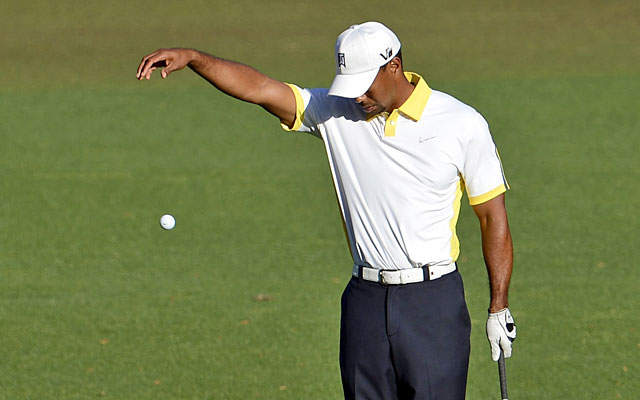 Tiger Woods plays dirty, but then, we already knew that. And Brandel Chamblee wrote it. And here comes Tiger, confirming it.
By passive-aggressively trying to get Chamblee fired.
This is a bad-guy move Tiger is pulling, trying to use his power and influence -- let's be clear; his power and influence in golf are formidable -- to get a TV golf analyst fired for something the TV golf analyst didn't even say on TV. Chamblee wrote for Golf.com that Woods' grade for the 2013 season should be an 'F' for being "a little cavalier with the rules."
Woods was penalized two strokes each for rules violations at three different events this season -- the Masters, the BMW Championship and the Abu Dhabi Championship -- and had a questionable drop at the Players Championship. Chamblee noted those and drew an analogy to a fourth-grade math test in which he says "I cheated" and was given a "100" with a line drawn through it.
Tiger's agent freaked out. Mark Steinberg called Chamblee's written commentary "the most deplorable thing I have seen. I'm not one for hyperbole, but this is absolutely disgusting. Calling him a cheater? I'll be shocked, stunned if something is not done about this. Something has to be done."
So that was the first time someone in Tiger's camp passive-aggressively suggested Chamblee should pay for his comments, one way or another.
Something has to be done.
Steinberg took it a step further when he suggested Tiger might sue Chamblee for libel or slander or maybe just for being a big fat meanie.
"I'm not sure if there isn't legal action to be taken," Steinberg said. "I have to give some thought to legal action."
That was a week ago. Then came Monday when Tiger and his agent, Steinberg, suggested someone else should punish Chamblee, presumably so Tiger and his people don't have to do it themselves.
This is what Tiger said on Monday:
"All I am going to say is that I know I am going forward. But then, I don't know what the Golf Channel is going to do or not. But then that's up to them. The whole issue has been very disappointing, as he didn't really apologize and he sort of reignited the whole situation. So the ball really is in the court of the Golf Channel and what they are prepared to do."
Lest any of us think that whole "ball is in their court" thing was just a theory that popped out of Tiger's mouth, here's what Steinberg said on Monday:
"I'm all done talking about it, and it's now in the hands of the Golf Channel," Steinberg said. "That's Tiger's view and that's mine, and all we want to do is move forward. And whether the Golf Channel moves forward as well, then we'll have to wait and see."
Unbelievable. The most powerful golfer in the world, and his agent, are leaning on Golf Channel to fire Chamblee for something he wrote for Golf.com. They could try to get Chamblee fired from the website -- which would also be a bad-guy move -- but Chamblee's biggest gig, by far, is on the television side. So that's where Tiger wants to hurt him. On the TV side.
All because Chamblee pointed out -- in a creative way -- that Tiger was, shall we say, cavalier with the rules during the 2013 season.
But facts are facts, and the facts would be Chamblee's defense in a slander lawsuit, should Woods file one, which he won't. Because he has no case -- and if he doesn't know it, Steinberg does. So in lieu of a legal remedy that doesn't exist, they're trying to cut off Chamblee's biggest source of income. Why? Because they can.
Now we'll see what Golf Channel does. The ball truly is in their court. We'll see if the people who run that network are as scared of Tiger Woods as Tiger Woods hopes they are.
How to watch the Professional Rodeo Cowboys Association's 2017 National Finals Rodeo event

John John Florence and Gabriel Medina will look to catch the wave to a championship

Froome was found to have double the legal limit of an asthma drug in a September doping te...
Flanagan, after winning the New York City Marathon, is out to win her 'hometown race'

It's probably better to just buy your shoes online these days