Torre: Baseball needs to get more calls right (but not every call)
Joe Torre guaranteed again Tuesday that baseball will have expanded instant replay in place in time for the 2014 season. But he also issued a reminder that no system will result in getting every call right. Nor should it, Torre said.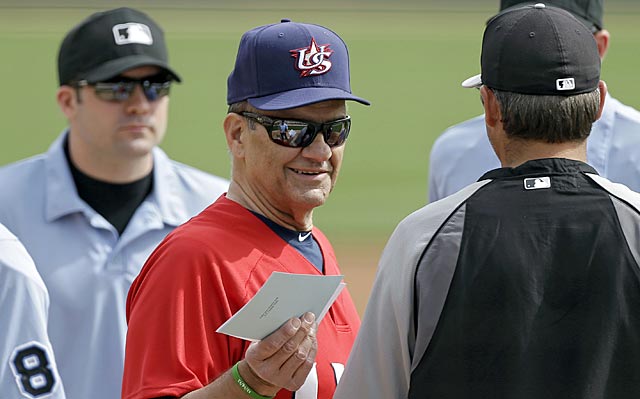 Torre is managing Team USA, but he spoke in his role as MLB's executive vice president.
Torre said that even if baseball wanted to review balls and strikes, it would be next to impossible using current technology. While baseball has a system to review umpires' strike zones, that system can't be used for real-time calls.
Baseball does want to review other plays. The question, as always, is how to do it. Torre doesn't want a challenge system that would hand managers the decision on whether to review a play, but he also doesn't want a system that significantly slows the game, or one that puts too much emphasis on replays.
"I'd like to make it part of the game without making it the focus," he said. "I don't think we want to get into reviewing every single play, or the game would never end."
Besides, as Torre said, no matter what system is used, some plays will always remain in dispute. No matter how many camera angles are used or how many plays are reviewed, some plays will be too close to call.
"The reality is, even if you have replay, there's going to be times you're not going to be able to tell," Torre said.
There will still be plenty to argue about, plenty to yell about.
And in Joe Torre's mind, that's just fine.
Denny Hamlin and Kevin Harvick will look to build off momentum in order to catch Martin Truex...

The team of children agreed among themselves to follow Colin Kaepernick's stand against in...

Did Elliott cheat to finish second in the NASCAR playoff opener? You be the judge
Kahne has been with Hendrick Motorsports since the 2012 season and is currently in contention...

After finishing second in the first playoff race of the season, can the 21-year-old son of...

Find out if you're as smart as you think you are