Trouble looms, but Pacers beat Hawks 101-85 to even series
The Pacers beat the Hawks 101-85 in Game 2, evening their first-round NBA playoff series behind 27 points from Paul George and 20 off the bench from Luis Scola. Trouble remains, though, in the useless form of center Roy Hibbert.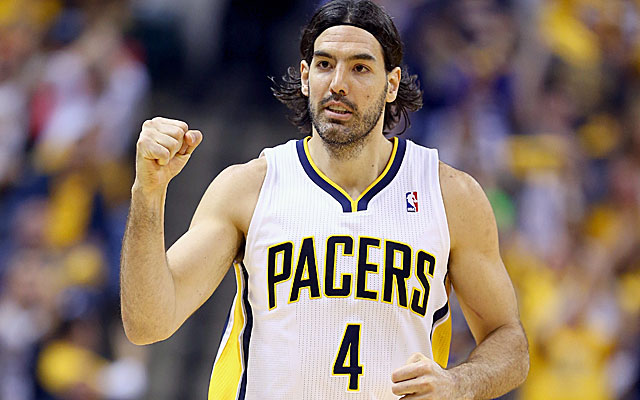 More postseason: Harper: Hibbert doesn't fit | Pacers 101, Hawks 85 | Schedule
INDIANAPOLIS -- They do this thing at Pacers games. Whenever Luis Scola makes a bucket, the public-address announcer leans into the microphone and yells both names, making the final three syllables rhyme with that commercial for Ricola throat lozenges.
Lu-EEES Scooooo-la!
Scola made a lot of buckets on Tuesday night. There was lots of screaming by the PA guy, and by the Pacers crowd, and by the Pacers themselves. This 101-85 blowout win by the Pacers was a throat lozenge kind of game for Indianapolis, the team and the city, and both needed it something awful.
The first-round series with the Hawks remains in (some) jeopardy thanks to that stinker of a Game 1 when the lowly Hawks, who went 38-44 this season and wouldn't even be in the playoffs if the NBA had a 21st century playoff system, outmuscled and outhustled the top-seeded Pacers to snatch home-court advantage.
To advance to the second round, as meager a goal as that seemed one month ago, the Pacers will have to win a game in Atlanta. Can they? Well sure they can. They're the top-seeded team in the East. The Hawks are the eighth seed, and they start a jump-shooting center (Pero Antic) who can't shoot and they have what is surely (right?) the worst bench in the NBA other than Louis Williams, a high-volume shooter who shoots, um, 40 percent from the floor. So enough about Louis Williams.
And enough about the Hawks, because this series isn't about them. No offense intended, Atlanta, but know your place. And your place in this series is to be the canvas that Indianapolis paints its future. If the Pacers use the momentum from Game 2 to roar to a five-game drubbing of the outmanned Hawks, there would be reason to believe -- for the first time in weeks -- that they can get to the Eastern Conference Finals. Beat the Heat in those finals? Nothing can happen in this series to suggest that possibility. But maybe in the next series. Assuming there is one for the Pacers.
That's not the mortal lock it should be. The Pacers woke up on March 3 with a 46-13 record, best in the NBA. After needing 59 games to lose their first 13 games, the Pacers needed just 23 to lose their next 13. They closed the regular season on that 10-13 skid, then lost Game 1 to the Hawks, 101-93.
And then they were trailing Game 2 by 11 in the first half, and Bankers Life Fieldhouse was silent, and Jeff Teague was frazzling Paul George and Paul Millsap was abusing Roy Hibbert and this was the damndest thing you've ever seen. From best record in the NBA to an 0-2 deficit in the first round of the playoffs? Against the eighth-seeded Hawks? That's what we were watching.
Until Lu-EEES Scooooo-la!
Scola was catching passes and raining jumpers, one after another after another. At first those buckets were merely keeping the Pacers within range of the torrid, um, Hawks. But then he was cutting into the lead with an offensive rebound and stick-back. And a free throw. And a spinning, fading jumper.
"Man, the bench was huge," said veteran Pacers forward David West, limited to 24 minutes and eight points (but with six assists) because of foul trouble.
Scola scored 13 of his 20 points in a first-half run when the Pacers' bench scored 22 consecutive points, and the crisis had been averted. At halftime the Pacers were within 52-48, and after exchanging six points with Atlanta to open the third quarter, Indianapolis uncorked an outrageous 37-8 run to turn Game 2 into a rout.
The crowd was feeling so good, it started chanting for forgotten forward Chris Copeland, the Pacers' 13th man. And Pacers coach Frank Vogel, feeling pretty good himself, immediately pointed Copeland toward the court. The crowd gave a standing ovation to Copeland, to Vogel, to the Pacers, to whatever hopes they still have for a season that started with realistic dreams of an NBA championship before running aground in early March.
"We put our print on this game in the third quarter," said George, who had 27 points, 10 rebounds, six assists and four steals, "which we've done playing November, December and January basketball. We got back to that."
Trouble still remains, mind you, and his name is Roy Hibbert. The Pacers ran the Hawks out of the building in the second half despite getting just two points and one rebound after halftime from their starting center. Hibbert finished the game with six points and four rebounds (without a blocked shot or steal) because he wasn't any good in the first half, either.
This wasn't November, December, January basketball for Hibbert, who averaged 11.8 points (on 46.3-percent shooting), 7.6 rebounds and 2.4 blocks in those three months. He was terrible Tuesday night -- unable to catch passes some of the time, often being stripped when he did catch it, and usually missing the shot (1 for 7 from the floor) when he did catch the ball and avoid the strip. The nadir was the dunk attempt he threw over the rim, all the way to the corner, where George Hill caught it to save him a turnover. Hill caught another of Hibbert's foibles later in the game, a bobbled ball that went right to Hill for an easy bucket.
Hibbert says his confidence remains high thanks to a pregame call from the city's other famous sports stopper, Colts defensive end Robert Mathis, whom he said "got in my grill for like 30 minutes. He said some stuff about my game, and the team, and it was good."
Maybe so, but Hibbert wasn't good after the call from Mathis. He was counterproductive on offense and borderline useless on defense against a Hawks team that has nobody he can guard. Antic shoots 3-pointers and 20-footers. He doesn't make them (2 for 9 in Game 2) -- but he shoots them, and Hibbert can't stop him from trying. Millsap shoots 3s and also attacks the rim, and Hibbert watched both happen on a night Millsap had 19 points. Hibbert played 24 minutes on Tuesday, which seemed about 23 too many, but the Pacers won. So that's a problem for another day.
But that day's coming. Soon, probably.
Patrick plans to call it a career after running at the two most iconic U.S. auto races

Let the truth set you free, sir

The poor kid never even saw it coming
The burglars that Childress fired at were carrying military-grade weapons on them, the cops...

'Kong Infinity' and 'Happy Ending' headline two additions to the ultimate endurance course...

Nik Kayler's body has been found after going missing last week during a fishing tournament