UConn's secret to beating Florida? Injured Gators, fluke buzzer-beater
Let's call it like it is -- UConn's December victory over Florida was a fluke. Now the Gators, at full strength, get a shot at payback.
More NCAA hoops: Tournament bracket | Complete coverage of NCAAs
ARLINGTON, Texas -- Florida hasn't lost in more than four months, a streak of 30 games that trampled over Kansas, Kentucky -- three times -- and the entire SEC conference and tournament slate. Florida hasn't been beaten in forever, but given its 36-2 record, there are very clearly two ways to beat the Gators. Wisconsin had one of those ways.
Connecticut had the other.
UConn plays Florida in the Final Four on Saturday, which in theory bodes well for the Huskies -- but in reality does not. Because the way UConn beat Florida, one of the only two ways anyone has shown will beat Florida, won't happen again. It can't. I'm not here to say the Huskies' 65-64 victory against Florida on Dec. 2 was a fluke, but ...
No, wait. That's exactly what I'm saying. The one-point win was a fluke. It was the flukiest fluke that ever did fluke.
Before I tell you why it was a fluke, I told UConn senior forward Niels Giffey that it was a fluke. To that point Friday, Giffey was doing the normal Final Four interview thing. He was in his own breakout room, like the other four UConn starters, just him and a handful of reporters, and Giffey was answering questions with a mixture of earnestness and boredom. This was an obligation, and he was handling his business with a deadpan expression.
And then I told him, "Niels, I'm not going to hide behind, 'What would you say to "people" who suggest your game with Florida was a fluke.' I'm here saying: It was a fluke. What do you say to me?"
The deadpan was gone. The earnestness? Gone, replaced by the iciest German grin Giffey could muster. Giffey didn't look bored anymore. Now he looked challenged, and he liked it. Because he held the trump card, and he used it on me:
"Doesn't matter if it was a fluke or not," Giffey said, grinning a hole right through me. "We got that win. We can have a fluke tomorrow, too, and go to the national championship game -- and nobody will talk about whether it was a fluke or not."
All true, and all good points. But that game in December was a fluke, which means UConn will have to do what only one other Florida opponent in 37 other Florida games was able to do: Find a legitimate way to beat the No. 1 team in the country. No. 1 in both polls, No. 1 in the South Region, No. 1 overall among the No. 1 seeds in this NCAA Tournament. That's Florida.
And here's what it took for UConn beat that team back in December: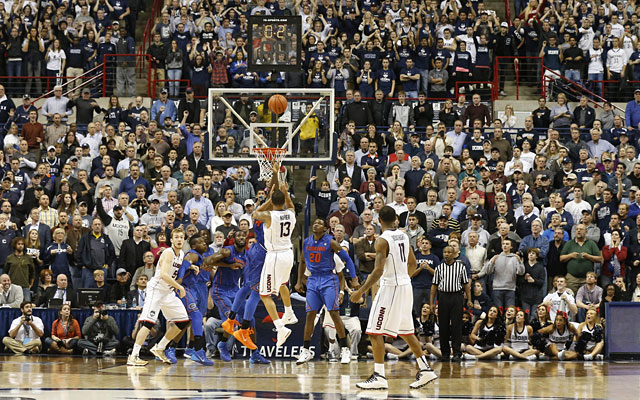 • On this buzzer-beater. Watch it carefully. See how fortunate UConn star Shabazz Napier was not to turn the ball over -- twice -- and then see how outright lucky he was to get a second shot at the win when the offensive rebound from his first attempt caromed right to him, 15 feet from the basket, wide open. He made it, all credit to him for doing so. But still. As Billy Donovan said after the game, "His shot was luck because it was tipped to him."
• Without eventual SEC Player of the Year Scottie Wilbekin on the court. Well, without him on the court for the final 3 minutes and 1 second, because of an injured ankle. Without Wilbekin, the Gators switched from their preferred man-to-man defense to a 1-3-1 zone (until the final play, when they switched back to man).
• Without two other current Florida rotation players on the court at all. Freshman guard Kasey Hill, who was averaging 10.3 ppg and had 17 assists against just four turnovers until injuring an ankle, didn't play. Freshman forward Chris Walker, arguably the best NBA prospect on the team albeit a deep reserve once he became eligible, hadn't been cleared yet to play.
• The stats that went just right. The Huskies, a strong-shooting team on 3-pointers (38.9 percent on the season), were terrific that day (11 for 24, 45.8 percent). Two Gators had season highs in turnovers (six by Dorian Finney-Smith, five by Casey Prather).
• The game was at Gampel Pavilion, in Storrs, Conn.
Giffey's media breakout session ended and I walked him toward the UConn locker room, expounding on my fluke theory -- outlining some of the above -- and he turned off the icy grin and actually started nodding.
"I get it," he said. "A lot of people are saying that."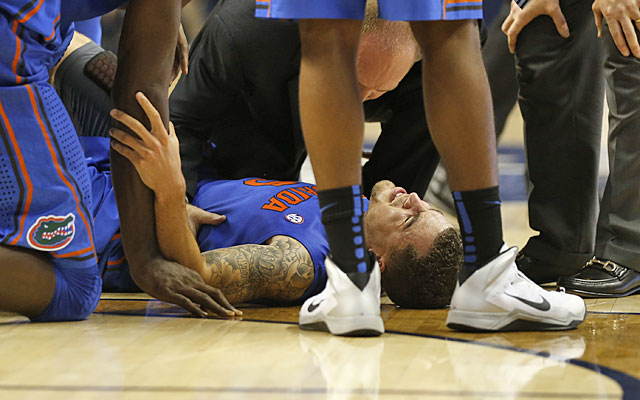 They're not saying it in the Florida locker room. At least, not to the Florida players. Donovan has gone in the opposite direction -- not trying to build up his team's confidence by outlining how bizarre that game was, but instead telling his team how ugly that game could have been.
Donovan showed his team the tape of that game Thursday night, and he didn't focus on the lucky bounce to Napier or the Wilbekin injury or the missing players off the Florida bench. He instead showed a number of shots UConn missed, shots UConn won't always miss. Donovan didn't tell the Gators they were unlucky to lose.
He told them they were lucky not to be run out of the gym.
"If they hit those shots they normally hit," Florida's Prather said, "they could have blown us out."
Interesting. And up to a point, true. Donovan was doing with his team what I was doing in the first part of this story, and what UConn fans could do in the opposite direction if they so choose -- cherry-picking stats and facts to twist the story into whatever shape they wanted. UConn could've crushed Florida, Donovan says. UConn's win was a fluke, I say. Pick the facts you like, and you can believe either statement.
But what I know is this:
Remember that sentence I wrote earlier, when I wrote that Wisconsin is the only team to have found a "legitimate way" to beat Florida?
That's not exactly true, either.
The day Wisconsin beat Florida at Madison? Florida was without SEC Player of the Year Scottie Wilbekin (injured). And SEC Sixth Man of the Year Dorian Finney-Smith (injured). And future NBA Draft pick Chris Walker (ineligible).
You picking up what I'm putting down? Florida hasn't lost a game this season at full strength. Not one. UConn will get its shot at the real Florida on Saturday -- its first shot at the real Florida.
And the real Florida will get its first shot at UConn.
John John Florence and Gabriel Medina will look to catch the wave to a championship

How to watch the Professional Rodeo Cowboys Association's 2017 National Finals Rodeo event

Froome was found to have double the legal limit of an asthma drug in a September doping te...
Flanagan, after winning the New York City Marathon, is out to win her 'hometown race'

It's probably better to just buy your shoes online these days