UFC 166 Results: Velasquez def. dos Santos via fifth round TKO
Check out the UFC 166 live blog as Gregg Doyel writes about every fight on the card -- round by round.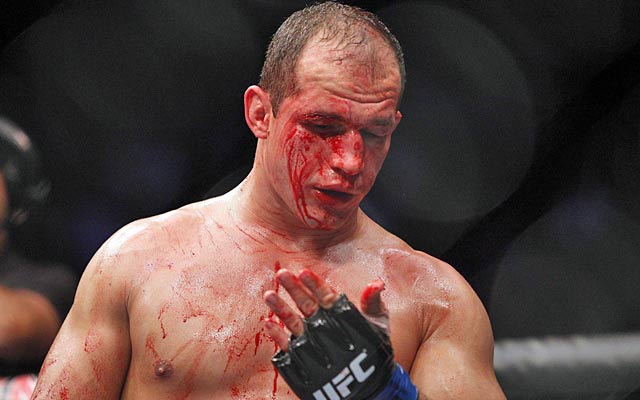 Main Event - Heavyweight Championship (265 lbs)
Cain Velasquez (c) - 12-1-0 vs. Junior dos Santos - 16-2-0
12:54 a.m. Recap: The problem is this: The only heavyweight who belongs in the cage with Cain Velasquez, other than Junior Dos Santos anyway, is Daniel Cormier. And since Cormier and Cain are workout partners in San Jose, they're never gonna fight. So Cormier is dropping down to 205 so he can go after Jon Jones. Meantime, Cormier has laid waste to the other "top" contenders in the 265 division (Mir, Barnett) and who does that leave for Cain Velasquez to fight? Only JDS belongs in the cage with him, and that's just so JDS can suffer brain damage. And I don't say that lightly, or flippantly. But Cain Velasquez has cleaned out the division. Dana White says "we probably do Werdum. We probably bring Werdum to the table" to fight Velasquez. Well, OK. If BJJ wizard Fabricio Werdum can get him down, he could submit him. Otherwise, jeez. Werdum? Really? I repeat: Velasquez has cleaned out the division, but he has the right to fight and make money. So we wait for a real challenger. Werdum ain't it.
Last word from Dana White: "The fight should have been stopped in the third round ... I've been around a lot of men who are too tough for their own good, and Junior Dos Santos is one of those men, and I mean that with all respect."
12:46 a.m. Postfight: Dos Santos: "I was very OK for this fight. He's very, what can I say? He beat me up! That's what I have to say. He did a great job. Congratulations for him. I'll train harder, come back, and face him again.... I'm going to come back."
12:46 a.m. Postfight: "He got better," Cain said of JDS. "I wanted to finish him."

12:41 a.m. Round 5: Dos Santos started Round 5 by catching Velasquez behind the ear, like he did at the start of the first fight (and this fight), but Cain walked through it and took JDS down and controlled him there for 45 seconds. Then they went up against the fence where Velasquez beat on JDS' face some more. His lip is disfigured, his left eye closed, right eye closing, blood all over his face -- blood all over Velasquez's face; JDS' blood -- and then Cain backs away and hits him with a 1-2. Dos Santos got so tired he finally turtled up and said no mas. Dean stopped it, but really, Dos Santos stopped it. And I'm glad he did. Cain by TKO.

12:37 a.m. Round 4: Velasquez starts Round 4 as he ended the third, with a huge right on JDS' jaw. Dos Santos stays on his feet, but he needs to go down so Herb Dean can do what he wants to do and stop this fight. The second fight was a beatdown, one-sided, and this is worse. Velasquez is peppering him and haymakering him. Velasquez has landed more than 300 strikes, but every now and then JDS launches back with a short flurry. He's got heart and he has hope, but at the same time ... he's being brutalized. An uppercut by JDS got Velasquez's attention, so he dived in for more dirty boxing. Then Dean paused the fight at the 1:20 mark so a doctor could look at Dos Santos' face. He's a mess. His left eye is closing, and his right eye has a huge hematoma underneath it. His corner needs to stop this fight. Doctor let them go back to it, and Velasquez waded in and punished him some more. But I'll be damned, JDS landed a short elbow when Cain came in. Didn't stop Cain, but makes you think JDS isn't human. So tough. Too tough. Another 10-9 round for Velasquez. Makes it 40-35.

12:28 a.m. Round 3: If Velasquez was hurt at the end of Round 2 -- and replays were inconclusive -- he didn't look hurt to start Round 3. Instead it was more of the same, only with more punishing knees by Velasquez on JDS' thighs. One thing different about this fight from the second fight is that Dos Santos seems to have a bit more cardio. He's not attacking when he gets the chance, but every now and then he launches a Roy Nelson-like haymaker. As I say that, Velasquez dropped JDS with a right, then dropped him a second time and Herb Dean was THIS close to stopping the fight. He reached in but then pulled back. JDS is getting demolished on the fence. Rogan thinks the fence is the only thing keeping JDS up, and he could be right. Velasquez is resting for a second against JDS, then steps back and starts launching again. Cain caught him twice more on the chin, and Dean was so close to stopping it again. This fight is going to hurt JDS in his older age. Sad to see really. This was a 10-8 round for Velasquez. He's up 30-26.

12:22 a.m. Round 2:  After the first two seconds of Round 1 looked to be a possible repeat of the first fight, this has been a repeat of the second fight since. Velasquez isn't giving Dos Santos any room to think or punch or even breathe. JDS can't mount any offense because all he can do is play defense as Velasquez stalks him. I have no idea what JDS tried to do to prepare for this, but it didn't work. Cain is dominating, and Dos Santos' face is swelling up from another beatdown. With a minute left Velasquez backed up for a second, just to reposition himself, and that was JDS' chance to mount some offense ... but he was too tired. All he did was look at Velasquez, who closed the distance and pushed JDS against the fence. Again. JDS caught Velasquez at the very end of the round, but this was a 10-9 round for the champion. Velasquez leads 20-18.

12:16 a.m. Round 1: Dos Santos rocked Velasquez in the first two seconds, then caught him again with another left. Velasquez recovered by coming forward, smothering JDS' power and pushing him against the cage. But he was hurt badly. The fight calmed down until the 2:30 mark when Velasquez took JDS down and toyed with an arm triangle before settling for top position and ground-and-pound. JDS got up with 90 seconds left in the round but Velasquez kept up the pressure against the cage and won the dirty boxing battle. Tough round to score because JDS scored the most important shot(s) of the round, early, but Velasquez dominated the last 4:30. I see both sides, but give this round to Velasquez, 10-9.

12:12 a.m. Shut up, Bruce Buffer. Louder isn't better.

12:03 a.m. Prefight prediction: Dos Santos can win by KO,  as we saw in the first fight. Velasquez can win a whole lot of other ways, as we saw in the rematch. Tonight? We'll see a repeat of the second fight. Another beating suffered by JDS.
----------------------------------------
Co-main Event - Heavyweight Division (265 lbs)
Daniel Cormier - 12-0-0 vs. Roy Nelson - 20-8-0
11:57 p.m. Official decision: All three judges scored it 30-27 for Cormier. He said his plan was to wear out Nelson in the first round and strike with him in the second two. And then Cormier said he'll be at 205 for his next fight! He said he has to do some work to get to "the guy I want," meaning Jon Jones. Can't wait.

11:54 p.m. Round 3: As he walked out for Round 3, Nelson's corner told him he had to knock out Cormier to win. So they're being honest with him. And this was Nelson at his most aggressive, though he wasn't doing much with it because he couldn't catch Cormier. Cormier showed a spinning kick followed by a back fist, then a front kick to the face, Anderson Silva-on-Vitor style. Nelson is still swinging for the fences, but Cormier is keeping him at bay with front kicks and roundhouse kicks to the head. Cormier landed the best punch of the round with 1:30 left, a right to the jaw. This being Nelson, it didn't seem to phase him. Granite chin, this guy. At the 1:00 mark Nelson started taunting Cormier and showboating, an odd strategy for a guy losing the fight. Whatever. Round 3 was a tough round to score. Nelson was more aggressive, but Cormier scored a bit more I think. I give it to Cormier 10-9, and 30-27. Official results soon.

11:47 p.m. Round 2: Cormier is too fast for Nelson, and clearly he's trying to work Nelson's cardio. This is the best shape of Big Country's career, but that's a relative term. Cormier is holding his own on the feet, though Nelson's goal isn't to outppoint Cormier but to hit him with a haymaker and put him to sleep. If Cormier stays awake, he wins the boxing. That's a big if. Cormier burrowed Nelson against the fence and Nelson made a halfhearted attempt for a guillotine, but again, halfhearted. Cormier pulled out and dirty-boxed him for more points. Significant strikes near the end of Round 2 are 40-9 for Cormier. Goodness. And Nelson is tiring out, too. If Nelson was ever going to mentally break, this is the opponent to do it to him. We'll see, but Cormier has a big 20-18 lead after two rounds and it's only going to get harder for Nelson, cardio-wise.

11:41 p.m. Round 1: Cormier controlled the round on the ground, chaining all sorts of attacks and punches and even submission tries. Nelson tried a kimura, tried to land haymaker, but Cormier wore him down and won the round 10-9. We'll see if Nelson can handle the cardio. I doubt it.
11:33 p.m. Before it gets cleaned up, check Cormier's wiki site. Someone doctored it, said he lost to Nelson.Trust me; fight hasn't happened yet. About to ...

11:19 p.m. Prefight prediction: First, this is the most fascinating matchup in a long time in any division. Both are dangerous with their hands, but Nelson's chin is legendary and Cormier's chin might be. We just don't know. Cormier is the best wrestler in the division, maybe in any division, but Nelson is a BJJ black belt (even if he almost never tries to show it). I see Cormier losing the standup and taking Nelson down. Can Nelson submit the world-class wrestler? I think he will. Nelson by submission.
----------------------------------------
Lightweight Division (155 lbs)
Gilbert Melendez - 21-3-0 vs. Diego Sanchez - 26-5-0
11:14 p.m. Official decision: Judges gave it to Melendez unanimously.  One had it 30-27, two 29-28. Joe Rogan said it was the best fight he's ever seen, and while that may have been an overstatement ...it might not.

11:08 p.m. Round 3: Greg Jackson between rounds to Sanchez: OK, you're doing well, but we're down two rounds. Gotta knock this guy out. Melendez's corner screamed at him to provide food for his family. Two different corners, but the fighters were similar: Toe to toe action, some of the best of the night. Awesome standup boxing, all boxing, no kicks or knees or elbow. Just hands flying, and it was great. And Sanchez might be getting the better of it early in Round 3. Little more than two minutes in, though, a doctor takes another look at that bloody mess Sanchez calls his face. On the restart Sanchez started throwing some kicks. Melendez kept peppering the face and Sanchez gritted his face and demanded more, more, more. Then Sanchez dropped him with a left, tried to take his back, then went for a guillotine. Lost it. Too slippery. Melendez got up and kneed and elbowed Sanchez. Fight of the night here, to this point anyway. This round goes to Sanchez, 10-9, but Melendez wins it on my card 29-28.

11:02 p.m. Round 2: Sanchez was soothed between rounds by trainer Greg Jackson telling him to imagine that waterfall cascading onto his head -- I'm being serious; I heard Jackson say that -- but then Melendez started soothing him with right hands to the face. Sanchez was landing too, now. This wasn't a blowout on the feet. But the cut over Sanchez's left eye is starting to look like another open mouth. Awful. These guys, former training partners, had some toe-to-toe exchanges against the fence that were fabulous. Melendez seemed to get the better of them, but Sanchez wouldn't go away. By the end of the round his left eye was completely obscured by the blood. Not even sure there's an eye in there anymore. Another 10-9 round for Melendez, and a 20-18 lead entering the final round.
10:56 p.m. Round 1: Diego Sanchez remains the best in the business at the pre-fight mean mug and the dash across the Octagon to take the middle of the cage. He did both tonight, and even took Melendez's back in the first 30 seconds, but was shaken off. On their feet, Melendez was the better striker and shrugged off a takedown attempt and opened a cut over Sanchez's left eye and generally made Sanchez look like he didn't belong in the same cage. But I don't know; Sanchez had that mean mug and that sprint across the cage ... Close call, but I give Round 1 to Melendez, 10-9.
10:41 p.m. Prefight prediction: Sanchez doesn't know if he's a welterweight or a lightweight. Doesn't know if he's a striker or a grappler or a wrestler. Doesn't know if he's the Nightmare or the Dream, for pete's sake. Melendez? He knows what he is. He's a boxer-wrestler-controller. And he'll use that to beat his confused opponent. That's right; I dropped a "pete's sake" on you.
---------------------------------------
Heavyweight Division (265 lbs)
Gabriel Gonzaga - 15-7-0 vs. Shawn Jordan - 15-4-0
10:37 p.m. Round 1: Gonzaga hurt Jordan with a right early -- Jordan smiled; you're not fooling anyone! -- but the worst thing in the first minute was the sight of Gonzaga's porn stache. Awful. Right out of Starsky and Hutch. Anyway ... Jordan landed a job and tried to come in behind it, but Gonzaga caught him and then caught him again and there was Jordan, knocked out on the canvas. KO win for Gonzaga. Just like I predicted. Shaddup.
10:27 p.m. Prefight prediction: Jordan, a former LSU fullback, doesn't have the skill to hang with Gonzaga on the ground -- not even close -- but Gonzaga thinks his standup is better than it is (knocking out Cro Cop will do that to anyone) and that will be Gonzaga's undoing against the powerful Jordan.
--------------------------------------
PAY PER VIEW STARTS HERE
Flyweight Division (125 lbs)
John Dodson - 15-6-0 vs. Darrell Montague - 13-2-0
10:23 p.m. Round 1: Dodson pulverized Montague early, dropping him and then continuing to hurt him even after Montague clawed to his feet. Montague tried to clear his head as they boxed, but Dodson landed a left to the jaw that shut off Montague's brain. His eyes closed and he went down on his face. KO for John Dodson after 4:13 of Round 1.
10:06 p.m. Prefight prediction: The UFC must think highly of Montague -- or maybe Dana White doesn't like Montague -- to have him fight Dodson for his company debut. Dodson is the second-best 125-pounder in the world, just barely behind the champ, Mighty Mouse Johnson. Unless Montague gets lucky, and anything can happen in this sport, he's going to lose his UFC debut to a superior, more explosive, and much more irritating fighter. Dodson acts 12. But he fights like a grown man, no doubt about it.
--------------------------------------
Middleweight Division (185 lbs)
Tim Boetsch - 16-6-0 vs. CB Dollaway - 14-5-0
9:59 p.m. Official decision: Strange damn decision. Two judges gave all three rounds (plus the point deduction) to Boetsch -- making it 30-26 -- and one judge gave two rounds to Dollaway (29-27). Add it up, and it's a split-decision win for Tim Boetsch.
9:55 p.m. Round 3:  The round started with Dollaway poking Boetsch so hard that Boetsch screamed in pain, turned away and hunched over. Doctors checked the eye, which was bleeding, but Boetsch said what he had to say to keep the fight going. Boetsch was fighting angry after that, attacking more aggressively than he had for two rounds. And then Dollaway poked him again! Looked accidental, clearly, but a point was taken from Dollaway -- right call -- and now Dollaway is in trouble with the judges. On the (second) restart Boetsch went for a guillotine, lost it, and ended up on bottom with three minutes left in the fight. Dollaway moved into the full mount for about 20 seconds, but Boetsch used the cage to push up to his feet with two minutes left. The fight ended with Boetsch going for a guillotine, then another choke, and I just don't know ... I'm saying a 9-9 round, for a 28-28 draw. Results in a minute.

9:47 p.m. Round 2: Dollaway took Boetsch down early in the round and worked to get side control, then gave that up and went for the Peruvian necktie but lost his grip on the sweaty, slippery Boetsch. Next came a submission attempt for Boetsch, a guillotine -- his only proven submission weapon -- but Dollaway escaped. The grueling grappling continued until they stood with two minutes left in the round, and Boetsch landed a right that hurt Dollaway. Know how I know? Because Dollaway started smiling and nodding his head. Only hurt guys try to fake it. Soon Dollaway took down Boetsch, but Boetsch latched onto a kimura from the bottom and used that to neutralize Dollaway's top position. Tough round to score, but I give it to Boetsch 10-9 for the submission attempts. It's 19-19 entering Round 3.
9:41 p.m. Round 1: Dollaway scored more consistently than Boetsch for the first 2 1/2 minutes by using distance and technique to keep the stronger Boetsch at bay. Boetsch got him down, but Dollaway immediately popped up. Judges will be overly impressed by the takedown, but judges are silly. Several times Dollaway played the heel by lifting his hands into the air, daring Boetsch to come get him, and his own corner was yelling at him to stop. The sneering, preening Dollaway has always seemed a bit too impressed with himself, but anyway, he's a good fighter and he won this round 10-9.

9:22 p.m. Prefight prediction: My predictions early tonight were on point. Recently? Not so much. Ah well, let's try this again: Boetsch is the more ferocious striker in this fight, but Dollaway has more tools in the toolkit. Most of the time I'd pick Dollaway's versatility, but I like Boetsch's brute strength to overcome Dollaway's more polished skillset, the same way Mark Munoz beat Dollaway in 2011.
--------------------------------------
Welterweight Division (170 lbs)
Nate Marquardt - 35-12-2 vs. Hector Lombard - 32-4-1 1NC
9:15 p.m. Round 1: Oh  wow. About 90 seconds in, Lombard clipped Marquardt with a right to the temple, had him wobbly, and then just knocked him way out with a left hook that sent Marquardt to the ground and a few hammer fists that turned off the lights. KO for Lombard.

9:07 p.m. Prefight prediction: Lombard is the more explosive and more dangerous fighter, but Marquardt is more versatile. If he can avoid the KO and get this fight into the third round, he should have the superior cardio and enough tools to capitalize.
---------------------------------------
Women's Bantamweight Division (135 lbs)
Sarah Kaufman - 16-2-0 vs. Jessica Eye - 10-1-0
9:03 p.m. Official decision: Poor Sarah Kaufman. She nearly knocked out Eye in the third round, which should have been enough to overcome two razor-close rounds ... but that's the problem with 10-9 scoring. Two judges had it 29-28 for Eye (one had it 29-28 for Kaufman), so Jessica Eye wins this one by split decision.
9 p.m. Round 3: Kaufman's left eye is blackened and swelling shut, but she has more tools than Eye in the stand-up: better dirty boxing, more leg kicks. Eye has the faster hands, but Kaufman has everything else in her favor. But again, her face looks much worse than Eye's face, and that's going to be a factor for the judges. With about 1:45 left in the fight Kaufman blasted Eye on the temple and wobbled her, then followed up with some more shots that had Eye backpedaling. This was by far the most decisive round of the fight, but the judges could do anything with those first two rounds. I have Kaufman winning Round 3 by a 10-9 score, for a 29-28 decision. Official results in a minute.
8:54 p.m. Round 2:  Kaufman rocked Eye with a right one minute into the round. Neither Mike Goldberg nor Joe Rogan commented on it, but I saw it. Eye was hurt. But she recovered, and they continued to box, with Eye using hand-speed and Kaufman landing power rights over Eye's guard. Weird thing to notice, but it could matter: Kaufman is paler than Eye, and her reddened face looks more beaten-up than Eye's tanned face. Judges will see that; close fight like this, it could sway them. Me, I saw Kaufman winning Round 2 by a 10-9 score, for a 19-19 tie entering Round 3.
8:48 p.m. Round 1: Jessica Eye may not be the next big thing, but she's a skilled striker with fast hands. Kaufman is more of a slugger, and she landed a few on Eye's head. Still, for the first 2 1/2 minutes Eye scored more often with peppering, fast-paced combinations. Kaufman got Eye into a clinch and teed off, but Eye responded with another excellent combination. Tough round to score, but the Compu-box tally had Eye slightly ahead in strikes landed, so that's good enough for me. A 10-9 round for Eye.

8:38 p.m. Prefight prediction: Kaufman has fought the best in the sport and held her own. The lack of buzz for Eye is telling, because if she's not the next big thing -- and apparently she's not -- she probably can't beat Kaufman. We're about to see.
---------------------------------------
Lightweight Division (155 lbs)
George Sotiropoulos - 14-5-0 vs. KJ Noons - 10-6-0
8:33 p.m. Official decision: The official results are in, and it's a unanimous decision for Noons (29-28, 29-28, 30-27). A fourth consecutive loss for Sotiropoulos, especially in a fight this poor -- the crowd booed throughout -- probably spells the end of his UFC career. And I wouldn't get cocky if I were Noons.

8:28 p.m. Round 3: Noons hurt Sotiropoulos 90 seconds into the round with a punch, seemed to hurt him badly, but didn't chase him down. The fight stayed on the feet, and Sotiropoulos tried for a takedown but was rejected. Noons isn't polished on his feet, odd for a pro boxer, but his bizarre arsenal of uppercuts and even right hooks -- his right hand is his power hand; unpolished I tell you -- was scoring. And since Sotiropoulos was scoring only on leg kicks, Noons is winning this round. It helps his cause that Sotiropoulos is bleeding. Judges like blood even more than they like useless takedowns. I see Noons winning this round 10-9 for a 29-28 decision win. Official result coming.

8:23 p.m. Round 2: I'm still not sure Noons is a better boxer than Sotiropoulos, but it's clear Sotiropoulos thinks Noons is better with the hands. Sotiropoulos seems scared to engage, and because of that he can't get close enough to get the fight to the ground. And because of that, Noons is winning this fight on aggression and just overall non-pathetic-ness. Sotiropoulos got him down for about 30 uneventful seconds, but Noons got up for the final 90 seconds of standup. Lousy fight, but Sotiropoulos probably pulled out this round. It's tied at 19-19 entering Round 3.

8:18 p.m. Round 1: Sotiropoulos wanted nothing to do with Noons' boxing, drawing boos as he circled Noons for several minutes. Not that Noons was trying terribly hard to engage, either, for fear of being taken down. Noons was scoring with jabs to the stomach (really), while Sotiropoulos was landing occasional counter rights. Analyst Joe Rogan at one point said, "We have a minute to go, and nothing has happened." And at that moment, Sotiropoulos poked Noons in the eye. The fight was stopped briefly, then restarted for the final 40 seconds of a round I'm giving to Noons, 10-9, because of a late flurry.
7:42 p.m. Prefight prediction: Both fighters have lost three in a row, but there's a difference: KJ Noons is a one-dimensional  boxer, and not a terribly polished boxer. George Sotiropoulos is a true MMA fighter, and assuming he isn't better on his feet -- and I bet he is -- he's definitely better on the ground. In fact it's not even close. So unless Sotiropoulos catches Noons on the feet, expect him to finish this fight on the ground.
--------------------------------------
Welterweight Division (170 lbs)
TJ Waldburger - 16-7-0 vs. Adlan Amagov - 12-2-1
7:37 p.m. Round 1: Amagov landed a spinning kick to Waldburger's belly, and that was enough of that: Waldburger went in for the clinch, trying to get the fight to his strength: grappling. Amagov's takedown defense was B.J. Penn-like, and once he distanced himself from Waldburger, Amagov knocked him out cold. This was a brutal finish from a guy who started his winning flurry while still clinched with Waldburger. That's crazy power, and Waldburger was out cold for a minute. Round 1 KO for Amagov.
7:17 p.m.: Prefight prediction: Amagov is making his welterweight debut after starting his pro career at 205 pounds (and going 8-1 at light heavyweight) and then going 4-1 at 185 pounds in Strikeforce and the UFC. Waldburger is a nice fighter, a UFC gatekeeper ... but Amagov is a monster. And he's going to be a huge monster at 170. Look for him to win this one.
--------------------------------------
Lightweight Division (155 lbs)
Tony Ferguson - 14-3-0 vs. Mike Rio - 9-2-0
7:14 p.m. Round 1: Ferguson's boxing is better, so Rio tried several times to get the fight to the ground. Given his national championship NAIA pedigree, he wasn't nearly as effective at it as you'd think. And then it happened: Ferguson landed a crushing left hook, then grabbed Rio and sunk in the D'arce choke and tapped Rio out with 3:07 left in Round 1. Big submission win for Ferguson.

6:58 p.m.: Prefight prediction: Ferguson was one of the bigger heels in TUF history, getting drunk and being an ugly, angry drunk by taunting castmate Charlie Rader about Rader's inability to see his son in recent months: "Where's your son, huh?" It was awful, and it's why I don't mind saying I'd like to see Rio win this fight. Some lines you don't cross, and Ferguson crossed it.
-------------------------------------------------------
Featherweight Division (145 lbs)
Jeremy Larsen - 8-4-0 1NC vs. Andre Fili - 12-1-0
6:52 p.m. Round 2: Larsen landed the first big shot of Round 2, a few seconds into the round, but Fili landed the last two: a left hook and then a right to the temple that had Larsen wobbling like a newborn colt. Fili followed him to the ground but the fight was wisely stopped for a TKO win for Fili 53 seconds into Round 2 of his UFC debut.

6:48 p.m. Round 1: Andre Fili's nickname is "Touchy." Love that! (Say it out loud: Andre "Touchy" Fili.) He touched Larsen early and often, blitzing him with punches and knees and elbows and opening up a cut on Larsen's forehead. After 2:40 the referee paused the action to let a doctor look at Larsen's forehead, and after the restart they were exchanging hard punches. This is a slugfest and a bloodfest ... and with 90 seconds left in Round 1 it became a groundfest. Larsen took Fili down but spent as much time fending off Fili's aggressive guard as he did on offense. Fili got up for the final 30 seconds, and ended this 10-9 round stalking Larsen.

6:41 p.m.: Prefight prediction: Fili is the latest small monster to come out of Team Alpha Male, home of Chad Mendes, Joseph Benavides and Uriah Faber. This is his UFC debut, but he'll fight it at 148 pounds after being unable to make weight. No hard feelings from the UFC, most likely, since Fili was a late addition to the card and had been planning to fight soon at 170 pounds on the regional circuit. Larsen originally was set to fight Matt Grice, but Fili is his third (and final) announced opponent for this card. My pick: Fili. He's gonna be drained after that weight cut, and this is his UFC debut, but Team Alpha Male doesn't send losers to the UFC. Simple as that.
------------------------------------------------
Bantamweight Division (135 lbs)
Dustin Pague - 11-9-0 vs. Kyoji Horiguchi - 11-1-0
6:34 p.m. Round 2: Horiguchi caught Pague early with a counter left hook and was probably 2-3 ground shots away from finishing ... but Horiguchi couldn't land cleanly on the ground. After some clinch work on the feet Horiguchi tripped Pague down and worked some more ground shots. He was landing hard shots on Pague after standing over him and raining down blows, and he stood there firing undefended shots until referee Herb Dean stopped it about four minutes into Round 2. Nice UFC debut for Horiguchi, a winner via TKO.
6:29 p.m. Round 1: Pague spent most of the first round riding Horiguchi's back, and had one arm under the neck but couldn't get his hands clasped. Ultimately the fighters went to their feet for more standup, but Pague got him back down for an easy 10-9 round.
6:22 p.m. Prefight prediction: Pague is a classic gatekeeper. If Horiguchi beats him, OK, Horiguchi belongs in the UFC. If the Japanese fighter can't beat Pague, well, he won't last long in this company.
------------------------------------------
UFC 166: Velasquez vs. dos Santos comes to you this Saturday, October 19 from Houston, Texas. In the main event, Cain Velasquez defends his UFC heavyweight championship against former heavyweight title holder Junior dos Santos. This marks the third time in less than two years the two top heavyweights on the planet meet inside the Octagon.
In the co-main event, No.2 ranked heavyweight contender Daniel Cormier will face off against Roy "Big Country" Nelson. 
Check back right here on Saturday at 6 p.m. as we'll be live blogging every single fight on the card, from the online prelims through the main event.
Main Fight Card:
Main Event - Heavyweight Championship (265 lbs)
Cain Velasquez (c) - 12-1-0 vs. Junior dos Santos - 16-2-0
Tale of the Tape
 
Cain Velasquez
Junior dos Santos
Record
12-1
16-2
KO/TKO W-L
10-1
12-0
Submission W-L
0-0
2-1
Decision W-L
2-0
2-1
Age
31
29
Height
6'1''
6'4''
Reach*
77''
77''
Weight*
240
238
Co-main Event - Heavyweight Division (265 lbs)
Daniel Cormier - 12-0-0 vs. Roy Nelson - 20-8-0
Lightweight Division (155 lbs)
Gilbert Melendez - 21-3-0 vs. Diego Sanchez - 26-5-0
Heavyweight Division (265 lbs)
Gabriel Gonzaga - 15-7-0 vs. Shawn Jordan - 15-4-0
Flyweight Division (125 lbs)
John Dodson - 15-6-0 vs. Darrell Montague - 13-2-0
FOX Sports 1 prelims: 
Middleweight Division (185 lbs)
Tim Boetsch - 16-6-0 vs. CB Dollaway - 14-5-0
Welterweight Division (170 lbs)
Nate Marquardt - 35-12-2 vs. Hector Lombard - 32-4-1 1NC
Women's Bantamweight Division (135 lbs)
Sarah Kaufman - 16-2-0 vs. Jessica Eye - 10-1-0
Lightweight Division (155 lbs)
George Sotiropoulos - 14-5-0 vs. KJ Noons - 10-6-0
Online prelims:
Welterweight Division (170 lbs)
TJ Waldburger - 16-7-0 vs. Adlan Amagov - 12-2-1
Lightweight Division (155 lbs)
Tony Ferguson - 14-3-0 vs. Mike Rio - 9-2-0
Featherweight Division (145 lbs)
Jeremy Larsen - 8-4-0 1NC vs. Andre Fili - 12-1-0
Bantamweight Division (135 lbs)
Dustin Pague - 11-9-0 vs. Kyoji Horiguchi - 11-1-0
Our Latest Stories
Patrick plans to call it a career after running at the two most iconic U.S. auto races

Let the truth set you free, sir

The poor kid never even saw it coming
The burglars that Childress fired at were carrying military-grade weapons on them, the cops...

'Kong Infinity' and 'Happy Ending' headline two additions to the ultimate endurance course...

Nik Kayler's body has been found after going missing last week during a fishing tournament