UFC 171: Johny Hendricks beats Robbie Lawler for welterweight belt
Johny Hendricks defeated Robbie Lawler via unanimous decision at UFC 171 to become the first new UFC welterweight champion in almost six years.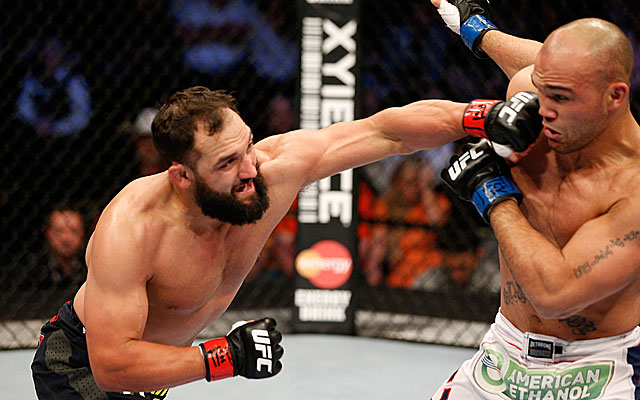 UFC 171: Hendricks vs. Lawler • Saturday, March 15 • Dallas
MAIN CARD (PPV, 10 p.m. ET)
For the vacant UFC welterweight title (170 pounds): 
Johny "Bigg Rigg" Hendricks (15-2) vs. "Ruthless" Robbie Lawler (22-9)
12:45 a.m. Final word: This is the belt Johny Hendricks (should have) won at UFC 167 vs. Georges St. Pierre, beating up GSP so badly that GSP retired afterward rather than face Hendricks again. But the judges gave the decision to the wrong guy, forcing Hendricks to spend several more months without the belt he'd earned.
When the official decision was announced Saturday night, Hendricks over Robbie Lawler for the 170-pound title, Hendricks collapsed to his knees and could be heard screaming, above the crowd, "Aaaaah! Aaaaah! Aaaaaaaah!"
We've entered the Hendricks Era ... but we've not seen the last of Robbie Lawler. He'll fight for the title again. Maybe after Hendricks faces (my guess) Tyron Woodley for the belt next.
12:38 a.m. Official decision: All three judges had it 48-47 for Hendricks.
12:36 a.m. Round 5: This looks like Round 1, early, with Hendricks forcing Lawler to the cage and scoring with knees to the thigh. Lawler has to get away from the cage, or he's gonna lose this round and this fight. Hendricks is too strong for him here. The referee breaks them with 3:00 left; advantage Lawler. He's scoring with jabs and uppercuts, while Hendricks is scoring with lesser, but accurate, jabs and leg kicks. Now a big right hook from Lawler, and again, scores well. Hendricks responds with some lefts and Lawler looks woozy for the first time. Crowd's roaring and Hendricks is blasting away with uppercuts and hooks, and Lawler is clearly hurt. He's backed to the cage, and Hendricks dumps him to the mat with 1:00 left, and this round is Hendricks', clearly. His best round of the fight, maybe, and Lawler doesn't have the strength to get this All-American wrestler off him. A 10-9 round for Hendricks, and a 48-47 win for Hendricks. Says me.
12:30 a.m. Round 4: Lawler is still stalking this round, still smiling, still landing rights to the face of Hendricks. Remember what Georges St. Pierre's face looked like after Hendricks beat him up? Lawler is starting to do that to Hendricks' face. He's bleeding from several places, and after this is done his face will be lumpy and purple. On offense, Hendricks has spent the last round and a half patting with his jab hand, trying to measure Lawler for a big left, But he hasn't come close with any big lefts. Lawler thunders home an uppercut, and Hendricks channels some Chris Leben and responds by scoring 4-5 shots of his own, but Lawler just smiles! Hendricks' right eye is swimming in blood. He looks bad, bad, bad. And this was another 10-9 round for Lawler, meaning it's 38-38 entering Round 5. Woohoo!
12:24 a.m. Round 3: Lawler is now bringing the leg kicks of his own, evening up the striking game after losing the first two rounds. Early in Round 3, Hendricks is winning the battle of leg kicks, 22 to 3. The hands are his, too. And the knees. This is a butt-kicking, to date, with Hendricks throwing crazy volume of punches. But it only takes one from Lawler, and he rocks Hendricks with three minutes left in the round. Hendricks is backing away and Lawler is stalking, and this is scary for Bigg Rigg. He tries to take down Lawler but can't get it done, because he's hurt that badly. Lawler is walking him down and smiling as he does it, delivering an uppercut-cross combo. Hendricks isn't in danger of going down from a normal shot anymore, but this was Lawler's round, 10-9, cutting the Hendricks lead to 29-28.
12:18 a.m. Round 2: Lawler is moving a lot more on the outside, probably to not give Hendricks an easy target on that right thigh. Same leg, Lawler's shin has a huge knot on it from checking a kick later in the first round. Up and down, that leg is in trouble. And now Hendricks pummels it some more with kicks. And now Lawler isn't moving so good anymore. Hendricks is winning exchanges with 1-2 combos and then a knee and a leg kick. Lawler is just throwing a punch at a time. Lawler keeps smiling, but he's getting his ass kicked. Then again, Lawler knows he's one big shot from ending this fight in the affirmative. Not as much heavy shots this round, but it's another clear 10-9 round for Hendricks.
12:12 a.m. Round 1: Hendricks immediately scores with two heavy leg kicks, but Lawler scores with 4-5 lefts to the face, although none with power torque. Hendricks forces a clinch and repeatedly knees Lawler's right thigh, the same one he was kicking earlier. Could matter later. Both guys have, like, smiles on their face as they engage. They are thrilled to be here. Charming to watch. Now Lawler is smiling even wider because he just got popped in the face. He returned the favor by jabbing Hendricks in the face. Tough round to score, but Hendricks scored with a lot more kicks and knees, almost all of them to Lawler's right thigh, so I'm giving this round to Hendricks 10-9.
11:51 p.m. Outlook: Sooner or later, Hendricks will catch the overrated Lawler with an overhand left. Matter of time. Simple as that.
Welterweight bout (170 pounds):
Carlos Condit (29-7) vs. Tyron Woodley (12-2)
11:47 p.m. Round 2: An uneventful first minute is capped by a takedown, Woodley on Condit, and Condit goes down in a grimacing heap. Did he twist a knee going down? We don't know, but he looked clearly in pain. They were stood up with 3:10 left and Condit looked ok … until Woodley leg-kicked Condit's left knee and the right knee blew up when Condit tried to brace himself. Condit collapsed. TKO win for Woodley, middle of Round 2.
11:43 p.m. Round 1: Woodley cracked Condit with an overhand right, then another, in the first 40 seconds. Then he chased down Condit and clinched with him on the cage, which looked good for the judges because Woodley was in control … but will work against him as the fight goes on, because the clinch game is grueling and Woodley struggles with cardio. Condit crunches him with a shot to the head, but Woodley powers him down and now Condit is working from his back with a full guard. Condit locks in a triangle, and Woodley escapes by picking up Condit and slamming him down, but Joe Rogan notes that will further deplete Woodley's cardio tank. Still, Woodley takes down Condit again, and this is a clear 10-9 round for Woodley.
11:36 p.m. Outlook: Condit is so well rounded, and Woodley is ... not. Woodley has awesome power, but he's not fighting a used can like Josh Koscheck. He's fighting the best welterweight he's ever faced. And he's lost twice already. See what I'm saying?
------------------------------
Lightweight bout (155 pounds): 
Diego "Dream "Sanchez (26-6) vs. Myles "Fury" Jury (13-0)
11:25 p.m. Official decision: Unanimous for Jury, 30-27, 30-27 and 29-28.
11:22 p.m. Round 3: Sanchez scores with body kicks and Jury scores with jabs and counters. Action this round aplenty, but not much damage done. Lots of strikes, not lots of connections. Sanchez has to finish Jury to win, and he's aggressive, but he's always aggressive. There's no frenzy to finish, maybe because Jury knows how to get out of the way immediately, every time Sanchez starts winding up for an attack. Jury takes him down but doesn't do much as the round ends. I'd give it 10-9 to Sanchez for aggression, but 29-28 for Jury overall.
11:16 p.m. Round 2: Jury planted an early right into Sanchez's right eye, and Sanchez's knees buckled and his hand went to his eye to check for damage … and yes, there's damage. He's bleeding. He seems to have recovered quickly, but Jury is winning this round with that damage and with more counter right hooks as Sanchez -- the more aggressive fighter -- comes in and gets popped for his trouble. Jury is peppering jabs now onto that cut, and Sanchez's face is drenched in blood. And now he's on his back, having been punched and then taken down, but Sanchez fishes for an arm-in guillotine with 1:20 left. Crowd is screaming, but Jury quiets them by flashing a thumb's-up sign. Jury gets free and elbows the cut, and this is another 10-9 round for Jury, and 20-18 overall.
11:10 p.m. Round 1: Jury countered Sanchez early, causing Sanchez to back up and then gesture defiantly for more. Not fooling anyone, Diego -- you got hurt. But soon he hurt Jury with a right to the upper jaw, then pinned Sanchez against the cage (without doing any damage). They exchange and score, and then Jury countered Sanchez again, stunning Sanchez momentarily. A late takedown for Jury cements a close 10-9 round for Jury.
10:56 p.m. Outlook: Sanchez has only great fights. Jury has only wins. I expect both to continue.
----------------------------------------
Welterweight bout (170 pounds): 
Jake Shields (29-6-1) vs. Hector Lombard (33-4-1)
10:54 p.m. Official decision: Unanimous decision for Lombard: 30-27, 30-27 and 29-28.
10:52 p.m. Round 3: Lombard hits Shields below the belt twice, once with a punch (!) and then with a kick, and the second shot gets a warning from the official. Lombard takes him down and throws some body shots, but just as embarrassing as Shields' standup is Lombard's lethargy or cardio or whatever is wrong with him. He was awesome in the first round, but mailed in the next two. It's enough to win a decision, but it's not winning over fans or UFC president Dana White. No way. Even with a late guillotine try by Shields this is a 10-9 round for Lombard, who will win 30-27 or maybe even 30-26.
10:45 p.m. Round 2: Lombard uppercuts Shields and then kicks his feet out from beneath him, like a mean fourth-grader might do to a smaller second-grader. Lombard isn't doing anything in Shields' guard, just resting really, and the crowd is booing before the standup. Lombard doesn't do anything for a minute on the feet, maybe resting or maybe just waiting out this round, which he thinks he's already won. A fun round, this isn't. Lombard won't strike, and Shields can't. They tie up and Lombard judo-throws Shields to the mat with a bang. It's a 10-9 round for Lombard, but not one to watch ever again.
10:40 p.m. Round 1: Lombard is picking on Shields, just too quick and strong and skilled on the feet. I'm embarrassed for Shields that he's not better than he is in the standup. He's unreal on the ground, we all get that, but holy cow man. Why can't you strike STILL? After all these years? Lombard is hurting Shields and has him bleeding from the left eye, and he's so stunned that his takedowns are slow and pathetic. Lombard has him against the cage and knees him in the head, and Shields goes down with Lombard on top, in the guard, resting for a final onslaught … which never really comes. Lombard rests the final 70 seconds in Shields' guard. It's a 10-8 round for Lombard.
10:24 p.m. Outlook: Shields' embarrassingly rudimentary striking combined with Lombard's power and quickness advantage? I can do that math.
----------------------------------------
Light heavyweight bout (205 pounds):
Ovince Saint Preux (14-5) vs. Nikita Krylov (16-3)
10:20 p.m. Round 1: Saint Preux catches a body kick and wins side control within 35 seconds, and traps Krylov's left arm between his legs, then uses the Von Flue choke! Krylov tried a guillotine the wrong side of from side control, and Saint Preaux leaned into him with his left arm and shoulder, cutting off the blood supply. And Krylov was out cold, technical submission, 1:29 of the first round.
10:04 p.m. Outlook: Krylov is a longtime heavyweight whose cardio has been an issue. And he's cutting all that weight to drop down to 205 for the first time to face an enormous, explosive light heavyweight in Saint Preux? Unless Krylov scores an early KO, this is a recipe for disaster.
----------------------------------
PRELIMS (Fox Sports 2, 8 p.m. ET)
Welterweight bout (170 pounds):
Kelvin Gastelum (8-0) vs. Rick Story (16-7)
10:01 p.m. Official decision: Weird split decision. 29-28, 28-29, and ... 30-27 for Gastelum.
9:59 p.m. Round 3: Gastelum hurts Story with 3 minutes left with a shot to the head, but they scramble on the ground and Story wins it ... and takes Gastelum's back. Both hooks in, 2:10 left. This is the way to win a round with the judges, even though he was the one who got wobbled for a second. Gastelum spins on top with 40 seconds left, but Story gets up for the final 30 seconds. Gastelum won the final 30 seconds on their feet, and rocked him earlier, so I'm giving Gastelum this round 10-9 and this fight, either 29-27 or 29-28.
9:53 p.m.Round 2: Gastelum was winning on the feet for 90 seconds and then wobbled Story with a combination to the face. Story is a punching bag, which is crazy. Who saw that coming? Story looks like he's been through a battle, while Gastelum looks unmarked and fresh, not tired or even touched. Story is a southpaw who fought orthodox in the first round but paid for it, so he's back to southpaw this round. He looks more assertive as the round goes, but Gastelum is still winning with a series of rights -- jabs, hooks, punches in between the two. Last 15 seconds, Story wobbles Gastelum with a hook and then dropped him with another shot to the face. So this is 10-9 Story, and either 19-19 or 19-18 Gastelum entering Round 3.
9:47 p.m.Round 1: Gastelum drew first blood with a stiff jab under Story's right eye, then landed a half-hook to the same spot. I tell you, Gastelum is better on his feet than I've ever seen. Story is throwing harder, but Gastelum is moving and avoiding and scoring. And Gastelum just dropped Story with a head kick, though Story momentarily recovered on his back by tying up Gastelum. Story has slowed significantly, not really from exhaustion but from damage to the head from all these hard jabs, half-hooks and the headkick. This was a borderline 10-8 round for Gastelum.
9:35 p.m. Outlook: Gastelum gets doubted every fight, and he wins every fight, but Rick Story is a whole other level from anyone Gastelum's ever faced. Story loses only to elite fighters. Is Gastelum elite? Doubt it. See what I did there?
----------------------------------
Women's bantamweight bout (135 pounds): 
Raquel Pennington (4-4) vs. Jessica Andrade (10-3)
9:33 p.m. Official decision: Split decision, 29-28, 29-28, 28-29 for Andrade. Crowd is booing, like they know. They don't. But they want the American to win.
9:31 p.m. Round 3: Pennington continues to retreat but score on her way back. Andrade continues to stalk and score on her way in. This is a slugfest, is my point, and I just don't know how the judges can score this round. For three minutes it's a dead heat. The fourth minute was the same. Pennington drags Andrade down, twice, in the final minute, but Andrade controlled the action for four minutes so I'm giving her this round, barely, 10-9 for a 29-28 win. But I'll be wrong.
9:25 p.m. Round 2: Andrade is the bully in this fight, actually. She's a bulldog, just attacking Pennington the bigger fighter keeps backing up, stunned that this little yippy thing is attacking her. But Andade is attacking, and there's a great exchange against the cage, back-and-forth combos by each. That was fabulous. The round continues like that, with great exchanges until Pennington gets a standing guillotine and the crowd is roaring for a submission. No such luck, but it was close. And that's a 10-9 round for Pennington, for a 19-19 tie.
9:18 p.m. Round 1: Andrade's short little body works for her as a judo fighter, giving her leverage on Pennington and allowing her to control the action by throwing the bigger Pennington to the ground several times. Nothing's happening on the ground other than an armbar attempt by Pennington, but Andrade made it go there, so Andrade will win this round 10-9 on boredom Octagon control.
9:01 p.m. Outlook: Andrade has the much better record, but at 5-foot-2 she's a tiny fighter for this weight class. Pennington wants to fight like a bully, and against Andrade she'll be able to do just that.
-----------------------------------------
Featherweight bout (145 pounds): 
Dennis Bermudez (13-3) vs. Jimy Hettes (11-1)
8:58 p.m. Round 3: Bermudez buried a leg kick so deep, I thought his shin might fuse with Hettes left thigh, then drops Hettes with a right uppercut (says Rogan). I thought he might have hit him low. Whatever the case -- it happened fast -- Hettes collapsed and Bermudez dived on top. They rose, and Bermudez dropped him twice more, with a body punch and a head punch. Hettes was hurt, or something. Leg? Whatever the case, he kept dropping on shots that don't drop normal fighters. Weird. Though the last shot was a knee to the forearms, in front of the head. TKO for Bermudez. Something's wrong with Hettes, though. Weird.
8:52 p.m. Round 2: Bermudez bullied Hettes again this round, walking him down and muscling him against the fence and refusing to let Hettes get any offense going. All defense for Hettes, which is no way to win a decision. Bermudez hurt Hettes badly with 2:15 left in the round, and neither Rogan nor Goldberg nor I knows how. But Hettes spit out his mouthpiece and crumpled and Bermudez went in for the kill. He was unable to get it, and the fighters were separated with 90 seconds left. I'm guessing it was a liver shot. Anyway, they scrambled and Hettes got his back with 40 seconds left but never came close to a submission. Another 10-9 round, and a 20-18 lead, for Bermudez.
8:46 p.m. Round 1: Bermudez is bulling Hettes around the cage, shorter and stronger and cutting down Hettes with leg kicks before driving in for the clinch and then rag-dolling Hettes like, um, a rag doll. But when they're standing, Hettes just walks forward like a zombie despite having little in the way of set-up striking. He just walks into Bermudez's punches. Impressive courage, but he's losing. This is a 10-9 round for Bermudez.
8:34 p.m. Outlook: Great matchup of two rising stars, but Hettes has a 5-inch reach advantage. Something has to separate these two guys. That's it right there.
--------------------------------------
Welterweight bout (170 pounds): 
Sean Spencer (11-2) vs. Alex Garcia (11-1)
8:30 p.m. Official decision:3 p.m. Split decision: 29-28 for Spencer, but 30-27 and 29-28 for Garcia.
8:29 p.m. Round 3: Spencer is fresher as I predicted but Spencer hurt himself checking a kick with Garcia. He's limping now and not doing anything. Maybe he broke his foot? He's just ... standing there. Garcia takes him down, seeing how Spencer isn't moving, and could steal this round from the fresher Spencer by just laying on top of him for the final 2:30. Garcia mounts him with 75 seconds left but lost control immediately and both are on their feet. Weird round, but Garcia won it 10-9, so he'll win this fight 29-28 or 30-27.
8:22 p.m. Round 2: Spencer staggers Garcia with a right, and then Garcia staggers Spencer with a right. Both guys could go at any moment, and there's 2:30 left. Both are exhausted and again, Garcia is so muscular that his cardio is more in question. Garcia hurts Spencer with an uppercut and then records his sixth takedown of the fight. Tough round to score, since both were nearly knocked out, but Garcia's top control will register with the judges, and should. Another 10-9 round for Garcia, and 20-18 overall. Maybe.
8:17 p.m. Round 1: Garcia is terrifying to look at. All muscles, and looks like he has about 210 pounds poured into that 170-pound body. We'll see if he can last three tough rounds. Assuming Spencer can survive three tough rounds. Garcia won this round 10-9 with takedowns, Octagon control and aggression. Not a lot of scoring though.
8:12 p.m. Outlook: Neither has beaten anybody of note, but Spencer wins by decision while Garcia finishes people.
-----------------------------------
EARLY PRELIMS (UFC Fight Pass, 6 p.m. ET)
Lightweight bout (155 pounds): 
Renee Forte (8-3) vs. Francisco Trevino (11-0)
7:59 p.m. Official decision: All three judges had it 29-28 for Trevino. Forte was raising his hand and smiling, expecting to hear his name. I didn't even see the first two rounds, and I knew he lost. Jeez.
7:58 p.m. Round 3: Forte is exhausted and Trevino is pouring it on. Spinning elbow, landed. Combos, landing. Takedowns? Sure. Forte is just finished, throwing punches as if his arms are underwater. Rogan and Goldberg are saying this fight was tied entering this round, and Trevino is dominant this round. He's gonna win this one 10-9, and the fight 29-28.
7:52 p.m. Rounds 1-2: No idea. Didn't see them. MacBook went down. I thought Mac's don't have viruses? Mine might have one. Anyway, it sounds like the score is tied 19-19 entering Round 3.
7:29 p.m. Outlook: Forte's a little lightweight who is prone to being finished. Sounds like a good UFC debut for Trevino.
---------------------------------------
Flyweight bout (125 pounds): 
Will Campuzano (13-5) vs. Justin Scoggins (8-0)
7:27 p.m. Official decision: 30-27 Scoggins.
7:26 p.m. Round 3: Campuzano comes out hard and seems to wobble Scoggins for a moment, but Scoggins recovers, takes him down and hurts him badly on the ground. Then has his back. Now side control and dropping elbows. There was never a round to give to Scoggins 10-8, but this was worse than a 30-27 win for Scoggins. This was a beatdown.
7:20 p.m. Round 2: On their feet Campuzano looks like an Edsel trying to race a Porsche, and Campuzano is a good fighter. But Scoggins is so quick and technical and aggressive. He takes down Campuzano, gets caught in a guillotine, but gets out. That was close though. Now Scoggins is on top and dominant, side control to back control, but he got greedy and ends up back in Campuzano's guard. Some vicious elbows by Scoggins, and he has the back again. Closer round because of the guillotine try by Campuzano, but that means it was just a regular 10-9 round for Scoggins, and 20-18 overall.
7:14 p.m. Round 1: Scoggins gets down Campuzano quickly, latches onto the neck but can't finish. On their feet this kid Scoggins looks gooooood. Spinning techniques, switching stances, throwing stuff from all angles. Campuzano is just a target right now. Until Scoggins dumps him again. This is domination after three minutes. They get up and Scoggins is karate-kidding this guy to pieces. Clear 10-9 round for Scoggins. If he'd dropped Campuzano just once, it would be 10-8. A blowout. But no real damage, so 10-9 it is.
6:59 p.m. Outlook: Scoggins is a rising star. Campuzano is a gatekeeper, a guy who wins at regional shows (12-0) but loses in the WEC and UFC (1-5 combined).
----------------------------------------
Middleweight bout (185 pounds): 
Bubba McDaniel (21-7) vs. Sean Strickland (13-0)
6:57 p.m. Round 1: This is the best Bubba McDaniel I've seen, and by that I mean, he actually seems interested in fighting and not just avoiding damage for 15 minutes. He's scoring with punches and a takedown. Strickland takes him down and is even more interested in scoring, with elbows and ground shots. I'll be curious to see how McDaniel comes out for Round 2, now that he knows this kid can hurt him. And badly, actually. Some of the strikes at the end of the round were brutal. McDaniel gives him his back, and Strickland chokes him out. So never mind. There will be no Round 2. McDaniel couldn't tap out fast enough.
6:52 p.m. Outlook: I've seen enough of Bubba McDaniel, on the TUF show and in the Octagon, to not believe in him at all. I've never seen Sean Strickland. Advantage: Strickland. Hey, you asked.
---------------------------------------
Featherweight bout (145 pounds): 
Daniel Pineda (18-10) vs. Rob Whiteford (10-2)
6:43 p.m. Official decision: The judges gave it to Whiteford unanimously: 30-27, 29-28, 29-28. Nice win for him. I'll never watch the replay.
6:41 p.m. Round 3: Pineda starts the round with a kick, Whiteford catches it and dumps him onto the mat, and here we are. Having the referee scold them both about doing nothing. Whiteford spent the last few seconds of the first two rounds running away, knowing he had the rounds won. And it seems like that's his strategy for Round 3, laying-and-praying until the ref stands them up at the 3:15 mark. Pineda went for another knee bar, and I have no idea how close it was to a submission but Joe Rogan was damn near giddy. Whiteford escaped though. Another takedown. More lay-and-pray. Pineda goes for the triangle, Whiteford escapes. Whiteford has had the takedowns this round, but Pineda's the only one threatening. He's going to win this round 10-9, and if two judges score that close first round for Pineda, he could win the fight. I have it 29-28 Whiteford.
6:35 p.m. Round 2: Another takedown for Whiteford, nothing happens, they get up. Both guys could kick my ass, but this fight sort of sucks. Pineda gets a takedown next, nothing happens, they get up even faster. Halfway thru the round Whiteford bloodies Pineda's left eye with a head kick that wobbles Pineda's knees. They go to the ground and Pineda toys with a nasty-looking knee bar, but Whiteford escapes and moves into top control. They get up, and Whiteford wins it 10-9 for a 20-18 lead.
6:29 p.m. Round 1: Whiteford has better tats, or at least more tats. Lots of color, too. I thought he was bleeding from the ribs, then realized (A) nobody bleeds from the ribs and (B) it's a red tattoo. Pineda's best moves early are some brutal foot stomps, straight down onto Whiteford's foot. Could break a man's bone that way. Whiteford is landing better on the feet -- leg kicks mainly -- and takes down Pineda from the clinch. Boring round to watch, and not a lot of fun to score either. But it's a 10-9 round for Whiteford.
4:25 p.m. Outlook: Both are strikers who have some skill on the mat -- Pineda is a brown belt in BJJ, Whiteford a black belt in judo. But Whiteford is the more accomplished striker, with a bigger reach.
---------------------------------------
Preview: For the first time in almost six years, the UFC will have a welterweight champion other than Georges St-Pierre after Saturday's UFC 171 in Dallas.
In the show's main event, Johny Hendricks takes on "Ruthless" Robbie Lawler in a fight to crown a new welterweight champion, after St-Pierre vacated the title on Dec. 13, 2013. Also on the card, "The Natural Born Killer" Carlos Condit fights Tyron Woodley, Diego Sanchez takes on Myles Fury and Jake Shields squares off against Hector Lombard.
We will be bringing you round-by-round coverage of every fight with a live blog, so come back on Saturday to keep up with all the action.
Here's a quick look at the Hendricks-Lawler tale of the tape, along with the full fight card and where you can watch.
Tale of the Tape: Hendricks vs. Lawler
Johny Hendricks
vs.
Robbie Lawler
15-2-0
Record
22-9-0, 1 NC
8-0
KO/TKO W-L
18-1
1-0
Submission W-L
1-5
6-2
Decision W-L
3-3
30
Age
31
5-9
Height
5-11
71 in.
Reach*
74 in.
170 pounds
Weight*
170 pounds
Our Latest Stories
Smoke brought out the diamonds on Thanksgiving Day

Raisman said she is 'beyond disgusted' by Nassar's actions and says it's 'about time' he's...

A Florida woman allegedly stalked and harassed Stewart for more than a year after he failed...
Jonah Keri talks to with Vox senior politics reporter Jane Coaston

The movie also stars Channing Tatum, James Corden, Zendaya and Danny DeVito

Travel plans for the PyeongChang Games have been 'stagnant,' one agency told USA Today