UFC 172: Jon Jones routs Teixeira in five rounds; Anthony Johnson next?
UFC light heavyweight champion Jon 'Bones' Jones dominated Glover Teixeira at UFC 172 on Saturday, and might have seen a future opponent in Anthony Johnson, who dominated Phil Davis similarly.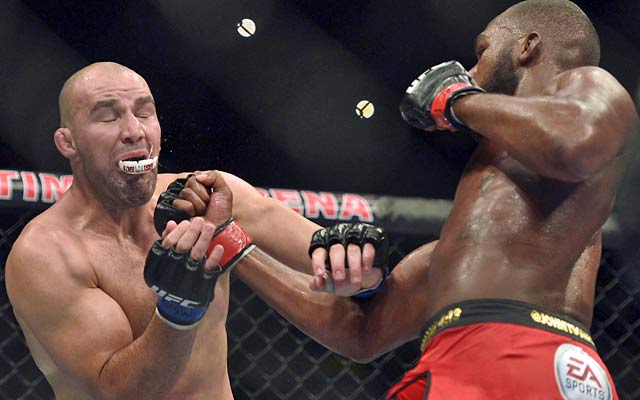 UFC light heavyweight title bout (205 pounds):
Jon Jones (19-1, C) vs. Glover Teixeira (22-2)
12:35 a.m. Last word: So here's the question: As Jon Jones clears out the light heavyweight decision, did we see the guy tonight who could be dangerous to him? And no, not Glover Teixeira. He wasn't dangerous at all, shockingly. But the fight before the main event, when Anthony Johnson demolished Phil Davis, showed a 205-pound monster with power and wrestling ability who could change a fight with Jones with one shot. We'll see Jones fight Alexander Gustafsson first, I'd imagine, but after that?
Bones vs. Rumble. Unless Jones goes ahead and fights Cain Velasquez for the heavyweight title.
12:29 a.m. Official decision: The judges gave it to Jones via unanimous decision, 50-45 times three.
12:27 a.m. Round 5: Teixeira scores with an uppercut and a left hook, the combo that ruined Ryan Bader, but Jones eats it and then scores with a brutal combo of his own, knocking out the Teixeira mouthpiece yet again. Jones is looking for an elbow knockout, including a back elbow, the kind Anderson Silva once used to knock out Tony Fryklund. He's just showing off now, respectfully, because Teixeira is so hurt and tired he can't really hurt Jones now. After this fight, Teixeira is going to have a world of scar tissue on his face for future foes to punch at. Jones misses with a spinning back elbow and jogs away from danger. Easy 10-9 round for Jones, 50-45 win. Says me. 
12:20 a.m. Round 4:  Jones is wading in, getting close enough for Teixeira to hurt him, but it's Jones who is landing all the scoring shots, including one that knocks out Teixeira's mouthpiece. A jab. Knocked the mouthpiece out. Wow. The cut over one of Teixeira's eyes is so bad, Joe Rogan is wondering if the fight can continue for another round-plus. It's a good question, and Jones is targeting it with punches. Jones is so diverse, throwing a front kick to the leg, an axe kick to the head and then a swooping right elbow to the bridge of Teixeira's nose. Here comes more blood. Jones spins with an elbow to the head, and this is just target practice now. Teixeira is one of the most dangerous 205'ers in the world, and he has no chance. This could be stopped soon. Obvious 10-9 round for Jones, and a 40-36 total. "Amazing artistic fight," Greg Jackson tells Jones. "It's beautiful to behold."
12:14 a.m. Round 3: Jones throws one right, but it's almost all lefts and elbows. Teixeira comes in with a combo but can't quite reach Jones, who keeps throwing left elbows to the face, one of them knocking loose the Teixeira mouthpiece, and Jones pauses to let Teixeira put it back in! Sporting. Wow. They clinch and Teixeira scores with three right uppercuts, the last one seeming to hurt Jones. Here's another uppercut when they get onto the cage again, but it's Teixeira who is bleeding from the nose from all these forearm shivers he's taking from Jones. The elbows are cutting Teixeira's face to ribbons against the cage, where he is bleeding all over Jones' back and shoulders. Jones' reach is so great, he's resting a hand on Teixeira's head and using that to find his distance. Looks like an eighth-grader picking on a third-grader. Against the fence Jones is hurting him with uppercuts. Ugly. Easy 10-9 round for Jones. 30-27 overall.
12:08 a.m. Round 2:  Big left over the top by Jones starts the scoring in Round 2. Teixeira isn't trying to score with volume, just damage, and until he actually lands one of these, Jones is going to outscore him, GSP style. Staying busy, you know? Jones does a chopping front kick to Teixeira's knee and then elbows him and then … pokes his eye again. Referee Dan Miragliotta tells Jones he'll deduct a point next time, and Jones bows to Teixeira and they touch gloves. Big left from Teixeira on Jones' temple, and that was his best shot of the night. Gets him against the fence and lands another left. Jones then throws a head kick and two elbows, landing all three. Joe Rogan notes that Jones isn't using his right hand to strike, and it's true, and now we're wondering if Jones has a broken right hand. Hmmm. Jones spin-kicks the body, left elbows the head and then right shoulders the jaw of Teixeira. Another 10-9 round for Jones.
12:02 a.m. Round 1:  Jones starts with kicks to the body, then leg, then body again. They clinch, and Jones goes for the plumb and another knee to the body. Teixeira is more interested in punches, but he's got to wade past Jones' kicks to throw them. Teixeira landed a right over the top, and another, and these are fight-ending shots if they land just right.  The fight stops for a second after Jones pokes Teixeira on accident, but it was unintentional and they get right back to fighting after touching gloves twice. Jones catches a body kick and dumps Teixeira on his back, but they get right back up with 90 seconds left. Jones is flicking his jab and scoring with it, nothing damaging but still, scoring. Then a spinning back kick to the body by Jones makes an enormous WHACK on Teixeira's left ribs. Close round, but 10-9 Jones. And then Greg Jackson tells Jones to relax and "find your waterfall."
11:55 p.m. Pre-fight: The crowd booed Teixeira, and he grinned at them.
11:50 p.m. Pre-fight: Jones is shrieking in excitement as he bounces from the locker room to the cage. Oh my.
11:41 p.m. Prediction:  Jones showed in his last fight, a disputed decision win against Alexander Gustafsson, that he's human. Teixeira hasn't shown he's human yet, not in the UFC anyway. That said, Jones has a 9-inch reach advantage, and I don't see how Teixeira can get close enough to beat Jones without being beaten badly first. Jones by stoppage. Late.
Tale of the tape for the five-round championship fight:
Tale of the Tape: Jones vs. Teixeira
Jon Jones (C)
vs.
Glover Teixeira
19-1-0
Record
22-2-0
9-0-0
KO/TKO W-L
13-0-0
6-0-0
Submission W-L
6-0-0
4-0-0
Decision W-L
3-0-0
26
Age
34
6-4
Height
6-2
84.5 in.
Reach*
76 in.
205 pounds
Weight*
205 pounds
------------------------------
Light heavyweight bout (205 pounds):
Phil Davis (12-1, 1 NC) vs. Anthony Johnson (16-4)
11:38 p.m. Official decision: Judges gave it to Anthony Johnson, 30-27 times three, not giving him enough credit for the fight-winning damage he did in the first round.  But whatever.  Quote to know, from Joe Rogan: "Anthony Johnson just became one of the biggest contenders in the 205-pound division."
11:36 p.m. Round 3:  Davis is just a target for Johnson, who is hitting it whenever he wants. Before the round Davis' corner told him he needs to finish the fight, but as Joe Rogan pointed out, didn't give Davis any suggestions. "They don't know what to do," Rogan said. No such problem for Johnson, who clinches with Davis and sends Davis on his way with an overhand right. I think Davis was hurt so badly in the first round that he has been a shell of himself since, unable to mount the comeback he needs. Only question is the final scoring. Will it be 30-27 for Johnson, or 30-26 because of that first round?
11:30 p.m. Round 2:  Davis is throwing halfhearted punches and kicks because he's tasted Johnson's power and Did. Not. Want. And so he's flicking ineffective strikes for fear of being countered, and he's taking half-assed shot attempts that Johnson is stuffing with ease, and Johnson landed another uppercut. Ugly. This is a one-sided beatdown for Johnson, and raise your hand if you saw this coming. Liar! Johnson stalks Davis the rest of the round, knowing Davis can't out-strike him and is too hurt, or too tentative, to get him to the ground. Blowout 10-9 round for Johnson, and a 20-17 edge entering Round 3.
11:24 p.m. Round 1:  Johnson is digging in with right uppercuts as Davis comes in to wrestle. One of those could knock Davis out in a big, bad way. Davis is backing up after another uppercut, and he's hurt. Johnson has him against the cage and tees off while referee Herb Dean stares, but Davis spins away. Johnson is stalking him, and landing more punches and a crashing leg kick, and Davis is pouring blood and this is a 10-8 round to me. For Johnson, duh.
11:17 p.m. Note: Remember how I said Rashad Evans is the only guy to have beaten Phil Davis? Well, Anthony Johnson trains with Rashad Evans. What does it mean? Not a damn thing. But still. The more you know.
11:10 p.m. Prediction:  Davis has cardio for days and has lost only to Rashad Evans. Johnson struggles to make weight in any class he fights -- if he were a heavyweight, I swear this former welterweight would show up at 269 pounds. I go with Davis. Always go with the mature dude.
----------------------------
Middleweight bout (185 pounds):
Luke Rockhold (11-2) vs. Tim Boetsch (17-6)
11:06 p.m. Round 1:  Boetsch goes for an early takedown and finds himself in an inverted triangle. Rockhold is elbowing Boetsch's ribs as he also tightens up the leg choke. Now Rockhold is elbowing Boetsch in the rump, which looks silly to read, maybe, but damn it has to hurt. Rockhold switches to an arm lock of some sort, like a straight arm bar, and Boetsch taps out, Rockhold wins! Oh my word. What a weird night of submissions.
10:53 p.m. Prediction: Boetsch and Rockhold have one common opponent, Costas Philippou, who knocked out Boetsch -- but was knocked out by Rockhold. What does that mean? Nothing, really, but these are two great middleweights, and Philippou is the only thing I have that gives me any insight at all. I'll take it! Rockhold by decision.
----------------------------
Lightweight bout (155 pounds):
Jim Miller (23-4, 1 NC) vs. Yancy Medeiros (9-1, 1 NC)
10:50 p.m. Round 1: Medeiros has a 6-inch reach edge and is using it to land front kicks on Miller's chest, which is red, "almost like a target," Mike Goldberg says. Then Medeiros jabs Miller's nose, and it's bleeding, but Miller staggers Medeiros with a straight right before taking him down and going for a guillotine in full guard. Medeiros fights it off but then goes out the instant he taps, eyes rolling, as the referee pulls Miller off him. Miller by technical submission.
10:36 p.m. Prediction: Medeiros has one win in the UFC, against Yves Edwards, and it was overturned after he tested positive for marijuana. So he's a moron. And Jim Miller doesn't lose to morons. Miller, by whatever he wants.
-----------------------------
Featherweight bout (145 pounds):
Max Holloway (8-3-0) vs. Andre "Touchy" Fili (13-1-0)
10:34 p.m. Round 3: Fili has slowed noticeably, and not for cardio reasons but because Holloway has punished his body. Even so Fili gets a takedown, but it's like the second round -- Holloway attacks from his back and then gets to his feet. Holloway is beating Fili to the punch, including a right to the temple at the 2:30 mark, and goes for a standing guillotine before trapping Fili against the cage with punches. That leads to a clinch and a guillotine by Holloway, and Fili taps out.
10:28 p.m. Round 2:  Holloway kicks Fili's body early and takes a lot of steam out of him, then rips two punches into Fili's jaw twice -- and while Fili keeps his feet, those are scoring blows. Fili takes him down, but Holloway is dangerous from his back and making Fili ignore his offense to prevent submissions. Referee Kevin Mulholland stands them up quickly because referee Kevin Mulholland doesn't know what he's doing, and on their feet Holloway buries another spinning kick into Fili's stomach. This is a clear 10-9 round for Holloway.
10:22 p.m. Round 1:  Holloway hits a spinning back-kick to the body, and Fili responds with a dismissive stare and a punch to his own stomach. Didn't hurt. Or something. Holloway spins again and lands a kick to the chest, but instead of punching his own pec, Fili punches Holloway in the face with a straight right. Best shot of the round. Holloway answers with a straight right of his own, then another. Fili is landing leg kicks that sound like a baseball bat hitting a tree. Really tough round to score, the kind that can lead to a split decision. I'm giving it to Holloway 10-9, but it's a coin flip.
9:45 p.m. Prediction:  Don't know much about Fili, who was a late replacement for his UFC debut his last time out, a KO win against meh fighter Jeremy Larsen. But I know a lot about Holloway, and I know this guy's dangerous and was once thought to be a future title contender. Go with that guy. Holloway. By TKO.
----------------------------
PRELIM BOUTS (Fox Sports 1, 8 p.m. ET)
Flyweight bout (125 pounds):
Joseph Benavidez (19-4) vs. Tim Elliott (10-4-1)
9:41 p.m. Round 1: Benavidez quickly finds himself in a rolling crucifix, handcuff position. Joe Rogan called this position "the crotch ripper," which is enough to make me whine. Elliott is pressuring Benavidez and taking him down and doing that guppy thing and it's all a bit much for Benavidez, who isn't normally dictated to like he's being dictated to here. Benavidez asserts himself in the final two minutes with half-guard control, then side control, as he tries to wrap an arm around Elliott's neck. With a minute he mounts Elliott, traps his right arm with his leg, and forces Elliott to tap out with his feet! Never saw that before. Damn.
9:30 p.m. Prediction:  Benavidez has fought 23 times and lost to just two men: Dominick Cruz and Demetrious Johnson. Tim Elliott isn't as good as either, though he does look like a guppy out of water with that open-mouth thing he does. Regardless, he's more irritating than good, and Benavidez will grind out a victory.
-----------------------------
Lightweight bout (155 pounds):
Takanori Gomi (34-9, 1 NC) vs. Isaac Vallie-Flagg (14-4-1)
9:27 p.m. Official decision: The judges gave this one to Gomi via unanimous decision, 29-28 times three. 
9:25 p.m. Round 3: Vallie-Flagg's right eye is almost shut and Gomi scores with lefts, but Vallie-Flagg scores a takedown and lands some soft-ish hammer fists. It doesn't last long, and Gomi rises and keeps throwing left hooks at Vallie-Flagg's blind side. Gomi is turning Vallie-Flagg's face into a pile of red meat, with a broken nose possibly added to whatever is wrong with his right eye. This fight could retire Vallie-Flagg. Another 10-9 round for Gomi, and a closer-than-it-looks 30-27 victory. Says me.
9:20 p.m. Round 2: Gomi crumpled Vallie-Flagg with an early hook to the liver, but Vallie-Flagg kept Gomi at bay and recovered. Vallie-Flagg is scoring mostly with front kicks, which are depleting Gomi's energy level, but Gomi is winning most exchanges anyway and Vallie-Flagg is beleding from a cut below his right eye. And that eye is swelling fast, making Joe Rogan wonder if it's broken. This is a 10-9 round for Gomi, and a 20-18 edge.
9:14 p.m. Round 1: Vallie-Flagg is landing a little better, but without much power. Gomi is throwing bombs, but missing. Gomi is bleeding from the mouth and breathing hard, early. Doesn't bode well if this fight goes into the third round. Gomi gets Vallie-Flagg down, but Vallie-Flagg scores better from the bottom with elbows that Gomi thinks are 12-to-6, and therefore illegal. As Vallie-Flagg rolls to get up, Gomi takes his back and puts in both hooks with 90 seconds left. That lasts just 50 seconds, and they rise and separate. Tough round to score, but Gomi finishes strong on the feet after having the only dominant position of the round. I see it 10-9 for Gomi, but it was close.
8:57 p.m. Prediction: Gomi has been fighting people with much better credentials than Vallie-Flagg since 2002. Assuming he still has something in the tank -- and he has looked the part in recent fights -- Gomi has too much experience and power for Vallie-Flagg. Gomi by KO.
-----------------------------
Women's bantamweight bout (135 pounds):
Jessamyn Duke (3-0, 1 NC) vs. Bethe Correia (7-0)
8:54 p.m. Official decision: With their first call of the night, the judges gave it to Correia 30-27, 30-27 and 29-28. Duke looked surprised. Don't know what to say about that.
8:51 p.m. Round 3: Correia tried a spinning backfist and Duke gave her a Dikembe-like wag of the finger: Oh no you di-unt! Anyway. Correia is better on the feet, still, and scoring with leg kicks and right hooks. Again. Duke is throwing some punches and no kicks. Correia is throwing lots of punches and some kicks. Advantage: Correia. Duke took down Correia and went for an armbar, but lost it and Correia was on top. Duke is active, going for a choke and then using some 10-planet BJJ, but it just looks sort of cool. Doesn't accomplish anything. They're up with 30 seconds left, and Correia scores more to end it. Closest round yet, but I see it 10-9 for Correia, 30-27 overall.
8:45 p.m. Round 2: Anyone else sick of that Dr Pepper 10 Bold Flavor commercial? No? Sigh. Correia is scoring repeatedly with right leg kicks and left hooks, almost like she has the 10-inch reach advantage. Weird, really. Duke scores a takedown, but gets greedy with a submission attempt -- position before submission! -- and winds up on bottom, with Correia in side control. However, Correia didn't do anything with the position, and eventually they stood. And Correia, for whatever reason, is winning on the feet. Ought to just stay there. Another 10-9 round for Correia, and 20-18 after two rounds.
8:39 p.m. Round 1: To note, that Brazilian "'r' sounds like an 'h' rule applies to last names, too, (of course) so read Correia as Co-hey-da. The more you know ... Duke has 6 inches of height but almost 10 inches of reach on Correia, though the Brazilian is landing leg kicks and winning the stand-up early. Duke clinches for knees, but doesn't score and Correia lands a punch on the way out. Repeatedly. Duke finishe strong, but still a 10-9 round for Correia.
8:22 p.m. Prediction: Correia is ranked slightly higher (12th, compared to No. 14 for Duke), but Duke has a 6-inch height advantage and match-ups are everything. I like Duke to use her reach to pound out a long-range decision.
-----------------------------
Lightweight bout (155 pounds):
Danny Castillo (16-6) vs. Charlie Brenneman (19-6)
8:19 p.m. Round 2: Castillo knocked out Brenneman with one punch about 20 seconds into the round. I mean, cold. Out. Castillo didn't follow him to the mat, because there was nobody to follow. Brennaman was gone.
8:16 p.m. Round 1: Brenneman needs a haircut. Like usual. And then the Napolean Dynamite-looking fighter took down Castillo into side control, burying knees to the ribs of Castillo. Now the knees are hitting Castillo's left arm, which will make striking tougher as this fight wears on. If it swears on! Brenneman is lookiung for an armbar, but Castillo escapes and, standing, has Brennaman's back. They break after Brenneman uses the fence to help himself. Cheater. And he needs a haircut. But Napolean won this round 10-9 after scoring a late takedown.
7:54 p.m. Prediction: Castillo is an above-average UFC lightweight, going 6-3 in the promotion (after going 5-3 in the UFC precursor WEC). Brennaman is a mediocre UFC fighter, with a 4-5 record overall and losses in four of his last five UFC bouts, and has fought just once in the UFC at lightweight -- and lost, to Beneil Dariush, in 100 seconds. Castillo wins this. Only question is how. My thought: Decision. It's how he usually wins.
----------------------------
EARLY PRELIMS (UFC Fight Pass, 7:30 p.m. ET)
Bantamweight bout (135 pounds):
Chris Beal (8-0) vs. Patrick Williams (7-3)
7:51 p.m. Round 2:  After 90 seconds of nothing, the crowd was booing. And then Chris Beal threw a flying knee that knocked Williams out. "About as perfect a flying knee as we've ever seen in the Octagon," Joe Rogan said.
7:46 p.m. Round 1: Beal hurt Williams early with a punch, and then Williams kneed Beal low and took his back as Beal complained to Herb Dean. Dean stopped the action, and the replay confirmed: Ouch. Low. On the restart Williams landed a beautiful lead upper cut, which I call a shovel, then did it again and took down Beal into side control. On the way up Williams hit Beal in the face with a knee. Lots of action, and Beal popped Williams with a punch, then got up quickly after being taken down again. Beal hurt Williams late with a few punches, and had Williams literally running away. Enough for me to give the round to Beal, 10-9.
7 p.m. Prediction: Both are making their UFC debut, so there's not much to go on. That said, Beal wins fights by decision (six times in eight career bouts). Williams is a finisher (four KOs, two subs among his seven wins). True, Williams has lost three times and Beal is undefeated. That said, give me a finisher any time. Give me Williams, a former wrestler at Arizona State, via ground-and-pound TKO.
----------------------------
UFC light heavyweight champion Jon "Bones" Jones will look for his seventh successful title defense when he fights Glover Teixeira at UFC 172 Saturday night.
One of the UFC's hottest commodities, Jones (19-1-0) technically hasn't been beaten yet in professional MMA. The lone blemish on his record was a 2009 DQ loss to Matt Hamill in a fight Jones had been winning up until he was disqualified for throwing illegal downward elbows.
Teixeira (22-2-0) is a dangerous opponent riding a 20-fight win streak, with his last loss coming in 2005 in just his fourth pro fight.
Our Latest Stories
Harvick is set to join Daytona 500 winner Austin Dillon in the NASCAR Cup Series playoffs

The varsity team entered the state tournament as the bottom seed before stunning the field

SportsLine simulated the Folds of Honor QuikTrip 500 race 10,000 times and has some surprising...
Micah Roberts pioneered wagering on NASCAR races and just locked in his QuikTrip 500 picks

SportsLine's Mike McClure, a DFS pro with more than $1M in winnings, gives optimal lineup...

Hamlin wasn't thrilled with Bubba's driving, or his post-race comments