UK's Calipari, Louisville's Pitino can't really like each other ... right?
Rick Pitino and John Calipari say they're friends. Not buying it, not as Kentucky and Louisville meet in the Sweet 16. Or is there a chance ... ?
More NCAA hoops: Tournament bracket | Complete coverage of NCAAs | Latest news
INDIANAPOLIS -- If you were a fool, some goober who just fell off the turnip truck, you might believe John Calipari and Rick Pitino don't hate each other. If you were naive, so gullible that you paused the time somebody told you "gullible" isn't in the dictionary, you might believe Calipari and Pitino don't even dislike each other.
You might believe the exact opposite. That Calipari likes Pitino. And Pitino likes Calipari.
Me, I don't believe a word of it. I don't believe Calipari when he tells the media, as he did Thursday, "I would say we're friends." Just like I don't believe Pitino 45 minutes later when he tells the media, "I don't care about perception because perception is not reality. ... We're friends. ... We respect each other's programs very much and we're friends in this business."
Stop it, guys. No, really. Stop it. The world is a more interesting place when we think college coaches are overgrown children, incapable of competing with another coach in the same state -- even at programs as historically awesome as the 2012 national champion Kentucky Wildcats and the 2013 national champion Louisville Cardinals, even in a state as basketball-crazy as Kentucky -- without despising each other. The world is more fun when we can turn on the television on Friday to watch Louisville play Kentucky in the Sweet 16 and imagine that each coach wants to win most of all because he wants to end the other guy's season.
So when Calipari is asked at his press conference Thursday how often he speaks to Pitino, and all of us in the media start smirking because we know this will be ugly, Calipari looks around with that look, the one that says, Here it comes. You're not going to believe this but ...
"We were in touch throughout the year," Calipari said, and he says it like it's no big deal, like he's not puncturing the fantasy life of every single person in the state of Kentucky, those who love Cal and hate Rick, and those who love Rick and hate Cal, and those who ... no, wait. That's pretty much everybody in the state of Kentucky. The battle lines were drawn way before either of these two guys got there, families bleeding red or blue and passing along their basketball allegiance along with the rest of their vital DNA, but the battle lines never seemed as distinct as they have since Calipari got to Kentucky and started sniping at Pitino. And Pitino sniped back.
There has been plenty of back-and-forth between Cal and Rick, but this is the only one you need to know: Two years after arriving at Kentucky from Memphis, Calipari pretended Louisville didn't exist when he noted, "There's no other state, none, that's as connected to their basketball program as this one. Because those other states have other programs. Michigan has Michigan State, California has UCLA, North Carolina has Duke. It's Kentucky throughout this whole state, and that's what makes us unique."
Pitino fired back:
"Four things I've learned in my 59 years about people," he said. "I ignore the jealous, I ignore the malicious, I ignore the ignorant and I ignore the paranoid."
That was Pitino in 2011. This was Pitino on Thursday: "You all bait and try to get certain answers out of us. ... And if John says: ... 'I like a certain thing,' some people think he's taking a shot at me, vice versa. ... We understand what takes place between the lines. ... We understand the fans' intensity, but we don't personalize our battles."
An unsophisticated person, a rube, might be fooled. But not me. Not after the social-media flap earlier this season that pit Calipari against Pitino. If you recall, Pitino spoke out against social media, urging his players not to read the negative stuff about them, saying it was a waste of their time. What Pitino said was twisted into a dishonest pretzel, making it look as though he had said all of Twitter was stupid, as opposed to what he really did say -- that it's stupid to let anonymous strangers tear you down, as they will try to do on Twitter.
The media went to Calipari, because of course, and Calipari said he embraced social media and went farther than that, questioning anyone who doesn't. That was a shot at Pitino. That's what we said, and by "we" I mean you, for sure, but also I mean "we." Look at the headline at my own website: "Rick Pitino and John Calipari battle about social media."
On Thursday, people close to both coaches told me that Calipari hadn't been talking about Pitino. That he had been talking only about social media. And that when Calipari saw what the media was doing to his words, he sent Rick a text message explaining himself. And that Rick sent a text message back, accepting that explanation, telling Cal not to worry about it.
And apparently the texting continued from there, Louisville playing and winning and Calipari texting Pitino to congratulate him. Kentucky playing and improving as the season went along and Rick texting Cal, saying he noticed.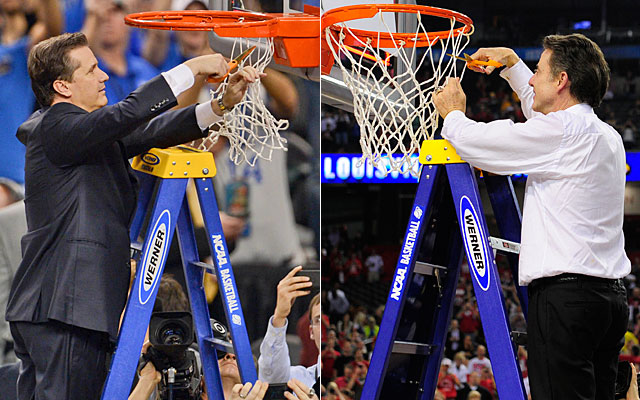 That's what people close to both coaches were telling me on Thursday, and if I were susceptible, malleable, easily manipulated, I might believe that Pitino and Calipari have grown since the days when, yes, it was pretty clear they didn't like each other. Pitino played at UMass and then Calipari coached there. Pitino coached at Kentucky and now Calipari does. They have the same look. They come from the same Howard Garfinkel, Five Star Camp background that also helped mold the likes of Bill Self, Brad Stevens, Billy Donovan and Frank Vogel. They are too close, too similar, too competitive to be anything but at each other's throats. And so they were, for years.
But years come, and years go.
"Getting older," Calipari said Thursday, trying to put some distance between himself and the idea that he and Pitino are still obsessed with each other.
"I'm not on his mind and he's not on my mind," Calipari said. "The stuff about, 'They're at each other's throats,' it's just not accurate. I'd be stunned if he thinks of me in a week. Both of us have tough jobs that have to be engulfed in what we do."
It sounds good, even believable, but Calipari can make anything sound good, believable. Nobody talks as good as Cal, and if that somebody exists, that somebody is Pitino.
And so I don't believe it. Not their words. Not their stories. I believe what my eyes see, and here's what my eyes saw Thursday after the talking was over and Calipari was walking through the mostly empty hallways of Lucas Oil Stadium and he encountered Pitino with almost nobody there to see what happened next:
The men stopping. Calipari putting his hand on Pitino's shoulder and leaning in to say something into Pitino's ear. Pitino listening. Pitino smiling.
The fools among us, they might be fooled into thinking Pitino and Calipari actually get along. The fools among us, they might be right.
SportsLine simulated the Folds of Honor QuikTrip 500 race 10,000 times and has some surprising...

Hamlin wasn't thrilled with Bubba's driving, or his post-race comments

The Richard Childress team went all out after their win on Sunday
Wallace is a jumble of emotions after finishing second in his first Daytona 500

Danica got in some beach time with her famous boyfriend before Sunday's big race

Junior reflects on the legacy of his father at Daytona at an emotional pre-race press conf...