Undertaker returns to WWE, likely to face Brock Lesnar at SummerSlam
Legendary wrestler The Undertaker returned to WWE on Sunday. Here's what could be in store for the Dead Man.
• 1 min read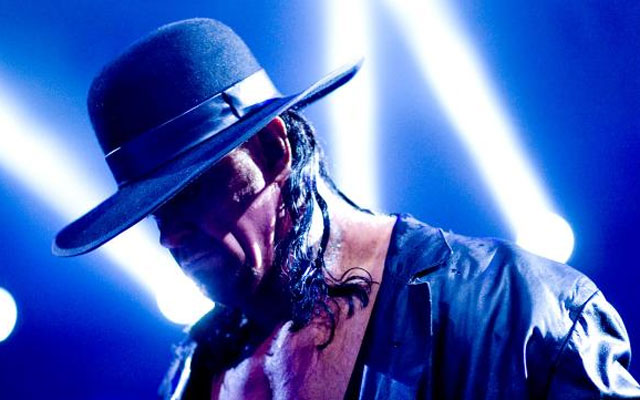 The Undertaker has been a once-a-year performer for WWE over the last half-decade, only participating in matches at WrestleMania while trying to extend his (previously) perfect streak at the event.
With the streak now over at the hands of Brock Lesnar and revenge -- as well as possibly retirement -- on his mind, the Dead Man returned to WWE on Sunday, interrupting the WWE World Heavyweight Championship match at the Battleground pay-per-view in St. Louis.
The #Undertaker IS BACK!!! #WWEBattleground #TheDeadman @BrockLesnar http://t.co/J1HBDqpByp

— WWE (@WWE) July 20, 2015
The move was a surprise to fans but not wrestling insiders, as Dave Meltzer of Wrestling Observer reported last week that The Undertaker had been seen on advertising promoting next month's SummerSlam, WWE's second-largest pay-per-view of the year.
Indeed, it appears as if WWE has reintroduced The Undertaker with a match at SummerSlam in the future, as the 31-year veteran interrupted Lesnar's title match with champion Seth Rollins on Sunday and laid waste to the man (Lesnar) that shockingly ended his record 21-0 undefeated streak at WrestleMania.
The Dead Man delivered his famed chokeslam followed by two tombstone piledrivers, and the fans in attendance responded with the glee one would expect.
#TheBeast @BrockLesnar just entered #TombstoneCity! #WWEBattleground #LesnarvsRollins #TheUndertaker pic.twitter.com/nEAuPTlBW3

— WWE Universe (@WWEUniverse) July 20, 2015
The Undertaker, 50, is on the verge of retirement and likely making one final run in WWE, a run that will likely culminate with his final match at WrestleMania 32. Of course, that is just speculation at this time. The Underatker at least wrestling Lesnar at SummerSlam? That appears to be a near certainty.
The video game takeover continues

What to know to catch a top-10 water polo matchup on Saturday

Everything you need to know to tune in for this week's critical Big East showdown
Everything you need to know to tune into this weekend's action

Justin Gallegos has a goal to finish a half marathon in under two hours, and Nike wants to...

Jody Demling cashed his trifecta and superfecta at the Pennsylvania Derby