Undisputed: Manning vs. Sherman is greatest Super Bowl matchup ever
The greatest QB of all time? Maybe. The best corner in the NFL? Hard to argue otherwise. Who wins the greatest individual matchup in Super Bowl history: Peyton Manning or Richard Sherman?
More SB coverage: XLVIII odds | Expert picks | Weather updates | Latest news
NEW YORK -- This being the Super Bowl, and not just any Super Bowl but the first Super Bowl held near the biggest city in the world America, overstatement isn't merely acceptable, but preferable. But this doesn't feel like an overstatement. This feels like a fact:
Broncos quarterback Peyton Manning vs. Seahawks cornerback Richard Sherman is the most compelling individual matchup in Super Bowl history.
It's not about talent, though the talent of both is unmistakable. It's about the timing. Yes, it's about the rant Richard Sherman had after the NFC title game, but it's also about the season Peyton Manning had in the AFC. It's about the position each plays, and the question that won't be answered until Sunday night, sometime after kickoff:
Will Peyton Manning challenge Richard Sherman?
Fascinating, just fascinating. And this doesn't feel hyperbolic to wonder, seriously, if the Super Bowl has ever seen anything like this before. Go through the games one by one and find a more compelling matchup. Tell me. But you're going to have to tell me why.
To prove it you'll have to find a player not just on top of his game, but on top of the game, as Peyton Manning is this season. He is arguably the greatest quarterback of all time, though I'm not willing to add that hyperbolic, unprovable statement to the one at the center of this story. But Manning could be the greatest ever. He has more MVP trophies than anyone in NFL history, and that's the four he had entering this season. He's about to win his fifth Associated Press MVP, and should do so unanimously -- though one never knows -- and this has been his best season yet: most passing yards (5,477), most touchdown passes (55), most 400-yard games (four), most four-touchdown games (nine). And those aren't just Peyton Manning records, but NFL records.
So what we have is arguably the greatest quarterback of all time playing in the Super Bowl during his, or any quarterback's, best season ever.
Against Richard Sherman.
Sherman might or might not be the best cornerback in the NFL -- but he thinks he is, and the statistics back him up. He led the NFL in interceptions this season with eight, two more than his closest challengers, and also had eight last season. His 16 picks in the past two years are three more than the next-best player (Tim Jennings, 13) and six more than the player in third (Patrick Peterson, 10).
Over the past three years Sherman has intercepted 20 passes, five more than his nearest competitor (Jennings, 15). In fact, Sherman has more interceptions in the past four years than anyone in the NFL, and Sherman has been in the league just three years. His 20 picks since 2010, when he was a senior at Stanford, are ahead of No. 2 Ed Reed (18) and No. 3 DeAngelo Hall (17).
Greatest cornerback in the game today, Richard Sherman? I take back what I said earlier, about how he might or might not be. There's no "might" about it, and there's damn sure no might not. He is. The interception numbers are clear, and those numbers don't take into account the fact that quarterbacks avoid him whenever possible -- like the way 49ers quarterback Colin Kaepernick famously avoided him for all but two attempts in the NFC title game -- avoiding him so much that Seahawks teammates Brandon Browner (six interceptions in 2011) and Earl Thomas (five in 2013) have finished among NFL leaders as well.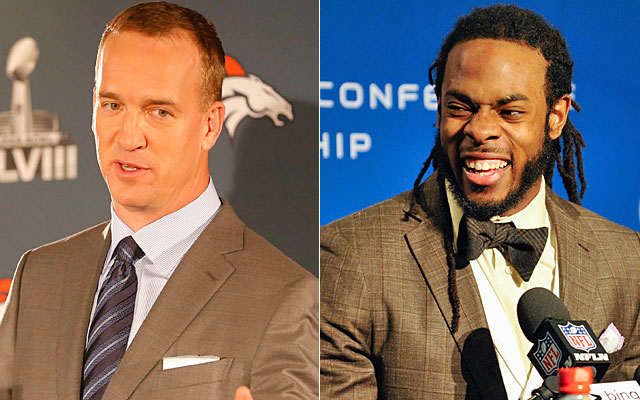 The NFL's leading quarterback against its leading cornerback isn't necessarily unique. The 2002 season's Super Bowl pit Oakland and league MVP Rich Gannon against NFL interception leader Brian Kelly of the Bucs. In the 1987 Super Bowl, league MVP John Elway led the Broncos against the Redskins and league interceptions leader Barry Wilburn. So this sort of Super Bowl matchup has happened before, an MVP quarterback against an NFL interceptions leader, but with a caveat:
Do you know who Brian Kelly is? The only one I know is coaching Notre Dame. Barry Wilburn apparently was great in 1987, but good enough to be remembered nearly three decades later? Apparently not.
We'll remember Richard Sherman, which brings me back to his rant last week. Again, this story is all about the timing. And the timing is incredible. On the one hand we have Peyton Manning having definitely the greatest season of possibly the greatest career in NFL quarterback history, and on the other we have Richard Sherman leading the league in interceptions and making the game-saving play in the NFC title game and then uncorking a postgame rant that was the most discussed story of the week, sports or otherwise. Sherman was trending on Twitter around the world after his 15-second interview with Erin Andrews. He's the most famous cornerback in the game, and the best, and possibly the most popular -- he has gained more than 400,000 Twitter followers (from 268,000 to 696,000 as of Monday morning) since that rant -- and reviled cornerback in the league.
And he's about to take on everybody's All-American, Peyton Manning.
That's another layer to this matchup, the whole good guy vs. bad guy thing, not that I buy into it on either side. They're both pretty good guys, from what I can tell, though neither is the good/bad cartoon some would like to see. Manning isn't the most sweetest little thing on earth -- a female trainer at Tennessee accused him of sexual harassment and received a $300,000 settlement from the school in 1997 -- and Sherman isn't everything wrong with professional sports today simply because he made the (poor) choice of celebrating one of his highest professional moments by taunting 49ers receiver Michael Crabtree at one of his lowest.
But both players are the best at what they do, and to do what they do -- Manning completing passes, Sherman intercepting them -- they will have to do it at the other guy's expense.
Most compelling individual Super Bowl matchup of all time? Find me a better one.
Everything you need to know for Sunday's race in the Monster Energy NASCAR Cup Series

Micah Roberts pioneered wagering on NASCAR races and just locked in his QuikTrip 500 picks

SportsLine's Mike McClure, a DFS pro with more than $1M in winnings, gives optimal lineup...
SportsLine simulated the Folds of Honor QuikTrip 500 race 10,000 times and has some surprising...

Hamlin wasn't thrilled with Bubba's driving, or his post-race comments

The Richard Childress team went all out after their win on Sunday