U.S. 2, Mexico 0: USMNT player grades
After a nervy opening 20 minutes, the U.S. soccer team settled down to put away Mexico. Here's player grades for the match.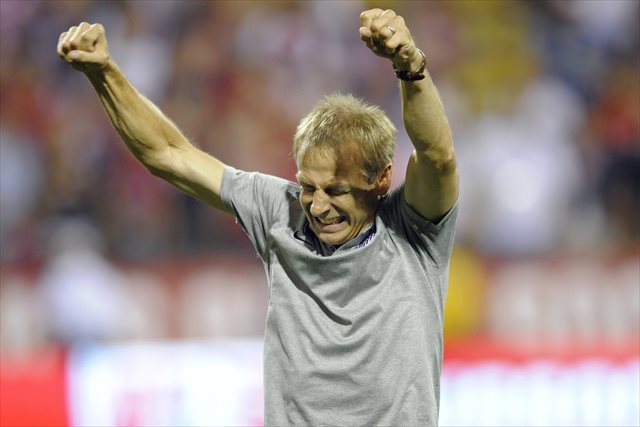 USA 2 - Mexico 0: Recap | Game Blog
At the conclusion of this summer's Gold Cup, we wrote that if Landon Donovan's return to form (and then some) was headline 1A of that tournament, the newfound depth Jurgen Klinsmann had discovered and developed was headline 1B. Tuesday in Columbus, Ohio, the US was missing certain starters Michael Bradley, Jozy Altidore, Brad Evans, and Matt Besler, and Klinsmann further benched midfielder Graham Zusi after a subpar performance in Friday's loss in Costa Rica.
Taking their place? Players like Clarence Goodson, Kyle Beckerman, Alejandro Bedoya, Eddie Johnson and Mix Diskerud, all of whom had proven their mettle in the Gold Cup. And the result? Dos a cero.
For most of its existence, the US Men's National Team has had all the depth of a leftover puddle on a day a sunshine. For now, those days are gone.
Grades for each US player, on a scale of 1-10:
GK Tim Howard: 6. Howard rebounded from a series of ho-hum performances to more forecefully command his penalty area and make all the necessary saves, even if Mexico never quite forced him into the spectacular. Credit for re-marshaling the US defense after its nervy start, too.
RB Fabian Johnson: 5. As expected for a player most comfortable playing an attacking role in left midfield, at right back Johnson looked incisive and threatening going forward ... and out-of-position and wobbly in defense. Given that he had first-time qualifier participant Bedoya in front of him, more caution would have been nice. Left at halftime with an injury.
CB Clarence Goodson: 7. Mexico's not the sort of team to attempt to win aerial battles in the box, but the towering Goodson made it even more pointless. Excellent positioning helped him get his feet to several early low crosses yielded by the US wing defense, too.
CB Omar Gonzalez: 6. A little less dominant in the air than Goodson, a little better playing the ball out of the back. After his man-of-the-match performance at the Azteca earlier in the year, fair to say seems to relish playing Mexico. 
LB DaMarcus Beasley: 5. Better defensively than Johnson on the opposite flank, but forward runs failed to provide usual spark. Just not a lot to write home about.
MF Jermaine Jones: 5. The US' worst player against Costa Rica, Jones rebounded with a much better game both in possession and in delivering creative balls out of the back. Could still have used a little more defensive bite in early stages.
MF Kyle Beckerman: 6. Like fellow central midfielder Jones, the Gold Cup standout was a step slow both in defense and attack through the first half-hour. But delivered a steady, forceful performance after halftime to ensure Mexican comeback never got off the ground. The better half of the central midfield pairing.
RM Alejandro Bedoya: 4. Credit to Bedoya for his hustle on the play that yielded the corner that led to Eddie Johnson's opening goal. But provided little either in defense -- where Johnson's forays made tracking back essential -- or in possession as Gio Dos Santos ravaged the US' right flank in the early stages. Did settle down in second half.
LM Landon Donovan: 8, Man of the Match. If he wasn't really back after the Gold Cup, and only sort of back after the Costa Rica game, the greatest player ever to put on a US soccer uniform is definitely back now. Donovan set up Johnson's game-winner and scored the clincher himself. But his endless willingness to race from one penalty area to the other and do as much defensive dirty work as necessary -- oh, and calm things down in midfield when that's necessary -- makes him even more than "only" the team's most devastating attacking player.
F Clint Dempsey: 4. Aside from a few skillful combinations with Eddie Johnson, it just wasn't the captain's night, as his handful of uncharacteristically sloppy passes was compounded by his second dreadful penalty kick in as many games. (Unless, of course, Dempsey missed the penalty intentionally to preserve the 2-0 scoreline. In that case, consider this grade a 10 and excuse me while I organize a parade in his honor.)
F Eddie Johnson: 7. Jozy who? Johnson maintained his impressive World Cup qualifying scoring record with an impressive climb-the-ladder header, only one in a series of aerial victories won over the Mexican defense.
SUBSTITUTES
RB Michael Parkhurst (46', for F. Johnson): 6. Didn't provide anything going forward, but after Johnson's header, holding down the defensive fort was far more important -- and Parkhurst did so with aplomb. Likely should have gotten the start over Michael Orozco in Costa Rica.
MF Mix Diskerud (75', for E. Johnson): 7. Brought needed energy to the midfield ... and a beautiful solo move to the endline to set up Donovan's goal. Forgive US fans if they hope he forces his way into the starting lineup sooner rather than later.
MF Graham Zusi (83', for Bedoya): Incomplete. Late defensive substitution came on after Mexico had long since packed it in.
John John Florence and Gabriel Medina will look to catch the wave to a championship

How to watch the Professional Rodeo Cowboys Association's 2017 National Finals Rodeo event

Settle in for the holidays by watching other people do grueling obstacles like the Funky M...
Talladega is all decked out in white and all of Twitter wants to see some snow tire racing

CBS is excited to announce that Jordan Peele is producing a reboot of 'The Twilight Zone'

Jonah Keri talks to with CBS Sports NBA/Features Writer Brad Botkin to launch their Top 100...