U.S. soccer falls 3-1 in Costa Rica, 12-game win streak snapped
The U.S. will have to wait at least three more days to cement its World Cup place after losing 3-1 in Costa Rica.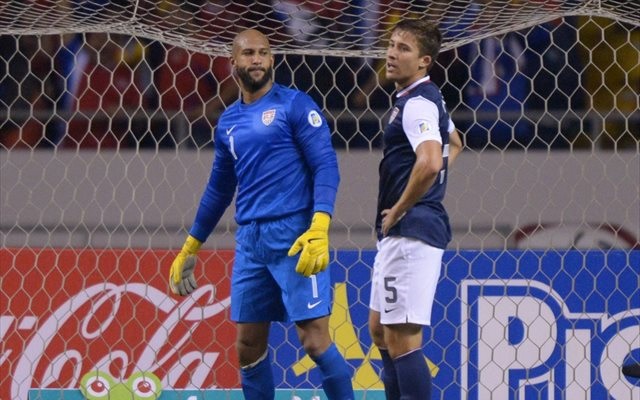 U.S. soccer's World Cup Qualifying night started with a last-minute injury to arguably its most important player. It only got worse from there.
The U.S.'s team-record 12-game winning streak was snapped in emphatic fashion by Costa Rica Friday night in the Costa Rican capital of San Jose, 3-1. The U.S. has never won a World Cup Qualifier in Costa Rica, with its record dropping to 0-8-1 all-time.
Clint Dempsey scored the only U.S. goal on first-half penalty kick.
The loss leaves the Americans in second place in the "Hexagonal," the final North American qualifiying group, with 13 points. The Costa Ricans moved into first with 14, with both teams still with three matches to play.
The U.S. hosts Mexico, shock 2-1 losers to Honduras Friday, in Columbus, Ohio this Tuesday. They will do so, however, without striker Jozy Altidore or defenders Matt Besler or Geoff Cameron, all of whom picked up their second yellow cards of the Hexagonal and will be suspended for the Mexico match.
Despite the loss Friday, with the top three teams guaranteed a spot in the World Cup and the fourth-place Mexicans still on 8 points, a win Tuesday would still essentially clinch the U.S.'s seventh consecutive World Cup berth.
But that won't do much to ease the sting of Friday's defeat. The U.S. started on the back foot even before kickoff, as midfielder Michael Bradley injured an ankle during the team's pregame warmups. He was replaced in the starting lineup by Stoke City defender Cameron, but the last-minute personnel switch, the loss of Bradley's steady presence on the ball, and a poor performance from fellow central midfielder Jermaine Jones led to the shakiest possible U.S. start -- and a 2-0 Costa Rica lead within the first 10 minutes.
Johnny Acosta opened the scoring for the hosts after just three minutes, heading home a corner kick from close range. Six minutes later Celso Borges charged into the box to head home a cross from the dangerous Joel Campbell and put the Americans in a deep hole.
The U.S. finally began to settle down and Fabian Johnson produced a stellar save from Costa Rican goalkeeper Keylor Navas with a stinging volley. But the U.S. still needed a heavy dose of good fortune to get on the board, with Navas clumsily fouling Johnson on a bouncing ball inside the penalty area in the 43rd minute. Dempsey's penalty kick was directly at Navas and appeared to have been saved, but instead spun backwards off of Navas and into the net. 
The U.S. started the second half the better team, and appeared to be tightening its grip on the game when Costa Rica scored the clincher against the run of play in the 75th minute. A 60-yard pass from the "Ticos'" defense caught the U.S. defense flat-flooted, and Campbell raced past Besler to collect and slot the ball past a curiously stationary Tim Howard. 
Landon Donovan performed well in his much-anticipated return to the U.S.'s World Cup Qualifying lineup, Johnson provided several bright moments, and Omar Gonzalez had a quietly productive night in central defense. But of course, in a 3-1 defeat there's more blame than credit to go around. The principal culprits:
Jermaine Jones: The volatile midfielder found any number of ways to give the ball to the Costa Ricans, whether through a brick-footed first touch, sloppy passes in midfield, or low-percentage longballs when a shorter pass -- and game-settling possession -- was desperately needed. With Bradley out, Jones was the player most needed to elevate his game to compensate, and instead he turned in his weakest performance of the Hexagonal to date.
Tim Howard: None of the three Costa Rican goals will go down as "goalkeeper error," but Howard's outing Friday will do nothing to silence the whispers among U.S. fans that the World Cup veteran has been surpassed by understudy Brad Guzan. Howard made little-to-no effort to save Borges' header despite, on replay, it seemingly bouncing within reach; on Campbell's goal he remained on his line rather than attempting to beat Campbell to the ball, and then could not react quickly enough to what might have been another saveable shot. Jurgen Klinsmann has given no indication he's willing to promote Guzan, but expect this to be a hot topic nonetheless as the World Cup draws closer.
Jurgen Klinsmann: The popular German pushed all the right buttons during the winning streak, and the late scratch of Bradley was the kind of headache no coach necessarily has the right answer for. But his decision to start Michael Orozco at right back over Michael Parkhurst (who provided a steady hand during the Gold Cup) or Cameron (who plays right back at Stoke and could have been capably replaced in midfield by Kyle Beckerman or Mix Diskerud) was a head-scratcher. Orozco ultimately failed to repay his coach's faith in him, doing little to hold down the U.S.'s right wing -- though he could have used more help from the surprisingly anonymous Graham Zusi -- and providing even less in attack.
Klinsmann also saw his late substitution of Altidore backfire as the striker picked up a needless yellow card, and arguably shoulders some blame for the U.S.'s panic-stricken response to the Bradley scratch and the opening goal.
But in the end, a loss in Cosa Rica is nothing the U.S. hasn't experienced before; it didn't keep the Americans from qualifying in 1998, or 2002, or 2006, or 2010. And even if the suspensions and Bradley injury keep the U.S. from collecting all three points and punching their ticket to Brazil Tuesday, a home game against sixth-place Jamaica still awaits in October. In the long-term, Friday's loss should be a little more than blip in what's otherwise been a highly successful Hexagonal campaign and sensational 2013 for Klinsmann.
Given the U.S.'s history in Costa Rica, though, Friday was also an opportunity to show that Klinsmann's U.S. has unequivocally turned a corner, a chance to prove that the win streak wasn't merely a product of a kind schedule, a victory that would have emphatically declared (in a way even a win over the current sad-sack version of Mexico could not) that the U.S. has entered a brave new world of North American domination and world contention.
There's no shame in losing in Costa Rica. But there's none of that kind of glory, either.
Raisman said she is 'beyond disgusted' by Nassar's actions and says it's 'about time' he's...

A Florida woman allegedly stalked and harassed Stewart for more than a year after he failed...

Jonah Keri talks to with Vox senior politics reporter Jane Coaston
The movie also stars Channing Tatum, James Corden, Zendaya and Danny DeVito

Travel plans for the PyeongChang Games have been 'stagnant,' one agency told USA Today

'Generous roll' doesn't exactly do this one justice