US will never love soccer? Heartbreak over a tie proves it already does
The US settles for a tie with Portugal that feels like a loss, but there's a big win for soccer here: American fans finally care so much about the world's game that it hurts.
More World Cup: Scoreboard | Schedule | Group Standings | U.S. Team news
Of course it hurt. Damn right it hurt. This is the World Cup and we're not the soccer country we used to be, not as a team and not as a fan base. And this is good, so very good, the big picture that gets obscured by one lousy touch, the very last touch in a game Sunday with thousands of them, when Portugal's final prayer went from Varela's head to the back of the net.
That awful result, that 2-2 tie that felt like a loss, is the tree that obscures the forest: We're a real soccer country. Finally. Maybe we were a real soccer country before now, like in 2002 when we reached the World Cup quarterfinals, but that seemed like a fluke. That was a wild and crazy ride that everybody enjoyed but nobody took too seriously. That was George Mason in the 2006 NCAA tourney. Hell of a time. Can't believe what we're seeing. But we won't see it again.
That was American soccer in 2002: a mid-major. Maybe we're not a global soccer superpower just yet, not Kentucky or Kansas, but we're coming. You can see it, and if you watched that game Sunday against Portugal -- and it felt like the whole country did -- you did see it.
Portugal scored first, on a fluke. A fluke, and an American mistake. Defender Geoff Cameron made like Lupus from the Bad News Bears, letting an easy ground ball go through his legs, where it ended up at the feet of Portugal's Nani in front of the goal, where he deposited it for a 1-0 lead after just five minutes.
Then you saw it, right? For most of the next 89 minutes, the best players on the field were Americans. Portugal had Ronaldo, but we had Clint Dempsey, busted beak and all, and on this day Dempsey was better. Michael Bradley was controlling the midfield. Jermaine Jones scored the equalizing goal in the 63rd minute with a bending laser into the right corner, not the knuckleball that defines some soccer goals but another pitch -- a slider. Hard, biting, unstoppable.
No longer playing conservatively, Portugal opened it up. They needed to win, and they needed a goal, and they went for it. And America was still better. Dempsey, Bradley. Better. Dempsey scored the go-ahead goal in the 81st minute, deflecting a ball near the goalmouth with the only thing he could put on it -- his ribs. He ribbed the thing into the goal, and America led in the 81st minute, and Americans rejoiced.
You could see it on Twitter, where soccer fans are everywhere -- and have been everywhere for months, well before the first game of the trendy World Cup -- but Twitter can be misleading, so let's go where the noise is more real. To Grant Park in Chicago, where 20,000 fans arrived to watch the game and fans kept coming until they had to be turned away for safety reasons. Or to the Power & Light District in Kansas City where 13,000 filled the place to capacity and thousands were turned away. They were screaming and ESPN's cameras were showing some of this passion to the rest of us, a celebration of American unity, and of America's passion for the world's game.
And we have it. Do we have it like we have it for American football, or basketball, or baseball? Well, no. But this isn't an either-or thing. Soccer doesn't have to be as big as basketball to be big here. And it is big here. And that scares some people, which is how the world works.
I read this piece on Sunday in Boston and was mortified for the guy who wrote it. He explained why he doesn't like soccer, why you can't make him like soccer, and it was a complete waste of time. You don't like soccer, just kind of … because?
I read stuff like that in the same way I read stories ripping advanced stats in baseball. I don't read it as actual dislike. I read it as fear, fear of the unknown, something that is being grasped by others but not by you. And that's scary, to be listening to a conversation and having no idea what they're talking about. It's sort of like this column on sabermetrics, written by -- what do you know? -- the same guy in Boston. Weird.
You can fight the arrival of sabermetrics, but it's already ashore and moving past you, down your street, toward your house. When Felix Hernandez won the Cy Young in 2010 with a 13-12 record, that was it. Sabermetrics was here.
When thousands gathered in cities all over America -- like at Wall Street Plaza in Orlando -- to watch America play Portugal? And when America outplayed an elite European team for most of a 95-minute game? And when Portugal ripped out our heart in the last second and it hurt, really hurt? That's it. Soccer's here.
And love hurts.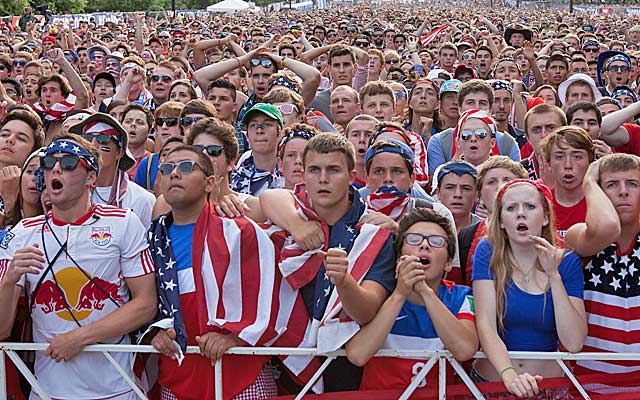 John John Florence and Gabriel Medina will look to catch the wave to a championship

How to watch the Professional Rodeo Cowboys Association's 2017 National Finals Rodeo event

Froome was found to have double the legal limit of an asthma drug in a September doping te...
Flanagan, after winning the New York City Marathon, is out to win her 'hometown race'

It's probably better to just buy your shoes online these days