USA-Mexico live blog: USMNT could qualify vs. struggling El Tri
The United States soccer team faces Mexico Tuesday in a World Cup qualifier at Columbus Crew Stadium without four key players, including stars Jozy Altidore and Michael Bradley.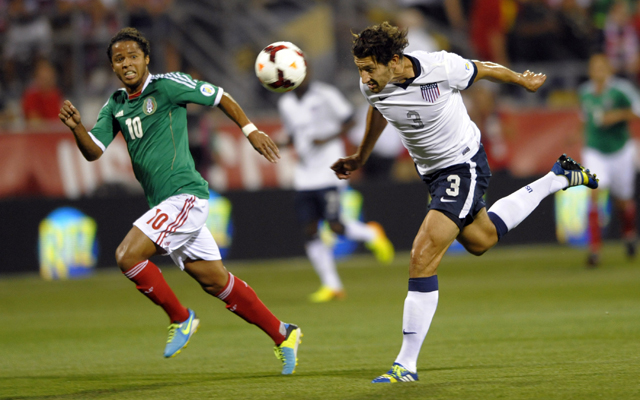 USA 2 - Mexico 0: Recap | USMNT Player Grades
10:00 p.m. -- It's all over. And the scoreline looks familiar. A late penalty awarded to the U.S. was wasted as Clint Dempsey sent the ball into the stands. However, that did nothing to dampen the supporters' spirits. The United States defeats rival Mexico 2-0 on second-half goals from Eddie Johnson and Landon Donovan in front of 24,584 fans at Crew Stadium. The USMNT is closing in on a trip to Brazil.
9:45 p.m. -- GOAL UNITED STATES! All-time leading scorer Landon Donovan finishes off a Diskerud cross in the 78th minute, and it's a 2-0 lead for the USMNT (sometimes known as 'Dos A Cero.') It's only been a couple of months since everyone was debating whether Donovan even still belonged on the national team, right? At this moment, that narrative feels like ancient (and forgotten) history.
9:35 p.m. -- After 70 minutes, it's still United States 1, Mexico 0. El Tri has made two changes, bringing on Hector Herrera in the 55th minute and Oribe Peralta in the 69th minute. USMNT goal-scorer Eddie Johnson was shaken up briefly but was able to return. United States coach Jurgen Klinsmann had to be relieved Johnson was OK, as his side is already playing with a depleted front line tonight. Expect the USA to continue to push forward for a second goal - this feels like a match that might take more than one tally to win.
9:15 p.m. -- GOAL UNITED STATES! Landon Donovan begged for a deflection call (and a corner kick) on his long shot from the left wing, got the whistle he was asking for, and responded by serving up a picture-perfect ball to Eddie Johnson on the ensuing corner. Corona came out too far, and Johnson buried his header in the back of the net in the 49th minute. USA 1, Mexico 0.
9:10 p.m. -- The United States made one change at halftime, bringing on Michael Parkhurst in the back for Fabian Johnson, who strained his left hamstring. Back underway...

8:55 p.m. -- Halftime in Columbus, and it's still scoreless. The home side has Tim Howard to thank for that. Howard made key saves in the 19th and 44th minutes, or the scoreboard might read 'Dos A Cero' the other way. Howard has played much better than he did in Costa Rica Friday, and the USMNT is fortunate its star keeper is performing like a star keeper tonight. One yellow card of note: Alejandro Bedoya was booked by the referee in first-half injury time.
8:40 p.m. -- After a little more than a half hour, this match still has no goals, but there's definitely more drama. The pace of play has quickened, the level of chippiness has increased, and each side is beginning to get some chances. The biggest moment so far, a 24th-minute Dos Santos dive in the box, ultimately proved uneventful. The USMNT wanted a card on the Mexican striker, El Tri was hoping for a penalty kick, and both sides came away disappointed. The United States nearly took the lead in the 32nd minute on an Eddie Johnson header attempt off the Americans' first corner kick, but Corona stepped up to make the save.
8:15 p.m. -- 10 minutes gone and there's no question Mexico has had the better of play so far. El Tri has been dangerous from the get-go, with two corner kicks in the first five minutes alone. DaMarcus Beasley swung and missed trying to clear a low cross, and was lucky Tim Howard was standing right behind him to bail him out. Some jitters and nerves are to be expected in a rivalry game, but the USMNT needs to settle down and start controlling the ball sooner as opposed to later. On the bright side for the United States, the atmosphere definitely favors the home team. There's a reason US Soccer keeps coming back to Columbus for this match, and they have to be thrilled with the number of supporters wearing stars and stripes in Crew Stadium tonight.
8:00 p.m. -- Fireworks. Processional of teams. National anthems. Lots of scarves. Even more goosebumps.
7:45 p.m. -- A video message from President Barack Obama is playing on the stadium scoreboard now, congratulating U.S. Soccer on its centennial celebration. "What you've done in recent decades to get more Americans excited about soccer is extraordinary." The phrase that got the biggest reaction? A reference to the USMNT's historic August 2012 win at Estadio Azteca.
7:25 p.m. -- "Dos a cero!" Clap. Clap. Clap-Clap-Clap. "We are going to Brazil!" "I believe that we will win!" The United States supporters sections at both ends of the pitch are in full throat as the USMNT and Mexico begin their pregame warmups. Michael Bradley got the loudest cheer when he wandered out of the tunnel a few minutes before the rest of his teammates to take a look around. (Imagine what the reception would have been if he was wearing a jersey instead of street clothes.)
7:00 p.m. -- USMNT starting lineup: Tim Howard; Fabian Johnson, Clarence Goodson, Omar Gonzalez, DaMarcus Beasley; Jermaine Jones, Kyle Beckerman; Alejandro Bedoya, Clint Dempsey, Landon Donovan; Eddie Johnson. Looks like a 4-2-3-1 formation.

Mexico's 11: Jose de Jesus Corona, Carlos Salcido, Diego Reyes, Fernando Arce, Christian Gimenez, Giovani Dos Santos, Javier Hernandez, Hector Moreno, Jesus Zavala, Andres Guardado, Hiram Mie.

COLUMBUS, Ohio -- There's plenty of red, white, blue, and yes, green outside Crew Stadium as fans begin to gather for tonight's USA-Mexico match. The parking lots opened at 11 a.m. ET, and the atmosphere is festive and lively at 5 p.m. as the countdown reaches three hours to kickoff.

Temperatures are currently in the mid-90s, so expect a hot and humid night for soccer. The USMNT is hoping for a friendly crowd, and with demand for tickets at an all-time high, it will be interesting to see what the home/away fan breakdown is as the stadium begins to fill up in less than an hour.

Check back throughout the night for the latest updates from Columbus.
--
USA-Mexico is a massive rivalry even when there's nothing at stake.

Tuesday night, there's plenty at stake.

The long-time CONCACAF rivals meet at sold-out Columbus Crew Stadium Tuesday night (8 p.m. ET, ESPN, US Soccer MatchTracker) in a critical World Cup qualifier. The USMNT, which hasn't lost a qualifier on home soil since 2001, can punch its ticket to the 2014 World Cup in Brazil with a win and a Honduras win/draw vs. Panama. Mexico enters the match in fourth place in the Hexagonal (only the top three automatically qualify), and desperately needs a result to get back on track.

El Tri is coming off a home loss to Honduras Friday, only its second all-time defeat in a World Cup qualifier at Estadio Azteca. Disgruntled Mexican fans spent much of the evening chanting 'Fuera Chepo' and quickly got their wish, as the team fired coach Jose Manuel de la Torre after the game and replaced him with Luis Fernando Tena. The new manager, who coached his country's Olympic team to a 2012 gold medal, has his work cut out for him as he leads a disappointing and underperforming side into Columbus Tuesday.

However, while the United States has had its way with Mexico in Columbus over the past few qualifying cycles, the Americans do enter this match significantly shorthanded. Midfielder Michael Bradley sprained his ankle shortly before Friday's 3-1 defeat in Costa Rica and has been ruled out for Tuesday's match as well. The USMNT will also be without the services of Jozy Altidore, Matt Besler, and Geoff Cameron (yellow card accumulation). Altidore's loss especially stings, as he picked up a foolish yellow card in second-half injury time Friday night after not entering the match until the 71st minute.

What to watch for:

Who replaces Bradley? The Michael Bradley/Jermaine Jones midfield pairing has been a staple of Klinsmann's lineup in important matches. With Bradley lost just before kickoff Friday night, the Americans looked confused from the opening whistle and played from behind for a majority of the match as a result. Geoff Cameron, Bradley's replacement in Costa Rica, isn't available either, and it will be interesting to see how the United States coach addresses one of his team's most glaring weaknesses from its last match with limited options at his disposal.

Can Howard shine? Starting goalkeeper Tim Howard did not have one of his better games in Costa Rica, and he'll need a strong bounce-back performance on home soil Tuesday. The veteran still appears to be the United States' No. 1 option in the net, both now and when the World Cup rolls around in 2014, but Brad Guzan (who filled in admirably for an injured Howard in a 0-0 draw at Mexico in March) isn't far behind. Howard, who owns a 4-1-2 lifetime record vs. Tuesday's opponent, can make a statement that he's still the guy with a shutout of El Tri, and the USMNT will be looking for him to come up big.

Where will the goals come from? Jozy Altidore had been a scoring machine in 2013, tallying goals in a American-record five straight matches before his limited appearance in the Costa Rica debacle. With no Jozy up front, expect the USMNT to lean on stars Clint Dempsey and Landon Donovan to make the offense click. Dempsey and Donovan will be playing in just their second match together since June 2012, and there's plenty of room for improvement after last week's forgettable trip to San Jose. Dempsey's club teammate Eddie Johnson, who's made the most of his national team chances in recent months, is another likely candidate to get on the scoresheet Tuesday.

What to expect: Dos a cero, of course.
New England native will start from the rear of the field in Sunday's playoff race

A playoff driver could join Martin Truex Jr. in the Round of 12 with a win on Sunday

Denny Hamlin and Kevin Harvick will look to build off momentum in order to catch Martin Truex...
The team of children agreed among themselves to follow Colin Kaepernick's stand against in...

Did Elliott cheat to finish second in the NASCAR playoff opener? You be the judge

Kahne has been with Hendrick Motorsports since the 2012 season and is currently in contention...