USA-Mexico: Yanks beat rivals 2-0 to qualify for 2014 World Cup
The United States took control in the second half of a 2-0 win over Mexico. The USMNT has now qualified for the 2014 World Cup.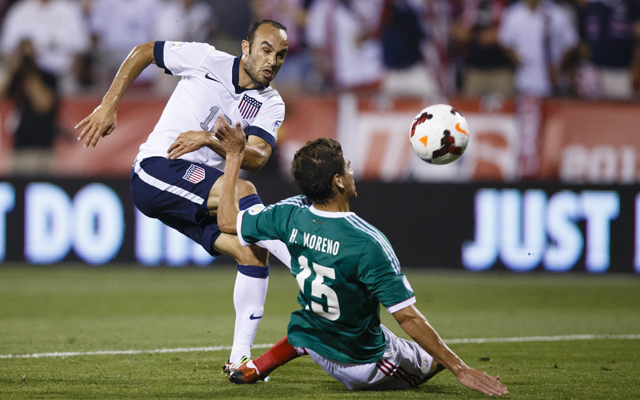 COLUMBUS, Ohio -- Would you believe Dos A Cero?
Again?
Not only has the United States owned Mexico in World Cup qualifiers played at Columbus Crew Stadium, the USMNT always seems to win by the same magical score.
And 2013 would prove to be no different. Despite playing without Michael Bradley (ankle) and Jozy Altidore (yellow card accumulation), Jurgen Klinsmann's side shook off a sluggish first half to once again beat its rival 2-0 on goals from Eddie Johnson and Landon Donovan.
Is the consistent scoreline fate? Coincidence? Irony?
"I don't know what it is, but I love it," Omar Gonzalez said.
It's the fourth straight time (2001, 2005, 2009) that the USMNT has defeated El Tri in a home qualifier by the same score, and all four matches were played in the friendly confines of Crew Stadium.
"The players know when they play in Columbus they have 100 percent support behind them," Klinsmann said. "It is a psychological game at the end of the day."
"This is a great crowd. It's become its own monster," Tim Howard said. "People want to come to Columbus to see USA-Mexico."
To make the night even more perfect for the United States, Honduras' 2-2 draw with Panama an hour later officially clinched the USMNT's trip to the 2014 World Cup in Brazil. Hundreds of fans stayed around to watch the final minutes on the stadium's video scoreboard, and the players came back out of the tunnel once the result was final to celebrate with their supporters, who had been loudly singing "We Are Going To Brazil!" all night.
"A qualifying campaign is a very difficult road," Klinsmann, who was wearing a brand-new 'QUALIFIED' t-shirt, said after the match. "It is a special moment."
"Now it's expected of us," Howard said. "But it's never a guarantee."
"Against your rival, it's even sweeter," Clint Dempsey said.
"It never gets old," Donovan said. "These games are always fun."
It may have been fun, but things didn't come easy early for the Americans on Tuesday. Mexico, playing for new coach Luis Fernando Tena after Chepo was fired over the weekend, had the better of play for much of the first 45 minutes. While it was El Tri setting the tempo and the home side reacting, when many had expected the opposite, Howard stood tall in the net and kept his side level with two key saves.
"Going into halftime nil-nil was important for us," Howard said.
The USMNT goalkeeper bounced back with an impressive shutout after a disappointing performance in Costa Rica.
"I've had a lot of crappy games," he said. "The reason I'm still playing is they're few and far between."
Howard was confident the team in front of him could make the needed adjustments before play resumed, and that's exactly what happened. After halftime, it was all United States.
Eddie Johnson, starting up top because of Altidore's absence, finished off a header on a Donovan corner kick in the 49th minute.
"We talked about set pieces yesterday," Donovan said. "We thought we'd have a big advantage."
The game's first goal swung the momentum for good.
"They looked relatively timid and shy throughout," Donovan said. "I've never seen a Mexican team look that way."
In the 78th minute, Donovan finished off El Tri with a goal of his own. The USMNT's all-time leading scorer took care of a low cross played through by Mikkel Diskerud after it slid past Clint Dempsey, and the 2-0 scoreline that appeared destined had come to pass.
"He's a guy when he's on the field, he puts fear in every opponent," Howard said of Donovan.
Dempsey actually had a chance to make it 'Tres A Cero" in second-half injury time with a penalty kick, but he missed it wide.
"It kind of seemed like it wasn't my night," Dempsey said.
But when the smoke from the fireworks had settled after the final whistle moments later, none of the pro-USA crowd of 24,584 seemed to mind all that much. With a 2-0 score --again-- who could blame them?
In Columbus Crew Stadium, 'Dos A Cero' seems meant to be.
It was a pretty good week for the Dawson High School kicker from Pearland, Texas

The NASCAR Playoffs Round of 8 field has been decided

Kyle Busch is in danger of being eliminated just weeks after dominating the Round of 16
Talk about covering ground on the court: You've never seen anything like this

Kevin Harvick and Joey Logano will have a chance to tie Jimmie Johnson's wins record at Ka...

This is good parenting, folks