VIDEO: Manny Pacquiao shadowboxes in preparation for Mayweather
Manny Pacquiao took to the streets to shadowbox and yet another fighter has come out in support of Pacquiao.
• 1 min read
Those who say Manny Pacquiao will thwart Floyd Mayweather's pursuit of his 48th consecutive win often cite Pacquiao's speed and quickness. As Mike Tyson put it, Pacquiao is "perpetual motion."
A training video Pacquiao posted to his Instagram page only confirmed what we already know about the fighter: he's deadly fast. On Tuesday, Pacquiao took to the streets to demonstrate what Mayweather is going to be forced to slow down on May 2.
In addition to Tyson, Donnie Nietes -- a WBO junior flyweight world champion -- also thinks Pacquiao has the ability to end Mayweather's boxing reign. Speaking with PhilBoxing.com, Nietes backed his fellow Filipino fighter.
"Pacquiao can knock out Mayweather," Nietes said. "Pacquiao is very focused for this fight. He can catch Mayweather and there is a good chance he'll knock him out. Pacquiao will be in his best shape for this fight."
Based on the video above, Nietes doesn't appear to be far off with his analysis. And on May 2, we'll see what wins out: Mayweather's wood chopping or Pacquiao's shadowboxing.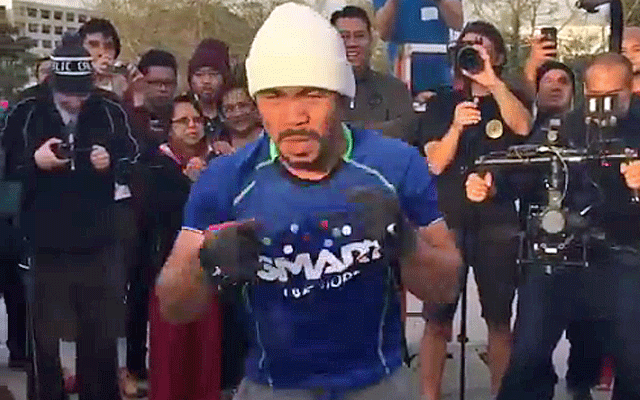 SportsLine simulated the 2018 STP 500 race 10,000 times and has some surprising picks

Lieberman is replacing Clyde Drexler on the bench as coach for the Power

This guy has either never been happier or more upset
Truex makes history by winning everything this weekend in Phoenix: the pole, the stages, the...

SportsLine simulated the 2018 Auto Club 400 race 10,000 times and has some surprising pick...

A look at the biggest shockers of sports, from Douglas and Tyson to USA Hockey's 'Miracle on...