WATCH: Mayweather trains for Pacquiao by chopping wood
Floyd Mayweather channels Rocky by chopping wood to prepare for his fight against Manny Pacquiao.
• 1 min read
Who needs another Rocky movie when we've already got Floyd Mayweather?
In preparation for his showdown against Manny Pacquiao, Mayweather is resorting to some old-school tactics. In a video perfectly fit for Rocky (in reality, it was only posted on his Instagram page), Mayweather was seen continuing his training for May 2 -- by hacking at a log with an axe.
A video posted by Floyd Mayweather (@floydmayweather) onMar 15, 2015 at 9:43pm PDT
Chopping wood is, of course, not unique to Rocky and Mayweather. Boxers still use it today because it works by building strength and emphasizing explosiveness. Recently, Juan Manuel Marquez utilized this training method prior to his fight against Pacquiao in 2012. Marquez wound up knocking out Pacquiao in the sixth round.
Meanwhile, while Mayweather works on his strength, Pacquiao is training differently, according to promoter Bob Arum. Instead, Arum says Pacquiao is focusing on "timing and positioning," rather than just brute force.
"Knocking someone out doesn't have to do with strength," Arum told esnewsreporting.com. "It has to do with timing and positioning. I really believe Manny is concentrating on that, and therefore will knock him out. I really believe his style will have changed for this fight."
The countdown to May 2 can't expire fast enough. Until then, please keep the chopping videos coming, Mayweather.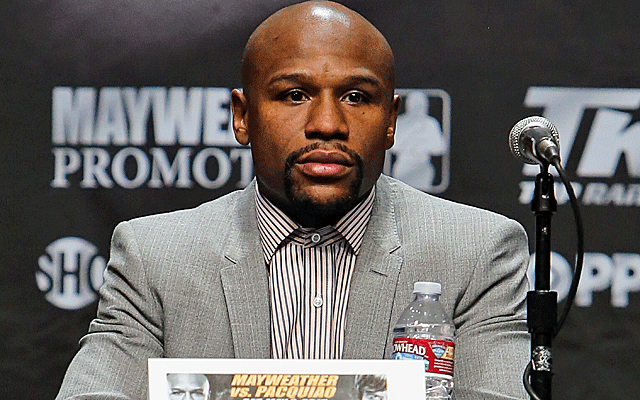 Junior finished 25th in his final ride after starting last and was happy to cede the spotlight...

Truex held off Kyle Busch on the final lap to win while Dale Earnhardt Jr. finishes 25th in...

Dale Earnhardt Jr. is preparing to take his final ride while four other drivers compete for...
Patrick says she will run in the Daytona 500 and Indianapolis 500 next year

The threat of a ban has loomed for Russia as its doping scandal continues

'You knew some guys had a propensity to smoke a little bit' in the NBA, says Raja Bell