What's wrong with playoff chair Long, Rice and Co.? Nothing yet
Arkansas athletics director Jeff Long will be the chairman of the College Football Playoff committee. He hired Bobby Petrino. My point? I don't have one. Just silly complaints about a system that has mercifully replaced the BCS.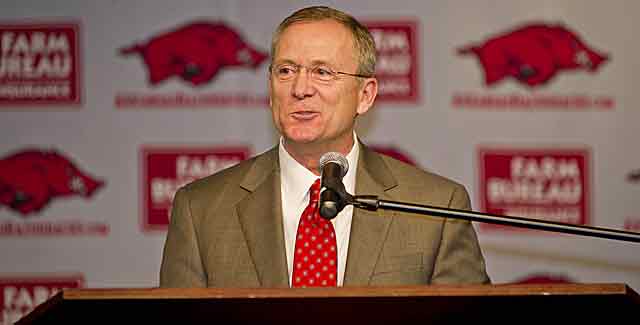 The news broke Monday morning that Arkansas athletics director Jeff Long, the guy who thought it made sense to hire Bobby Petrino away from the Falcons during the 2007 NFL season, will be in charge of the college football selection committee. Long will chair the 13-person group that picks the four playoff teams beginning next season.
That guy. Who hired notoriously disloyal Petrino. In the middle of Petrino's NFL season. And thought it would work out for Arkansas.
How did that work out for Arkansas, Mr. Long?
You can see my reaction to the news that Jeff Long will be the most important person on the most important committee of the college football season starting in 2014: disbelief. Jeff Long? In charge of the playoff committee?
Pbbbbbbbbbbbt. That was my first thought.
This was my second thought: Shaddup.
I was talking to me, but if it applies to you, so be it. Shaddup for you, too. And for the reader known as "buckeyetjn" who hurried onto the message board below our news story Monday morning on Long's appointment and wrote the following:
This guy has a history of bad judgment ... the Petrino embarrassment to the Bielema hiring and this guy gets this position? What's the criteria for this position, blow every big decision you have made?
Great point, buckeyetjn. I hadn't thought of the Bret Bielema debacle. Karma, and all that ...
No, shaddup! Again, talking to me. And to buckeyetjn, and to all of us who are hard-wired to lampoon every decision made by the bosses of college football. Those knuckleheads have given us every reason to doubt their competence, but I'm going to give Jeff Long a chance. Him and everyone else on the committee, every athletics director and former coach and ex-player and retired lieutenant general and even former secretary of state Condoleezza Rice, whose inclusion on the committee has generated scoffing sexism from closet meatheads like David Pollack who sort of suggested Rice didn't belong and an unapologetic meathead like former Auburn coach Pat Dye who came out and said "all she knows about football is what somebody told her."
But she knows how to cook up a pot roast. Right, Pat?
Ugh. The whole thing -- ugh. My derision, Dye's sexism, your complaints ... shaddup, you know? This committee is what we wanted. This playoff is what we wanted. And it wasn't going to happen in a vacuum. It's not like the 2014 regular season was going to wrap up in December and the best four teams were just going to magically show up a month later for the national semifinals.
You know that TV commercial about the credit fairy, where some dude with no clue how to balance a budget is shocked to find out the credit fairy isn't real? Think along those lines, but change credit fairy to selection fairy: It doesn't exist. The playoff teams have to be picked by somebody. It couldn't be a computer, because -- take it away, Pat Dye -- all those computers know about football is what somebody told them. And since there's going to be a human element, let's make a committee of humans instead of Pentium processors.
And let's stop whining about the humans on the committee, because the perfect human for this committee wasn't going to be picked. He or she doesn't exist. Every single person on this committee has the perception of bias, whether it's Jeff Long and Archie Manning from the SEC or the other AD's from their schools and conferences (West Virginia's Oliver Luck from the Big 12, Clemson's Dan Radakovich from the ACC, Southern California's Pat Haden from the Pac 12, Wisconsin's Barry Alvarez from the Big Ten).
Mike Tranghese once ran the Big East. Tom Osborne coached at Nebraska -- that's two Big 12 guys! Ty Willingham was fired by Notre Dame after only three seasons, so heaven help the Irish if they're in the running for that fourth and final playoff spot.
Tom Jernstedt is a former NCAA vice president, but before that he played quarterback at Oregon (another Pac-12 vote). Retired Lt. Gen Michael Gould was a defensive back in the 1970s at Air Force. Longtime college football writer Steve Wieberg? If he's like every other sports writer in the business, he has teams he likes and teams he doesn't. Whose football program does Wieberg dislike the most?
Yours.
Point being, every single person on this committee has a red flag. Well, everyone but Condoleezza Rice. Unless whoever told her what she knows about football was an SEC guy, because that would leave three SEC wonks on the committee. And that can't happen.
But it did happen. All of it happened, and since the committee won't actually impact the season until next year, it would be nice if we could make it from here to there without an overload of snark and negativity from the smartest guy in the room. Which is all of us.
Granted, social unrest can change the world for the better. It can do it in big ways like when our ancestors gathered on Facebook and organized the Boston Tea Party, and it can do it in small ways -- like the way we as a sports society came together to overthrow the Bowl Championship Series. Complaints about a flawed system? It works.
Complaints about the college football playoff committee? It's annoying. Stop it.
How to watch the Professional Rodeo Cowboys Association's 2017 National Finals Rodeo event

John John Florence and Gabriel Medina will look to catch the wave to a championship

Settle in for the holidays by watching other people do grueling obstacles like the Funky M...
Talladega is all decked out in white and all of Twitter wants to see some snow tire racing

CBS is excited to announce that Jordan Peele is producing a reboot of 'The Twilight Zone'

Jonah Keri talks to with CBS Sports NBA/Features Writer Brad Botkin to launch their Top 100...