Why root for Eagles? Kelly's hectic offense, and Vick running it
Many scoff at Chip Kelly's offense or dislike Michael Vick because of the dogs. But Vick running Kelly's 'O' makes the Eagles compelling.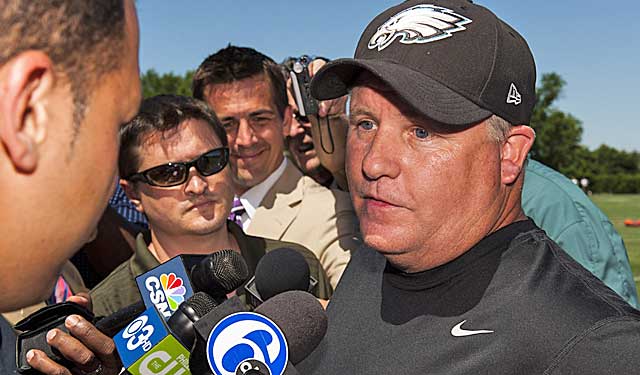 You're rooting for the Eagles, right? I don't mean you in New York or you in Dallas or you in Washington. Of course not you. But everyone else, right? You want to see this Eagles team win a bunch of games. Right?
Maybe it's just me.
Other than the Eagles fan base, I mean. Other than those people, the Eagles have turned off large portions of the U.S. population over the years. Michael Vick and the dogfighting happened. Chip Kelly and the parachuting out of scandalous Oregon happened. Riley Cooper happened.
But this team. It's ... fascinating. Fascinating is almost as charismatic as winning, and this Eagles team could do that, too. This Eagles team could win.
I hope it does.
There. I said it. A prediction that this Eagles team will win this season? Win the NFC East, or a wild-card spot, or even half its games? No. I didn't say any of that.
What I said: I hope it does happen. I hope the Eagles win half their games and then some, enough to win a playoff spot. Wild card or division title? Doesn't matter to me. But I'd love to see the 2013 Eagles in the playoffs because of what that would mean.
First, it would mean another college coach has won in the NFL. That has happened a few times in history -- it has happened a few times in recent years, what with Jim Harbaugh and Pete Carroll taking over the NFC West -- but by and large the college coaching talent pool is seen as inferior to that in the NFL. For a college fan like myself it's irritating and insulting, but it is what it is. Distracted Steve Spurrier did that. So did goober Lou Holtz and me-first Bobby Petrino and overrated Dennis Erickson.
Specifically, it would mean Chip Kelly has won in the NFL, and I'd like to see that happen. For one thing I'd like to see him win enough to stay in the NFL, where he can spend millions on a star tailback without flouting the rules like he did when he spent $25,000 on a tailback at Oregon. For another, and more to the point, I'd like to see him succeed in the NFL with that offense of his. If a little Chip Kelly offense is fun -- and it sure was at Oregon -- then a lot would be fantastic. The NFL is a copycat league, and wouldn't it be great to see teams all over the place running that quick-snap, high-scoring offense?
There's the Vick thing, too. Lots of you don't like Vick and never will. The dogs. Got it.
Me, I've forgiven him. That doesn't make me a bigger person than those of you who haven't -- though I kind of think it makes me a more forgiving person than those of you who haven't -- but it does allow me to see just how solid a man Michael Vick has become.
It's kind of shocking how good he is, now, given how bad he was, then. He was terrible. Fighting dogs, killing dogs. Terrible. If you can get past the awfulness of Michael Vick, you might just notice the awesomeness of Michael Vick. Today he is humble and grateful and speaking out for dogs and speaking up for Riley Cooper when Cooper -- and that whole ugly situation -- needed a soothing voice.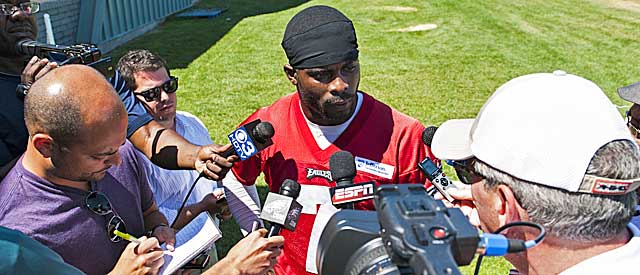 The awesomeness of Vick applies on the field, too. He remains one of the most perfectly constructed quarterbacks ever, a guy with a strong arm and beautiful throwing motion and tailback speed. He's never had the right offense to showcase all of what he has, but what do you know? He has that offense now. Chip Kelly wrings every bit of production he can get out of his quarterbacks -- he did at Oregon, anyway -- and now he'll try to do the same with Vick. If only he'd gotten Vick when he was 23 instead of 33 ...
Hey, I'll take it. This quarterback with that coach? Gimme! Because I'm high on Vick the man, I'd like to see Vick the quarterback have three or four more great years, get into the playoffs immediately and into the Super Bowl in the near future -- and it could happen with this coach. That's what I believe. When Jim Harbaugh left Stanford for the 49ers in 2011 he was obviously going to win in the NFL, but he's the only recent college coach that seemed like a lock to do it. Carroll's success has surprised me. Greg Schiano, if he has any success with the Bucs, will stun me.
Chip Kelly? He can do it. He's gifted at the Spurrier level, only he's driven at a level that Spurrier never had. Spurrier always wanted to have a life away from the game, and more power to him for that, but Kelly just wants to win. I bet he does it with the Eagles, and I bet he does it sooner -- and better -- than people expect.
I just hope Marcus Vick doesn't ruin it.
How to watch the Professional Rodeo Cowboys Association's 2017 National Finals Rodeo event

John John Florence and Gabriel Medina will look to catch the wave to a championship

Froome was found to have double the legal limit of an asthma drug in a September doping te...
Flanagan, after winning the New York City Marathon, is out to win her 'hometown race'

It's probably better to just buy your shoes online these days