Wichita State official makes no apologies for basketball schedule
Is Wichita State deserving of a No. 1 seed in the NCAA Tournament? Unbeaten Shockers not completely at fault for weakened schedule.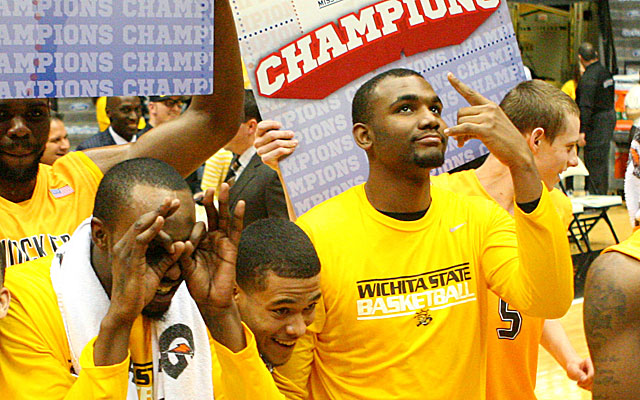 LATEST IN HOOPS: Top 25 (and one) | Bracketology | Bubble Watch
You hate Wichita State's schedule. You think it's weak. Unbecoming, even undeserving, of a No. 1 seed in the NCAA Tournament.
Darron Boatright knows that argument is out there. But he doesn't care.
Who is Darron Boatright? He's the senior associate athletics director at Wichita State in charge of the men's basketball schedule. And he says Wichita State coach Gregg Marshall agrees with him. They hear the argument, and they don't care.
"Even if we do get a No. 2 seed, would we re-evaluate how we do our schedule? Absolutely not," Boatright told me Wednesday.
He says this near the end of our conversation, maybe a little agitated at my persistent line of questioning. Before we go further, let me make clear to you what I made clear to Darron Boatright: I do believe Wichita State is a No. 1 seed. Not a doubt in my mind. I wrote that earlier this week, and Boatright says he read it. I wasn't attacking him and he knew it. But at the same time, I wasn't hearing any doubt on Wichita State's behalf that maybe they'd gone about their schedule the wrong way, and what if ...
"What if we get a two-seed?" Boatright says, and while he's still in good spirits his voice is now slightly louder.
"Think about this," he says. "You're on the phone with Wichita State, and we're contemplating whether we scheduled incorrectly because we got a two-seed and not a one. Think about that. That's f---ing crazy."
On the one hand, yes, he's right. It is f---ing crazy. Wichita State is from a mid-major that has been diminished after being picked at by bigger conferences during realignment, and from that declining mid-major -- once a borderline top-six league, the Missouri Valley this season ranks 11th in conference RPI -- Wichita State has emerged as a legitimate candidate for a No. 1 seed.
And we're nitpicking their schedule? Or judging it? Boatright is mildly exasperated, and he has a point. When you're Wichita State, it's not easy getting quality non-conference games. Good programs want to play the Shockers more than ever, this is true, but they want to play the Shockers at home. Not on the road, not even in a home-and-home series. Good teams want Wichita State to visit their arena so good teams can show off to their fans: Look who we got to play us!
Good teams don't go on the road to play guarantee games. Good teams are buyers, not sellers, and Wichita State is a good team. And so Darron Boatright told me the philosophy of Shockers coach Gregg Marshall is like so: Wichita State will not be "bought" by a bigger school for a guarantee game, and Wichita State will not play two games at their place in return for one measly game in the Shockers' facility, the Charles Koch Arena.
Not going to happen like that.
"Some [big schools] were interested in playing us, but it was, 'You come to our place for a guarantee, or we're not playing,'" Boatright says. "It doesn't even get to: home and home. Or home and [the bigger arena in] downtown Wichita. It doesn't even get there. It's just, 'We'll give you $125,000 to come to our place.' And we won't do it."
Understood, I tell Boatright, and you're talking to a guy who believes in you as a No. 1 seed ... but what if you don't get that seed? What if you go undefeated and get stiffed because your strength of schedule is around No. 100? Would you second-guess yourself?
"People don't understand this," he says. "They debate it -- their schedule is soft, their schedule is strong, they didn't play everybody -- but it is our responsibility to put together a non-conference schedule that, if our team manages that schedule appropriately, we'll get an at-large bid. We're not out here trying to put together the No. 1 toughest schedule in the country. We're not interested in that.
"Nor do we want to be one of those places where the schedule isn't done for the team, but for the coach -- teams that win 20, 21 games every year and never get a bid. That's a schedule done so the coach doesn't get fired. The only thing we want to do is have a non-conference schedule that is challenging enough, good enough, that if our team is capable, we get an at-large bid.
"And we've done that this year."
In Wichita State's defense, its schedule lost five high-quality games between last year and this year. Creighton left and took its two big-time conference games to the Big East. ESPN canceled its Bracket Busters event, which had given the Shockers games against VCU and Davidson. And the Mountain West Challenge ended, depriving Wichita State of a game against a western powerhouse like San Diego State or UNLV. Plus, Boatright tells me, Wichita State was in discussions with a handful of high-majors from the Southwest -- Oklahoma and Texas A&M to name two -- for a season-opening event in Dallas that fell through, causing the Shockers to scramble for an opener before settling on Division II Emporia State.
"We lost five good games," Boatright says. "That's hard to recover from."
Understood, I say. All of it. But what I don't hear is remorse, or responsibility, that the schedule is being used against Wichita State in its hunt for a No. 1 seed.
Boatright's voice sinks, not from anger but, I don't know, exhaustion. With the topic. With me. I'm neither getting it, nor going away. He tries one more time, and this time, swear to god, it sinks in with me. See if it sinks in with you.
"Look," he says. "I hope a year from today we're having the same conversation: 'Darron, here you are again, you might want to rethink your schedule because Wichita State is undefeated and still underrated.' Maybe so. Maybe we don't know what we're doing. Just two No. 2 seeds in a row. Maybe we should just pack up our offices and go home."
Patrick plans to call it a career after running at the two most iconic U.S. auto races

Let the truth set you free, sir

The poor kid never even saw it coming
The burglars that Childress fired at were carrying military-grade weapons on them, the cops...

'Kong Infinity' and 'Happy Ending' headline two additions to the ultimate endurance course...

Nik Kayler's body has been found after going missing last week during a fishing tournament