With no can't-miss prospect, Texans are in a can't-win situation
Who will Texans draft No. 1? Jadeveon Clowney? Blake Bortles? Johnny Manziel? Any of 3 or 4 other players? Therein lies the Houston problem.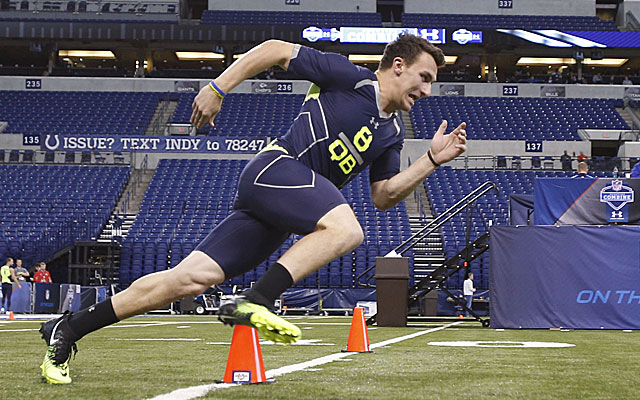 More NFL offseason: NFL Mock Drafts | Prospect Rankings | Top free agents
Let's cut the Houston Texans some slack and acknowledge up front -- and not a few years from now, with the benefit of the hindsight -- that they're going to screw up the No. 1 overall draft pick.
That's not a knock on the Texans, either. Promise. That's a knock on the talent pool for the No. 1 overall pick in May. It's way too shallow ... or way too deep. Either way there are too many realistic choices for the first pick, and this sort of thing is similar to a quarterback controversy: If you have two quarterbacks, you have no quarterbacks. Because if you had a great quarterback, there'd be no controversy.
For the Texans, the equation is as follows: Too many choices for the No. 1 overall pick means there isn't a No. 1 overall pick. Because if there was a can't-miss superstar in the bunch, there would be just one choice. Him. Whoever he is.
But who is he? You don't know. I don't know. NFL executives and draftniks don't know. Ron Jaworski doesn't even pretend to have a clue. The Texans seem to have no idea. They're said to be leaning toward South Carolina defensive end Jadeveon Clowney or Central Florida quarterback Blake Bortles, except for the times when they're looking at Louisville quarterback Teddy Bridgewater. Texas A&M quarterback Johnny Manziel is a legit possibility to go No. 1 on other days, but only days that end in the letter y.
Maybe all of this is an elaborate smoke screen, as is so much pre-draft posturing. Maybe the Texans do see one guy as the guy, the one guy worth giving the crazy money and intense expectations and responsibility. Maybe they're waiting on another team -- someone close behind them on the draft order, like the Rams or Jags or Browns -- to offer a bounty of picks because they feel their guy, whoever he is, will still be there with the second, third or fourth pick.
"Just because you or I don't see a clear-cut target at No. 1 for Houston," says CBSSports.com draft expert Dane Brugler, "doesn't mean they don't."
Good point ... nah!
The Texans have no idea, because this pick is unusually difficult this season. Everyone on the list has a wart or three. Bortles isn't ready to play right away, and is so raw that his ceiling is difficult to determine. Maybe the burly, strong-armed guy is another Ben Roethlisberger. What if he's Ryan Leaf?
NFL scouts have compared Bridgewater to players as different as Sam Bradford and Russell Wilson, which means they have no idea who Bridgewater will be when he gets to the NFL. I mean really -- Russell Wilson?
Clowney is the scariest guy in the draft for every possible reason. He's 6-foot-5, 266 pounds and faster than half the receivers at the NFL combine. That's scary. With all those attributes, he had exactly 3 1/2 sacks this past season at South Carolina. That's scarier. Whatever held him back in college -- schemes, injuries, attitude, effort -- could reappear in the NFL. That's terrifying.
And he's not even the biggest boon-or-bust player in this draft. That's Manziel, seen by some as the best player on the board, seen by Cleveland as unworthy of the fourth overall pick, seen by Jaworski as unworthy of a spot in any of the first three rounds, and seen by Barry Switzer as an "arrogant little prick."
It's not hard to imagine Manziel, in an NFL that has trended toward smaller, athletic quarterbacks, becoming one of the most dynamic players in the league. Nor is it hard to imagine him being a little too small, a little too weak of arm, a little too unable to break down defenses from the line of scrimmage -- a little too something -- to be worth the investment at the top of the draft. It gets harder by the day to imagine him enjoying his fame and money and free time so much that he bombs out of the NFL, but to pretend that possibility has vanished entirely would be silly. The Texans aren't silly.
What are the Texans? Screwed, is my guess. Someone from this draft will be worth the No. 1 overall pick. Maybe three or four someones. Scouts have been calling this the deepest draft in years, and while it doesn't appear terribly deep at the top -- again, if there were a can't-miss superstar on the draft board, like Andrew Luck in 2012, we'd all know his name by now -- there is too much first-round talent for the first round. One or two of those guys will be even better than anyone suspected. One or two of them will be, in hindsight, the best of this class, as J.J. Watt (11th pick) was the best in 2011 or Clay Matthews (26th) or even LeSean McCoy (53rd) was the best in 2009.
The Texans probably won't find that guy, because they're having to look in too many directions. I asked CBSSports.com draft expert Rob Rang for help, and he was no help at all. In addition to Clowney, Bortles and Bridgewater (but not Manziel), Rang listed two other players I've not even mentioned yet, Auburn tackle Greg Robinson and Buffalo linebacker Khalil Mack, as being worth a look at the top spot -- and Rang has Mack second only to Clowney on his list.
So it's worse than I thought for the Texans, and I already thought it was plenty bad. All of this is why, as I've written before, they almost have no choice but to draft Manziel. Someone will be a superstar in this class, and while it would be a shame for the Texans to miss out on that guy, it would be a GM-destroying, fan-enraging turn of events for local hero Manziel to become that star for any team other than the Texans.
So maybe what the Texans really should do is punt. Trade the No. 1 overall slot for three or four picks in a deep draft. Pass the buck to someone else and watch that franchise screw it up instead.
New England native will start from the rear of the field in Sunday's playoff race

A playoff driver could join Martin Truex Jr. in the Round of 12 with a win on Sunday

Denny Hamlin and Kevin Harvick will look to build off momentum in order to catch Martin Truex...
The team of children agreed among themselves to follow Colin Kaepernick's stand against in...

Did Elliott cheat to finish second in the NASCAR playoff opener? You be the judge

Kahne has been with Hendrick Motorsports since the 2012 season and is currently in contention...