Won't watch Masters sans Tiger? You won't be alone, but for wrong reason
People won't watch the Masters as much since Tiger Woods is not playing. It would be one thing if Tiger was still Tiger, but he's not, and won't be ever again.
More: Tiger out of Masters | Porter: End of Tiger's run? | More news
Lemmings and frontrunners, all of you. Well, all of you who won't watch the Masters next week specifically because Tiger Woods is out. Which is pretty much ... most of you.
According to this story Tuesday at Forbes.com, the Tiger Effect on television viewership remains in full swing, even when he's not. Tiger hasn't been in full swing on the golf course -- Tiger hasn't been Tiger -- since his wife went upside his Escalade with a 9-iron on Thanksgiving night, 2009. He was very good last season, winning player of the year, but there's a difference between very good and Tiger.
Apparently America doesn't care. We're still infatuated with Tiger, still unimpressed by golf without Tiger, still lemmings and frontrunners.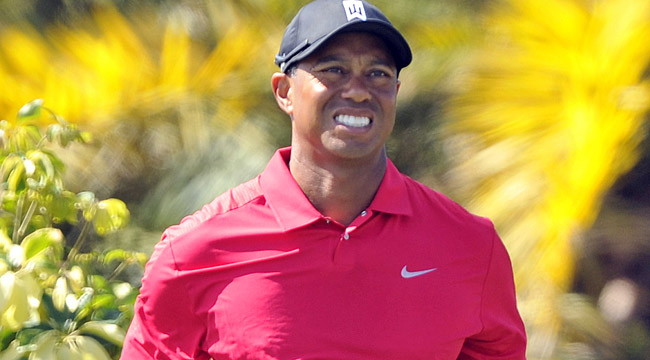 And listen, lemmings and frontrunners: Not so long ago I was with you. Hell, I was you. If Tiger was playing, I was watching. Could've been the Masters, could've been the Buick Open, couldn't have mattered to me. If Tiger was playing, I was watching. It helped if he was winning, but this being back in the days when Tiger was Tiger, of course he was winning. Or close to winning. Or so good that we thought he had a shot at winning, even if he was eight shots down and in a tie for 43rd on Saturday.
Or Sunday.
Tiger was that good, and we were watching because we were watching history. Same reason we watched Johnny Manziel last season, same reason we watch LeBron this season, same reason we'll be watching Anthony Davis a few seasons from now. History comes along, and you watch it. Or you're the idiot a few decades from now listening to everyone else talking about the time we watched Manziel or Tiger or LeBron at the height of his powers, then lying about how you watched him too. No you didn't. Liar. But we did, we watched him. The lemmings and frontrunners.
Those days are gone. Watching Tiger this year isn't watching history. It's watching yesterday's news, and that's not the same thing. History is special. Yesterday's news is faded and depressing, and that's what Tiger has been this year -- missing the 54-hole cut at the Farmers Insurance Open, pulling out of the Honda Classic midway through his Sunday round at 5-over for the day and 12 shots back, and then fading at the end of the World Golf Championships-Cadillac Championship to finish in a tie for 25th.
Back pain was cited for all three results. He's 38 now -- less Tiger, more Mickey Mantle at the end of his career. Still capable of putting a jolt in the ball, just not as often as he used to. Limping toward the end of his career, although this being golf and not baseball or football, the twilight of Tiger's career will be measured in a multitude of years, not months.
More news stories like Tuesday are what we have to look forward to, revelations that Tiger won't be able to play in the 2014 Masters because of his back. Some day it'll be another announcement, another tournament, another ailment.
Tiger Woods has withdrawn from the 2016 U.S. Open at Oakmont because of a troublesome knee ...
Or whatever. Look, I don't wish bad health on him. I'm just saying, that's who he is now. He's the guy with bad health, the guy breaking down in later years because he's the guy who in earlier years played too hard, worked out too hard, grinded too hard. You can't have it all, both then and now, and Tiger had it then. He had it then in a way no golfer has ever had it. For the Era of Tiger, when he was winning 14 majors in 12 years, sometimes because he could win by 10 or 15 strokes and sometimes because he could do this with a wedge to force a playoff and win it there, he was the greatest golfer ever. Arguably. Jack Nicklaus won more majors. Byron Nelson won more tournaments in a row. Bobby Jones won the grand slam. Ben Hogan was Ben Hogan. You pick your greatest of all time, and I'll pick mine. And mine's Tiger.
Or was.
It's like Bruce sings in My Hometown: Foreman says these jobs are going, boys, and they ain't coming back. That's Tiger. He's going, boys, and he ain't coming back.
And apparently neither are you. The lemmings and frontrunners, those who pay attention to golf because that means paying attention to Tiger. And when he doesn't play, that means not paying attention. Like to the Masters next week.
Depressing, and not because the tournament is televised by CBS and I work for CBS and you can do the math. I'm a corporate shill, right? That's not it, but think what you want. And so will I. And what I think is this: Tiger had his run, but his run is over.
The fact that you're still tuning in, just -- and only -- to watch him play? Tells me you're not paying attention. He's not Tiger anymore, not last year when he won five times, and not this year when he can't finish tournaments, and not now when he can't even start one.
The fact that you won't tune in next week to the Masters, because Tiger won't be there? Lemmings and frontrunners, all of you. Or all of us, I should say.
I won't be watching either.
ABC is looking to revive the popular '90s hockey film franchise

Patrick will drive the No. 7 Premium Motorsports Chevrolet in her final NASCAR race

Patrick plans to call it a career after running at the two most iconic U.S. auto races
Let the truth set you free, sir

The poor kid never even saw it coming

The burglars that Childress fired at were carrying military-grade weapons on them, the cops...