Would US, Germany conspire for a draw? It's not the American way
Some media have suggested US coach Jurgen Klinsmann might arrange a tie with his German counterpart, but Klinsmann promises no shenanigans.
More World Cup: Latest news & notes | Scoreboard | Complete schedule
Can't believe the question is even being asked, but it is. Will the United States and Germany prearrange a draw on Thursday, the only result that would guarantee both teams to advance from group play to the World Cup knockout stage?
That's the question being asked, and it offends me here, just a fan, 3,000 miles away. If I were US coach Jurgen Klinsmann, there in Brazil, it would infuriate me. And to his credit, he did seem irritated when he was asked -- within minutes of that heartbreaking 2-2 draw with Portugal on Sunday -- if the fix might be in against Germany.
Klinsmann, who wasn't nearly American enough for me before this tournament began when he told New York Times Magazine that the United States cannot win, was the American that question deserved when he was asked if he would call up his old buddy, Germany coach Joachim Loew, and arrange a mutually beneficial tie.
"We're not made for ties," said Klinsmann, who has lived in Huntington Beach, Calif., since 1998. "The United States is known to give everything they have in every single game. We have that fighting spirit and that energy."
Damn right we do. Which is why I objected to Klinsmann's pre-Cup assertion that the 2014 US soccer team "cannot win this World Cup, because we are not at that level yet." That's probably the way this thing ends up, with America not winning -- there are 32 teams; 31 won't win -- and that might be the way fans and even media are talking about this event. But that's not how the coach should talk. Not the coach of the American team. If rejecting a concession speech before the tournament starts makes me an Ugly American, then beat me with an ugly stick. I'll be the ugliest American you ever saw.
But today I'm proud of Klinsmann for that answer, and embarrassed for the media who asked those questions -- he was asked several times about an intentional tie with Germany -- and painfully aware of the history that makes the question, perhaps, legitimate.
Hell, Germany fixed a World Cup match once. It was before Klinsmann was on the German team, and it was even before Germany was known as Germany. It was the 1982 World Cup at Gijon, Spain -- five years before Klinsmann's national debut -- and West Germany entered its final game in group play against Austria knowing a win by one or two goals would allow both teams to advance ahead of Algeria. West Germany scored in the 10th minute, backed off and won 1-0. Austria advanced.
Algeria -- which had beaten West Germany 2-1 earlier in group play -- was eliminated.
That really happened, an outcome so blatant -- West Germany spent most of the final 80 minutes passing the ball between defenders and its keeper -- that it's known as the "Disgrace of Gijon" and caused FIFA to change its schedule. The final games of group play now kick off simultaneously to thwart that sort of fix.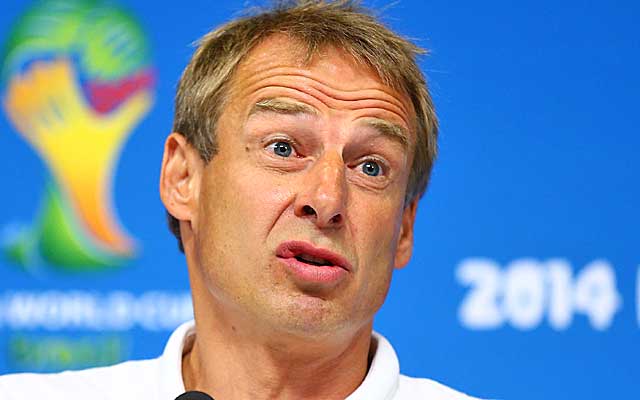 The schedule change wouldn't stop America and Germany from rigging their outcome, since the group has unfolded in such a way that it doesn't matter what Portugal and Ghana do on Thursday if Germany and the US tie. Klinsmann was asked about the possibility of "another Gijon," and I'm disgusted. I loved his answer -- "We're not made for ties" -- but I think I'd have loved it more if he'd banged his hand on the table, channeled some Herman Edwards and shrieked: "You play. To win. The game. Hello? You play to win the game!"
You play to advance? Well, of course you do. But you play to advance the right way. Winning the wrong way sucks, and I'd rather lose. As an American who wants so badly for that team, my team, to advance to the knockout stage, I'd rather we play to win -- and lose and go home -- than prearrange a tie and advance.
Now, a draw that just happens? That's possible. Draws do happen. It happened Sunday against Portugal. If it happens Thursday against Germany, but it happens in a way that seems clear both sides were going for victory? Terrific. But conspiring ahead of time to tie the game is like conspiring with a bank teller to split the proceeds if they'll "accidentally" hand over $200 the next time you seek a withdrawal of $100. That's not a victimless crime, for one thing. And it's no way to get ahead, for another. Earn what you get, in all things, or get out of the way for someone who will.
Klinsmann will lose with honor before winning without, I know it. I trust him. It's not a perfect analogy, but in October the US was losing 2-1 in stoppage time to Panama, a game Panama needed to win to qualify ahead of Mexico for the World Cup. The US had qualified either way, and the game was basically over, but it wasn't. We scored in stoppage time to tie it. Then we scored again in the final seconds to win it. I have chills writing this paragraph, because that's the way to do it. Compete until you win, or compete until you lose. Either way, compete.
Arrange a tie with Germany? We don't do that, and Klinsmann is on board. After one of the many times he was asked this week about such an arrangement, he hearkened back to that October 2013 game against Panama when he said, "The US is known to give all they have in every single game -- otherwise Mexico wouldn't be here."
Damn right. Give what you got, US. Win or lose, come home with honor.
Or don't come home.
How to watch the Professional Rodeo Cowboys Association's 2017 National Finals Rodeo event

John John Florence and Gabriel Medina will look to catch the wave to a championship

Settle in for the holidays by watching other people do grueling obstacles like the Funky M...
Talladega is all decked out in white and all of Twitter wants to see some snow tire racing

CBS is excited to announce that Jordan Peele is producing a reboot of 'The Twilight Zone'

Jonah Keri talks to with CBS Sports NBA/Features Writer Brad Botkin to launch their Top 100...