WWE in 1985 extra: Former wrestlers share memories of their past co-stars
We asked the Iron Sheik, Wendi Richter, Paul "Mr. Wonderful" Orndorff and other WWE stars from 1985 to share their favorite memories of their fellow wrestlers.
As outlined in our special story WWE in 1985: An Oral History, the wrestling promotion's mainstream breakthroughs that year were helped along by an ensemble cast that included many colorful, talented workers.
As an extra to that story, we asked some of the wrestlers we interviewed to share memories of that era's biggest and brightest, from the perspective of having worked along side them. Here are their thoughts.
Captain Lou Albano
WENDI RICHTER: I was around him some in the very beginning at the WWF and even though he led a different lifestyle than I did, I liked him. You couldn't help but like him. He was a little bit more outspoken than I am.
LEILANI KAI: He and I would leave TV tapings during the day and have lunch and he would be in full character. I always felt safe around him.
THE IRON SHEIK: Good friend of mine. He great manager, he do lots with the Cyndi Lauper and he good man.
Paul "Mr. Wonderful" Orndorff
BRIAN BLAIR: He had so much energy, Paul did. A lot of the fans don't realize how much he got Hogan over. He really made Hulk Hogan look phenomenal because Paul was such an athlete. To me, Paul Orndorff was the best heel in the business in our era.
DON MURACO: A tremendous athlete, tremendous performer, good interview man. We drew some big houses in places they never expected. He was a prince to be with in the ring.
PAUL ORNDORFF: I knew how to upset the people, and I did it in such a way that it was believable. That's how I made a living at it for 20 years. I don't regret a thing I done or said in wrestling. Nothing.
Andre the Giant
TITO SANTANA: I picked him up at the Atlanta airport. I had a little Grenada. I was just getting started and my assignment was to get Andre. I picked him up and I picked David Von Erich up, who was 6-7. David went in the back seat. When I ended up getting a bigger car, whenever Andre was around I would drive him around, because I just liked the guy and he was very nice to me. We hung out. I partied with Andre. That's when I was single.
PAUL ORNDORFF: The thing I liked about Andre, he had an attitude. He was a tough guy, man, and he would come at you. I got along with Andre really good. We would go and have a beer or two together. The business made him millions of dollars.
Mean Gene Okerlund
WENDI RICHTER: I liked him a lot. I always felt comfortable around him and at ease. I knew he had control of what we were gonna talk about, so that always made me less nervous because I trusted him.
LEILANI KAI: I did some of my very first TV interviews with Gene. He was very good at what he did and made it easier for us.
DON MURACO: Gene Okerlund, oh my God, what a voice. He wouldn't steal the interview from you. If you got stuck he could lead you. The guys that ran by themselves, he let them run. But he was just excellent. A witty, sharp, clever guy.
The Junkyard Dog
TONY ATLAS: JYD was loved by everybody. Just a big, fun-loving country boy. Worked his butt off every night. Never had any problem with anybody. He enjoyed the business.
TITO SANTANA: Junkyard Dog was a very good friend of mine. He was over big time in Louisiana. He was a very kind individual who would give you the shirt off his back.
DON MURACO: People believed in him. He worked to his style, worked at his pace. If you're the heel, you had to do what made him look good, what made the people pop when he did his thing, because he put a lot of asses in seats.
THE IRON SHEIK: My brother forever. I love him. He super over in the South and everybody love the JYD. I miss him.
PAUL ORNDORFF: When he passed away that just broke my heart, because we were really close. Wherever we traveled, we would always get an apartment close by each other. People loved the guy, man. I remember in New Orleans, I used to have to work against him there. Holy cow, those people would go crazy. A lot of times I'd have to fight my way out of crowds.
Tito Santana
PAUL ORNDORFF: Tito Santana was one of the hardest working guys in the business. When Tito used to make that comeback, the people went crazy because he had so much fire. He had so much damn energy. He could just go and go and go.
TITO SANTANA: I was in a great position. I was making pretty good money, more money than I had ever made in my career as a professional wrestler.
LANNY POFFO: He's one of the few real gentlemen in wrestling. He's not going to pull a rib or embarrass you in public.
Wendi Richter
LEILANI KAI: My memory of Wendi is always her fondness of horses. She talked about having a farm one day. We talked much more about horses than wrestling.
TONY ATLAS: Wendi and me used to travel together because none of the wrestlers wanted to travel with her because she carried 101 bags.
WENDI RICHTER: I carried two and they were both carry-on.
The Fabulous Moolah
LEILANI KAI: I entered training at Fabulous Moolah's school when I was very young. There were many talented girls wrestling and training there at the time. At Moolah's, we were always a family. No matter how we may have gotten along, she always reminded us that we are a family. Moolah used to drive a red and white truck around her property and her dogs would chase after her. I'll never forget that.
PAUL ORNDORFF: Holy cow, she was tough as nails, man. When I was starting, Moolah was the head woman. She could kick 90 percent of the guys' butts.
WENDI RICHTER: She was a very angry person, very vulgar. She oppressed women's wrestling.
TONY ATLAS: Moolah was the most underrated woman wrestler in the world. You know, wrestling is a male business and women do not get the same opportunity that the men do.
WENDI RICHTER: With Moolah you had to protect yourself so she didn't hit you in your eye. Whenever someone's pinned, you never try to break their back when they're down. Moolah did. She was a dirty wrestler.
Ricky "The Dragon" Steamboat
DON MURACO: Gee, let me try to think of something bad to say about Ricky Steamboat. That'd be a hard find. He was just a hard worker, always contributing, always trying, always showing up.
TITO SANTANA: What a performer he was throughout his career. A babyface didn't come any better than him.
LANNY POFFO: My brother always had a chip on his shoulder. He wanted to prove he was an athlete. He needed Ricky Steamboat to prove that with.
Randy "Macho Man" Savage
LANNY POFFO: When Vince McMahon saw his video, he went "Wow, this guy's great." And of course he was right. He was an instant box office sensation. And then when Elizabeth (Savage's wife who became his on-screen manager) joined him three or four months later, it just got even better.
TITO SANTANA: I gotta believe that the gimmick they gave him with Elizabeth was one of the best things that happened to him. As time went by, Randy turned out to be one of the best workers in professional wrestling.
GEORGE STEELE: I knew Randy's father from Detroit and I knew Randy as a 12, 13-year-old kid. So when he came in I was real glad to see him join us. He was not a real big guy or anything, but he was a hard worker, a real pro and when it came to Elizabeth, very jealous. Which made our program work better.
Bobby "The Brain" Heenan
DON MURACO: What a quick-witted, funny, intelligent, comic genius. How entertaining was that guy? He was so brilliant. When he was on his game, I don't think there was ever anybody better as a manager or as quick-witted and brilliant as Bobby Heenan.
PAUL ORNDORFF: That guy was so quick on his feet. His words, the way he acted, the things he said, people hated his guts. He was a genius in the business. He knew how to get over and he helped me a lot. He was one of my favorites. He was so arrogant and smart in his words that he would insult everybody watching it, and I loved it. He was the best.
The Killer Bees (B. Brian Blair & Jumpin' Jim Brunzell)
BRIAN BLAIR: Vince said that he needed a good tag team and that he really liked me. They knew that I was a good singles wrestler. Terry [Hulk Hogan] said "If you put him with Jim Brunzell they're gonna make a great tag team, I guarantee it."
THE IRON SHEIK: Brian Blair big time jabroni. He don't have the balls. I wish I suplex him one more time.
BRIAN BLAIR: I made [The Iron Sheik] tap out in Hershey, Pennsylvania, one time just messing around in a brief couple of minutes. Nikolai [Volkoff] teased him a little bit about that and I think he never forgave me for that. But he's the one that started it.
The Iron Sheik
GEORGE STEELE: I was kind of impressed with him right off the shoot. He looked the part, he talked the part. He was a heck of a piece of work in the ring, as an interview and also in the street. He was a character.
BRUTUS BEEFCAKE: Greg [Valentine] and I wrestled with Sheik and Volkoff in some tag matches. It was always interesting. Sheik had a unique style. He was really the Shah of Iran's bodyguard and was a true Olympic-style wrestler, so he had real skills in wrestling.
BRIAN BLAIR: The Sheik and Volkoff, they were very unique. Volkoff was a wonderful gentlemen and the kindest of the kind, just not the greatest opponent that you would want to wrestle to please the crowd with. The Sheik was certainly very much like that, although Jumpin' Jim and I made the most of those two that we could. It wasn't like working with Bret Hart.
The Magnificent Muraco
GEORGE STEELE: Don was special. He was there before this all started. He fit into it very, very well. Very intelligent inside and outside the ring. Just a great guy on the road. Just a real great pro.
Mr. Fuji
DON MURACO: Oh, Fuji was nuts. Crazy.
GEORGE STEELE: Mr. Fuji was a piece of work, pulling too many ribs in the dressing room. Trying to be too cool at times, but he had this cynical character that worked. He didn't pull many ribs on me.
Greg "The Hammer" Valentine
TITO SANTANA: The feud that Valentine and I had was the longest feud ever in the history of the WWE.
BRUTUS BEEFCAKE: Our styles were totally opposite. They wound up putting us together to work some tag team matches and were really surprised at how well we gelled as a tag team. Everybody said "No, you can't put Beefcake and Valentine together, they're two different things and they won't work." It worked so well they ended up making us world tag team champions.
Nikolai Volkoff
THE IRON SHEIK: My partner, my brother. He make it to Hall of Fame. He get the excellent, excellent heat with me.
GEORGE STEELE: Nikolai was just in the right place at the right time, and the right talent. I liked him singing the Russian National Anthem. He was a piece of work.
Cowboy Bob Orton
PAUL ORNDORFF: The beauty of it was when you worked with Bob, he could do anything. He could do it all. I used to try to get him in the gym and pick his head as much as I could.
King Kong Bundy
LANNY POFFO: All I can say is Bundy should be in the Hall of Fame.
PAUL ORNDORFF: He was 400-plus pounds. He could take some of the best bumps. I mean the guy could take some bumps, and he didn't fall over his feet. He was pretty damn agile.
Big John Studd
TONY ATLAS: He was just a big sweetheart. Loved by everybody. Nobody could say anything bad about John Studd.
The British Bulldogs (Davey Boy Smith & Dynamite Kid)
THE IRON SHEIK: They over in the Europe. Great worker. They love to rib the boys. Davey good man. Dynamite get heat with boys but still he excellent worker.
BRIAN BLAIR: I'll never forget the night that Dynamite got sucker-punched by Jacques Rougeau. The Bulldogs liked to rib people a lot and they would do serious ribs to the Rougeaus. When Jacques hit him with that roll of quarters, it took the complete life out of Dynamite. But both of them were tremendous wrestlers.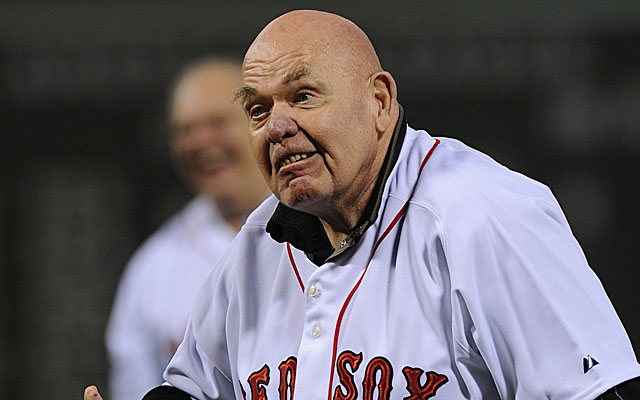 Whitaker was a Hall of Fame broadcaster and a World War II veteran

One of Obama's game-worn high school jerseys sold for six figures

Gene Menez hit the Pick 4 in the 2017 Kentucky Derby
Hank Goldberg is off to a hot start this year at Del Mar

The 12-year-old is following in the footsteps of LLWS icon Mo'ne Davis

Here are some of the most dominant lefties that the sports world has to offer