WWE WrestleMania 31: roundtable review recapping Sunday's show
CBSSports.com takes a closer look at the hits and misses, pinfalls and pratfalls from WWE's biggest pay-per-view of the year, WrestleMania 31.
• 10 min read
The WWE ensured WrestleMania 31 lived up to the billing of a big-time event on Sunday, throwing surprise twists, celebrities and a shocking ending into the mix, all of which sent the fans in attendance at Levi's Stadium in Santa Clara, California, home happy.
As we have over the last week, CBSSports.com takes a closer look at the event, this time with a roundtable recap featuring our four WWE experts. Once again, allow us to introduce ourselves ...
Dave Richard, Fantasy Football Writer: A life-long wrestling fan who began his career writing a popular column on independent wrestling website TPWW.net, Dave became a producer at WrestleLine.com, one of the leading sports entertainment websites in the early 2000s. In his role there, he was backstage at several wrestling events and interviewed tons of superstars. More recently, he lost a bet to his friend, Jake "The Snake" Roberts, and had to do DDP Yoga with him as a consequence. Follow him on Twitter @daverichard.
Denny Burkholder, Producer (Pro Sports): An observer of pro wrestling since 1984 who has covered the industry for numerous outlets over the last two decades, Denny was in the audience when Randy Savage crushed Ricky Steamboat's throat with a ring bell in 1986. He regrets not doing more to stop the attack. Denny (@DennyBurkholder on Twitter) was a writer for the short-lived ECW Magazine as well as a writer, editor and producer at WrestleLine.com. He is currently a voter for the Wrestling Observer Hall of Fame and wrote this tremendous longform on Andre the Giant.
Adam Silverstein, Editor (College Football, Golf): The owner and editor of Top Rope Newsletter (1996-2002), which amassed more than 50,000 subscribers back in the day, and a wrestling contributor for the Miami Herald those same years, Adam has been following wrestling for more than two decades. He's attended two WrestleManias (XXIV, XXVIII), covered countless live shows and interviewed some of the biggest names in the business, including Mick Foley and Dusty Rhodes. Adam (@SilversteinAdam on Twitter) once did the head shake with D'Lo Brown, and he led the live blog coverage you enjoyed on Sunday.
Ivan Irizarry, Product Manager: The co-host of the Call It In The Ring wrestling podcast, Ivan has been watching wrestling for 24 years and likes to look at sports entertainment in a positive light -- because if you don't like something, why watch it? Ivan contributed to Sunday's live blog. Follow him on Twitter @theiri and the show @ciitrshow.
And now, the roundtable on the squared circle ...
Which match won you over on Sunday?
Richard: The match I want to re-watch over and again is not the main event but rather the match the led off Sunday's festivities -- the Intercontinental Championship Ladder Match. I thought the effort given by the participants in that match was excellent across the board. The main event is a very, very close second.
Burkholder: It has to be Brock Lesnar vs. Roman Reigns (vs. Seth Rollins). It was violent, relatively short, and the booking was just right. Lesnar drops the belt without personally losing the match; Rollins wins the world title without needing to beat Lesnar for it; Reigns avoids a poor response by not recording a victory. Everyone is protected and there are great storyline possibilities going forward.
Silverstein: I was pessimistic entering the show but many of the matches exceeded my expectations, including The Undertaker vs. Bray Wyatt. But I have to give my nod to Lesnar vs. Reigns (vs. Rollins) for the great story telling mixed with some solid spots and an ending that, while not surprising in terms of its possibility, was pulled off flawlessly.
Irizarry: Lesnar vs. Reigns (vs. Rollins), yup. I originally was thinking Rollins would get the vote here for his match with Randy Orton because I loved that, especially the finish, but the match of the night has to be the main event. The Lesnar/Reigns portion of the match was beautifully brutal and made both men look very strong. Rollins cashing in the way he did and winning the title was a perfect finish.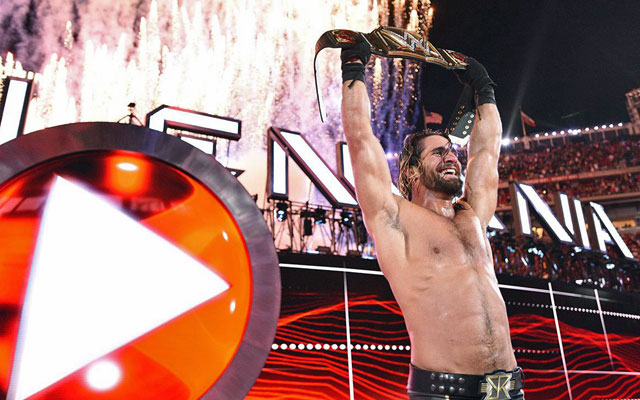 Which match underwhelmed?
Richard: In terms of which match I'd be fine with never seeing again, it would probably be the Divas match with AJ Lee and Paige against The Bella Twins, but it's by default. It was a very good match and I liked the finish but every other match on the 'Mania card was interesting and had moments -- fun, shocking or otherwise -- that I would go back to sometime.
Burkholder: The Andre the Giant Memorial Battle Royal, though that's not a knock on the effort put forth by anyone in the match, nor did I have a problem with Big Show winning. Battle royals are not inherently good matches, most of the time. This one at least had a cool moment with the emancipation of Damien Mizdow.
Silverstein: Seeing as I did not have high expectations for the Divas match, the match that underwhelmed was Sting vs. Triple H. I'm talking about the ring work and finish, not everything on the periphery, which was great. Sting and Triple H are both older, so the pace was slow and the spots were few, but I expected more excitement with such a huge buildup. Plus, it was put too early in the show.
Irizarry: I hate to go with the Divas match, but I have to do it. Even though they were given time, they were very sloppy in execution. All four worked hard and started to tell a story but then that story went nowhere, which makes this a miss. The United States Championship between Rusev and John Cena is my runner-up but that may be an expectation vs. reality situation.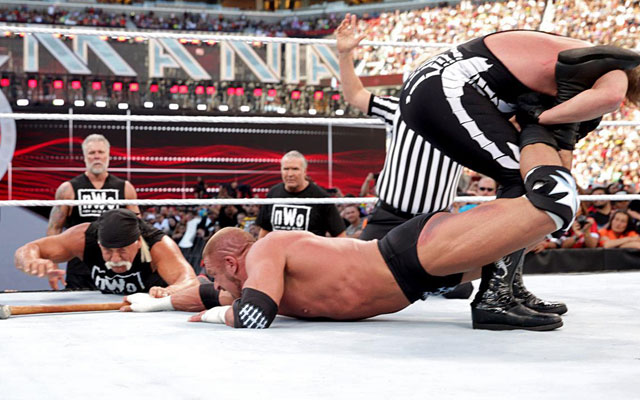 What was your low point of the night?
Richard: This is a tough one, but it's got to be Sting. Everything about him seemed old -- his involvement in the match (Triple H really made that match), his body, his hair. it just felt like he was a shell of his former self. It was pretty much like when you see a former WWE superstar promoted for an independent wrestling show, and you go to the show to see the former superstar, and he's sloppy and out of shape and just there to sort of cash a check. That's what it felt like for me.
Burkholder: I thought the video packages introducing Rusev and Cena were overdone and eye roll-inducing, especially Cena's on America. It's a wrestling match, not an international crisis. Let's keep a little perspective here.
Silverstein: Denny (above) and Ivan (below) both make great points as they were things we discussed during our WrestleMania live blog, and in my eyes, WWE just needs to turn Cena heel and get it over with. My low point is actually that WrestleMania was held in an outdoor stadium on the West Coast. Events like this are not meant to occur in the daylight. Some of the entrances would have been amazing if done at night, and a darker atmosphere with stadium lights makes an event feel like a huge deal.
Irizarry: I had incredibly high expectations Rusev vs. Cena, and while it wasn't bad, the match did not deliver for me in large part because of the audience. The hardcore fans sitting close to the ring (and thus more audible than the others) were so pro-Rusev that it distracted from the atmosphere. Sometimes, even if you do not like a wrestler, as a fan you just have to buy in. The ending also felt sudden and too easy.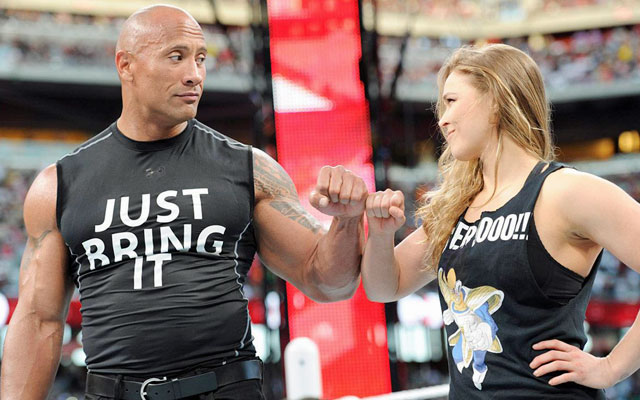 What was your high point of the night?
Richard: I was glued to the segment with The Rock, Ronda Rousey, Triple H and Stephanie McMahon. Everything about that confrontation was done flawlessly, from McMahon being a total witch to The Rock cracking (somewhat) offensive jokes, to The Rock getting Rousey involved. That's the WWE I know. I've been ready to plunk down money to see that mixed tag team match since about five seconds after Rousey jumped the barricade.
Burkholder: Other than Lesnar vs. Reigns, the thing I'm likely to remember for years about this show would be Triple H vs. Sting, and the active involvement of the nWo and DeGeneration X factions in the finish. It wasn't perfect, but it was absolutely a "WrestleMania moment."
Silverstein: If you're talking about a crescendo with a payoff, it's Rollins cashing in his Money in the Bank briefcase. But while the nWo vs. DX was cool, with all of those guys past their prime, I must agree with Dave and give it to The Rock, Rousey, Triple H and McMahon. The Rock was awesome ( as usual), McMahon was the perfect witch (as usual), and Rousey delivered her only line with great impact. An all-around win.
Irizarry: It has to be Rollins cashing in contract and winning the title. At the risk of stating the obvious, this was the biggest moment of the night. I was wondering how they could book this match and make everyone look strong while keeping the crowd happy and this was it. Beautiful. Honorable mention to that amazing RKO from Orton to Rollins.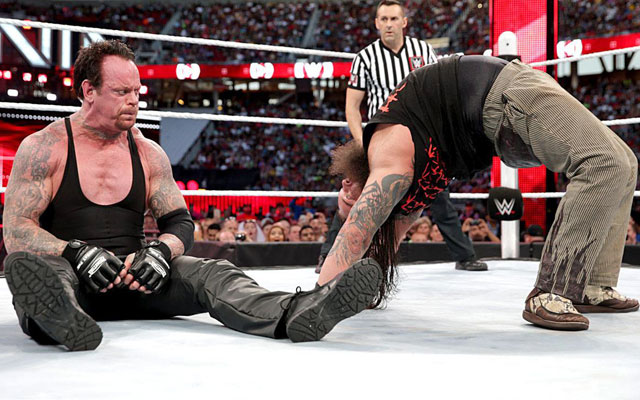 What did you think of the overall show?
Richard: I had such low expectations for WrestleMania because the build-up was bad and the involvement of main event-caliber guys in non-main event matches seemed weird. But I was so pleasantly surprised by pretty much everything on the card. In some cases, my surprise turned to pure marking out. And I have so missed those moments from the WWE.
The direction is great now: Rollins is a main eventer who is basically a reincarnated Edge. Reigns proved he can hang. Lesnar is, well, Lesnar. And Cena, Orton and Bryan won big matches that positions each as a potential main event babyface to take on Rollins. The WWE is missing some top-notch bad guys but Wyatt is still one of them. We'll probably get another one out of the woodwork soon enough. The good news is that there is direction and there are possibilities and WWE just might be lots of fun again real soon. I truly hope they keep the ball rolling. Grade: A
Burkholder: I definitely was far more entertained during the show than I was excited heading into it. Triple H vs. Sting came across like the finish to the 2001 Invasion angle that they wish they could have booked 14 years ago. If that was Sting's last match, it was a fitting final chapter. The Undertaker-Wyatt match was fine, though I don't get why Undertaker won, unless he's planning to retire soon, or unless they didn't want to cheapen Lesnar's win last year by having Wyatt also beat the Dead Man.
Reigns vs. Lesnar was incredible and Seth Rollins successfully cashing in his Money in the Bank made for a completely bananas ending. Add Rousey and The Rock's surprise appearances, and this was a fun and overachieving show. Grade: A-
Silverstein: It exceeded my expectations in almost every way, which is the highest form of praise I can give. From here though, it's all about booking. The Intercontinental and United States titles have found homes in Bryan and Cena that could bring prestige back to the belts. Rollins has proven to be the present (not the future) and as the strongest heel in the company could have a great run at the top if they book his title defenses right and do not have him hide behind The Authority.
WWE also gave us memorable moments such as Rousey, nWo vs. DX, Orton's RKO, the tremendous finish to the Taker-Wyatt match, and the entire main event. This was the type of show that could set WWE up for the next year ... if they play it right. Grade: A-
Irizarry: Unlike most people, for some reason I had very high expectations for this show. Not only did WrestleMania Play Button (31?) deliver, but it far surpassed those expectations. The high points of this show were incredibly high and the low ones weren't actually that bad. Were there some questionable booking decisions (Wyatt)? Sure. But by and large everything on this show made sense and the action was intense, exhilarating and -- again -- fun.
The main thing you look for in a WrestleMania are the so-called "WrestleMania moments." This show was packed with them: Barrety's superplex off the ladder onto Stardust, Ambrose going through a ladder, Orton's super RKO, nWo vs. DX, Rousey and The Rock, Wyatt's crab walk vs. The Undertaker rising from the dead, Rusev's tank (!), and of course, Rollins cashing in at the end of a very memorable fight between Lesnar and Reigns. All in all, I couldn't be happier with this show. and I'm really looking forward to seeing what's next. Grade: A-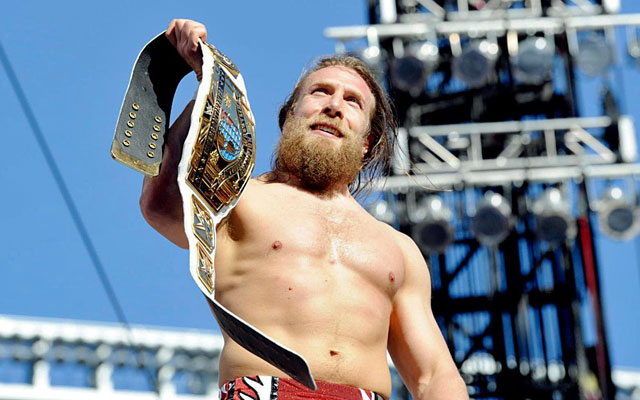 SportsLine's Jody Demling called Gun Runner winning the Pegasus World Cup last year

Everything you need to know to tune in for this week's showdown at the WVU Coliseum

Stevens Point is still undefeated on the season
The Professional Bull Riders association announced Lowe's death Tuesday night

The incredible routine scored a perfect 10 from judges

Everything you need to know to catch this weekend's showdown from Schneider Arena