UFC 167 results: GSP beats Hendricks, says he's stepping away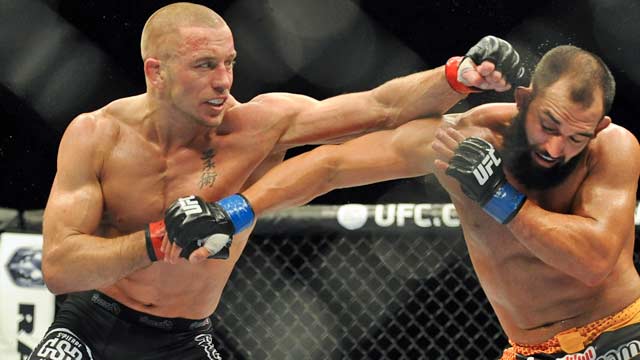 Did George St-Pierre retire? Maybe. We're not sure. What we are sure of is that GSP defended his UFC welterweight title by earning a controversial split-decision over Johny Hendricks.
After the fight GSP, who said he lost his memory during the fight, told Joe Rogan he needs to "step away" for a little bit. When Rogan pressed the battered champion and asked him plainly if he was retiring, St-Pierre only said he needs to "go away for a little bit." He never actually said he was retiring. During the post-fight press conference, GSP was again vague as to what he meant. St-Pierre did say he's having problems sleeping at night and "going crazy."
The fight ended in controversy as many observers thought Hendricks did enough to take the belt from St-Pierre. Two judges scored the fight 48-47 for the champion while the third had it 48-47 for the challenger. The very first round ended up being the deciding round, as the two judges who scored the fight for GSP had him winning the opening round and the judge that gave the fight to Hendricks also gave him the first round. All three judges scored rounds 2-5 the same with St-Pierre winning rounds three and five and Hendricks taking rounds two and four.
---
Gregg Doyel's fight blog and full results:
Main Event - UFC Welterweight Championship (170 lbs)
Georges St-Pierre (c) - 24-2-0 vs. Johny Hendricks - 15-1-0
12:48 a.m. The night ended with a bigger shock than the scoring decision: The judges gave the fight to GSP, and then GSP said he was going to retire. Or something.
"I need to hang up my gloves for a little bit," he said in the Octagon to Joe Rogan. "A lot is going on in my life ... I have to go away for a little bit."
Rogan: "Is this the end?"
GSP: "I have to step away for a little bit. Right now I have to go away for a little bit."
GSP also said he lost some memory in the fight, couldn't see out of one eye, and needs a vacation. Maybe he was emotional, maybe he was not thinking clearly, maybe he's going to Tibet. Who knows?
Said Hendricks: "I'm pretty sure I won the fight. The belt is mine. I'm going to get it."
12:40 a.m. Official decision: Not saying it's a robbery, because it was close, but GSP won this fight by split decision according to the judges -- 48-47 on two cards, and 47-48 on the third -- and I disagree. Said GSP: "I lost memory a little bit in the fifth. I couldn't see in one of my eyes. He really messed me up. I need vacation right now."
12:36 a.m. Round 5: Rogan is saying GSP has to be in "desperation mode," which is what I see in the scoring as well. GSP throws a head kick that doesn't land to start the round, then tries to take down Hendricks but is stymied by Hendricks' one-legged bouncing display of balance. GSP throws a 1-2 that has Hendricks smiling, then kicks him in the body and takes him down at the 3:00 mark. GSP is bleeding all over Hendricks' back as he leans on the hunched-over Hendricks at the cage. Hendricks stands up, spins him into the cage, and it's really happening -- Hendricks is at least as strong as GSP in the fifth round. He has slowed down, but so has GSP because of the beating he took in the first two rounds. GSP is going for the home run with head kicks, but Hendricks is blocking and evading them. With a minute left they're on the fencer, GSP bulling Hendricks, and they go down for a second but Hendricks pops up. Nobody is scoring with damage, and while GSP will win this round, he didn't finish the fight, so I see GSP winning 10-9 but losing 48-47. Hendricks thinks he won at the horn.
12:30 a.m. Round 4: Hendricks takes down GSP a minute into Round 4, after neither did much on the feet, and is scoring with some ground-and-pound. Hendricks lands three straight left elbows/forearms, then backs up and lets GSP up. And now we can see GSP's face is a bloody mess. Hendricks' face looks fine, and he doesn't LOOK tired, but he's not moving like he was earlier for sure. Rogan and Mike Goldberg are talking about how incredible it is that Hendricks' face looks so good, four rounds into a fight where GSP has landed lots of jabs and even some straight rights. The judges could be influenced by that, though all three rounds have been fairly obvious to score -- first two for Hendricks, third for GSP -- and now Round 4 is Hendricks' round, 10-9, making it a 39-36 edge entering the final round. He finishes the round with GSP against the cage, kneeing GSP's thighs.
12:24 a.m. Round 3: More than a minute into Round 3, and Hendricks isn't breathing all that heavily. He's not as effective, but he doesn't look nearly as labored as GSP. Joe Rogan is saying the exact opposite, but I don't know. I see what I see, and I see GSP looking much more worse for the wear than Hendricks. That said, GSP is scoring with the jab and Hendricks isn't landing power shots 2 1/2 minutes into the round. And now it looks like Hendricks has hit a wall. He's throwing a backhanded right jab, flicking it ineffectively at GSP, while GSP is launching hard jabs and Superman punches. Hendricks drops for a takedown, and GSP stuffs it. They got against the cage, where Hendricks dumps GSP, and while Rogan says "that may well cement the round for Hendricks," that's silly. GSP dominated this round on the feet. A 10-9 round for GSP, making it 29-28 for Hendricks.
12:18 a.m. Round 2: Everyone says this fight is GSP's if it goes deep, and maybe so, but thus far Hendricks looks fresher. Hendricks hits GSP with an uppercut, then another, then another, and GSP looks as hurt as he's been since Matt Serra finished him several years ago. Hendricks lands a hook, then pushes GSP against the fence and knees the hell out of GSP's right thigh. They separate, and GSP starts delivering jabs to Hendricks' nose. Over and over, but GSP is scoring with jabs and Hendricks has been scoring with power shots. Different for scoring, and for affecting the fight as it goes on. As I say that, GSP lands a power right … and Hendricks bounces a left off GSP's temple. GSP's face is a mess, while Hendricks looks damn near untouched. GSP is making contact, but Hendricks seems impervious. Weird. This is another 10-9 round for Hendricks.
12:12 a.m. Round 1: Who scores the first takedown of these superb wrestlers? GSP does after Hendricks charged too hard for a punch, GSP ducked and dumped him. Same thing almost happened at the 3:30 mark, but this time when GSP ducked, Hendricks landed an upper-cut. GSP hung on, but Hendricks was peppering his head with punches and elbows to the temple. Barely two minutes into the fight GSP's head is bruised and lumpy, and at the 2:30 mark Hendricks takes him down. They pop up, but GSP is bleeding above his right eye. GSP ducks again for a takedown, and Hendricks knees his face. Yikes. I tell you, Hendricks is winning this round and it's not close entering the final minute. The round ends with some standup, neither doing much, which means Hendricks won this round 10-9 in the first three minutes.
11:51 p.m. Preview: For years every St. Pierre fight has been billed as his toughest opponent yet, the fiction the UFC has to push to try to sell his inevitable (decision) win, but this time the fiction might be true. Hendricks might just be St. Pierre's toughest foe, and not because Hendricks is all that skilled. He isn't, at least not compared to Carlos Condit or Nick Diaz or B.J. Penn or some of the other greats St. Pierre has beaten during his current 11-fight winning streak. But Hendricks can wrestle with St. Pierre, which means the fight ought to be on the feet mostly, and Hendricks has the most dangerous one-punch power in the division. Maybe in any division. So do I see Hendricks winning? No. Of course not. But he could!
Tale of the Tape
Georges St-Pierre
Johny Hendricks
Record
24-2-0
15-1-0
KO/TKO W-L
8-1
8-0
Submission W-L
5-1
1-0
Decision W-L
11-0
6-1
Age
32
30
Height
5'10''
5'9''
Reach*
76''
69''
Weight*
170
170
--------------------------------
Light heavyweight Division (205 lbs)
Rashad Evans - 23-3-1 vs. Chael Sonnen - 29-13-1
11:49 p.m. Round 1: Sonnen wouldn't look at Evans during the stare-down, but at the start of the fight he charged and pushed Evans against the fence. They battled there for nearly 2 1/2 minutes, with both taking turns against the fence -- and with Evans getting the better of it, if ever so slightly. Evans then took down Sonnen, and if there's one place Sonnen isn't good, it's from his back. Evans landed two big shots in a minute, then landed five in about five seconds, and then mounted Sonnen with 60 seconds left. Sonnen rolled onto his stomach, tapped the mat and it was over. Evans wins, submission via strikes. Sonnen was so hurt, he couldn't get up at first. "That was a mauling," Joe Rogan says. Yes it was.
11:29 p.m. Preview: Good grief do these two have a lot in common. Both in their mid-30s. Both former college wrestlers. Both with recent losses to Jon Jones. Both TV talkers. Both with losses in two of their last three fights. Who wins this one? Evans. Because Sonnen won't be able to bully a wrestler as quick and strong as Evans -- and if Sonnen can't bully you, what else can he do?
--------------------------------
Welterweight Division (170 lbs)
Rory MacDonald - 15-1-0 vs. Robbie Lawler - 21-9-0 1NC
11:25 p.m. Official decision: Two of the judges got it right, giving this fight 29-28 to Robbie Lawler, which means he won by split decision (since the third judge had it 29-28 for MacDonald).
11:21 p.m. Round 3: Lawler hurt MacDonald with a straight left and then an uppercut, so MacDonald recovered by taking down Lawler and getting his head straight while laying on Lawler's chest until Mario Yamasaki stood them up. Lawler drilled MacDonald again, hurt him, and went to the mat on top of his woozy foe. MacDonald is bleeding from the nose, and Lawler backs off and gestures for MacDonald to get up. Lawler hit him yet again, hurting MacDonald, then accidentally poked MacDonald. After 20 seconds or so they went back to fighting, and Lawler nearly knocked him out with a straight left. MacDonald looked nearly out, and Lawler got on top of him for the finish but couldn't find space on the ground. Even in side control Lawler was doing little to finish the fight, but he was winning this round big. MacDonald finished strong, on top on the ground with elbows, but Lawler won the round 10-9 and the fight 29-28.
11:15 p.m. Round 2: For three minutes this was a repeat of Round 1, with Lawler landing leg kicks and MacDonald jabbing and throwing occasional head and front kicks. MacDonald was a bit more active than in the first round, though, and at the 2:00 mark he took down Lawler … and did so little that the crowd was booing. MacDonald got more active after 45 seconds and tried to spin to Lawler's back. He didn't get there, but he had Lawler turtling up on his side in full defensive mode. MacDonald rolled Lawler onto his back and threw some punches. Nothing much, but he won the round with some late, vicious elbows. It's 10-9 for MacDonald, and a 19-19 tie.
11:09 p.m.Round 1: MacDonald looks way too much like Marilyn Manson for my taste, which means he looks insane, while Lawler just looks bald plain mean. Oh, right. The fight. Well, Lawler is attacking MacDonald's front left leg with kicks while MacDonald is doing his calm stalking where he doesn't really do anything but walk forward and stare. MacDonald's attack of choice is a probing left jab, with an occasional head kick that Lawler fends off with a forearm. Tell you one thing, this is the most cautious I've seen Lawler in a long time. He has tons of respect for MacDonald, you can tell, but he's winning this round with leg kicks (and MacDonald's lack of offense). Tough round to score, but I'm giving it to Lawler 10-9 for the leg kicks over MacDonald with the stalking.
10:55 p.m. Preview: This is a main-event quality fight, although it wouldn't generate enough PPV buys to carry a card, which is why it's where it is. But still! Great fight. MacDonald remains the future of the welterweight division, with five straight wins against some huge names (including B.J. Penn, Jake Ellenberger, Nate Diaz), while Lawler has a great past (he fought in UFC 37, for crying out loud, in 2002) and a surprisingly good present. Lawler has won three of his last four fights via violent stoppage. He's good, but he's not good enough to beat GSP Lite.
--------------------------------
Welterweight Division (170 lbs)
Josh Koscheck - 19-7-0 vs. Tyron Woodley - 11-2-0
10:51 p.m. Round 1: Koscheck wouldn't touch gloves because he's a jerk. Woodley landed a big right, then another, because he's a boss. Koscheck went down but got up because his chin is bad, but he's tough. And we're off! Up against the cage, Koscheck scored with knees until referee Herb Dean separated them. They both threw haymakers, and Koscheck's landed and Woodley backed up and Koscheck smiled. He stopped smiling when Woodley floored him and swarmed him. Dean was close to stopping it, but Koscheck seemed to wake up, or something, and he put Woodley into full guard with 2 minutes left in the round. Dean stood them up with a minute left, and Koscheck is a bleeding, swollen mess. And with 30 seconds he's a knocked out mess as Woodley lands another brutal right, flooring Koscheck into the sitting position. Woodley blasts him into the "lying down" position, and it's over. Knockout, Tyron Woodley, 4:38 of Round 1.
10:40 p.m. Preview: Two of the best wrestlers in the UFC fight here, with both needing a win badly. Koscheck has lost three of his last five, while Woodley has dropped two of three. Neither should be in danger of being dropped from the promotion with a loss in this fight, but losing this one will put one of them a little closer to the edge. Who has the advantage? Koscheck is a more seasoned striker, but his chin is vulnerable. If Woodley touches it, watch out.
--------------------------------
Flyweight Division (125 lbs)
Tim Elliott - 10-3-1 vs. Ali Bagautinov - 11-2-0
10:38 p.m. Official decision: I'll be damned the judges got it right. Unanimous decision for Bagautinov, with two of the judges seeing it as I did (29-28), and one of them having it 30-27 because that judge is a knucklehead. Elliott was stunned at the result, thinking he was going to win it unanimously, but he also thinks it's good strategy to walk at a sambo world champion with his hands down and his chin up. Ridiculous.
10:33 p.m. Round 3: Elliott is busier this round, as he has been all fight, but Bagautinov is landing the harder shots. Judges love aggression and volume, and Elliott has that this round. But again, Bagautinov is doing the damage. His face looks fresh; Elliott looks like a (hairy) tomato. Best flurry of the fight just happened at the 1:55 mark, with Elliott rat-a-tat-tatting Bagautinov's face. Nothing big, but lots landed. At the 1:00 mark Bagautinov drilled Elliott with a right to the jaw that would've felled a mortal man, and a small elephant, but Elliott kept breathing out his mouth like a flounder and spastically moved forward. Judges will give this round (and fight) to Eliott, but I see it 10-9 for Bagautinov and 29-28 for Bagautinov.
10:27 p.m. Round 2: In the first minute Elliott throws a knee, Bagautinov catches it, and Elliott turns that into a guillotine that looks clooooose. But Bagautinov gets out, and Elliott takes him back down and pokes at him on the ground. Bagautinov gets up with 2:30 left, but he's trailing in this round … until he lands a straight right and a left that back up Elliott. Now we're even this round, entering the final two minutes. Nothing happens until 45 seconds are left when they scramble, but neither emerges with top position and they're back on the feet. Tough tough round to score. I'll give it to the crazy man, 10-9 for Elliott.
10:21 p.m. Round 1: Elliott looks deranged, throwing his face at Bagautinov and daring the guy to hit him. OK, says Bagautinov, I'll hit you. He lands a few straight rights and just misses with upper cuts as Elliott dumbly walks forward, hands down, face jutting out. What the hell, Elliott? You mad? Anyway … Bagautinov spins Elliott 180 degrees with a hard right. Half of Elliott's face is covered with facial hair, and the other half of his face is red from being pounded by Bagautinov. Elliott finally lands a hard left, but Bagautinov throws him down. They rise, Elliott stalks chin first, and Bagautinov throws left hooks and right power shots at it. Easy round to score: 10-9 for Bagautinov, who finishes with a head kick to Elliott's jutting jaw.
9:54 p.m. Preview: This is the first fight on the PPV portion of the card. Elliott is a nice fighter with some nice wins, but Bagautinov is a scary fighter -- a world champion in combat sambo -- with a stream of devastating wins. These flyweights will be moving awfully fast, but only one of them has scary knockout power. And that one is Bagautinov.
--------------------------------
Lightweight Division (155 lbs)
Donald Cerrone - 20-6-0 1NC vs. Evan Dunham - 14-4-0
9:52 p.m. Round 2: Cerrone scored with a body kick and nearly caught Dunham with another knee to the face after Dunham made a lazy shot for a takedown. Dunham gets hit when he gets close to Cerrone, but it's not like he can win from afar. What I'm saying is, he can't win unless he lands one of those lucky shots that happen from time to time in this sport. Makes MMA so much fun. Dunham doesn't seem to be having a lot of that, though, as Cerrone is winning the kickboxing battle. Cerrone drills Dunham with a knee to the body, clinches, spins to his back and takes him down with a neat little trip. Dunham scrambles to the top, but falls into a triangle choke and Cerrone taps Dunham out, late in Round 2.
9:46 p.m. Round 1: Cerrone is tanner than I remember, which matters to somebody. Just not you. What will matter to you is that Cerrone came out of an early clinch by catching Dunham with a knee to the face. Cerrone swarmed his wobbly opponent and dropped him with a punch, and referee Mario Yamasaki was hovering as Cerrone was throwing 10-12 uncountered punches. Dunham rolled into guard, which is good, but Cerrone scrambled to controlling position and tried a few submissions. All in all it was a terrible first 2 1/2 minutes for Evan Dunham. The second half was better, but not much. Cerrone landed knee after knee to Dunham's body, and I'm giving this round 10-8 to Cerrone. The judges will score it 10-9. Dummies.
9:34 p.m. Preview: Once a rising star at 11-0 (4-0 in the UFC), Dunham has faded as the competition has improved, losing four of his last seven fights against fighters in the same ballpark as Cerrone. Dunham has never been submitted, but if I had to guess, that's how I'd guess this fight ends. Cerrone is a borderline championship contender, which means he's too good for Dunham.
--------------------------------
Middleweight Division (185 lbs)
Ed Herman - 21-7-0 1NC vs. Thales Leites - 21-4-0
9:32 p.m. Official decision: These judges, what an easy night they've had. Nothing but finishes and unanimous decisions, and this one went 30-27 for Thales Leites.
9:28 p.m. Round 3: Herman is landing his best shots early this round, getting close and throwing those long, long, long uppercuts that start at his waist and end up in the lights overhead. And a few times they hit Leites' face on the way, which is good for Herman. "Short Fuse" is turning this into a brawl, but Leites turns it into a grappling match by spinning away from Herman, taking his back on the feet and then putting him on the mat. Herman rolls into half-guard, but Leites is going to end this fight on the ground. Close round until Leites gets full back control with both hooks in, and spends the final minute trying to latch onto a rear-naked choke or arm triangle from the back. Leites wins the round 10-9, and the fight 30-27.
9:22 p.m. Round 2: I tell you what, Leites is better on his feet than in his first run through the UFC, when he earned a middleweight title shot with Anderson Silva (but disgraced himself by being afraid to engage). This Leites is better than that one on the feet, and clearly he's still a genius on the ground, and he won the standup battle early this round before taking Herman down with three minutes left. At the 2:20 mark he had Herman's back, with hooks in, and synced up a body triangle against the cage. Herman scrambled to guard, but Leites took side control, then Herman's back again, and poor Ed Herman is being outclassed on the ground after getting bettered on the feet. Long story short: Herman is out of his element here. Another obvious 10-9 round for Leites.
9:16 p.m. Round 1: Shock of shocks, after a wild exchange Leites was the one who landed an uppercut that floored Herman. It was a flash knockdown, nothing more, but still … points for Leites. And best of all, Leites is on top, and did I mention he's a BJJ black belt? Leites gets half-guard, then side control with three minutes left in the round. Herman scrambles to his feet, and they clinch for control against the cage before Leites got him back down. Then he took Herman's back, high up Herman's back, before Herman rolled into a turtle position and took a beating to the head. This is a 10-9 round for Leites, duh.
9:05 p.m. Preview: Leites is a jiu-jitsu black belt, with 13 of his 21 victories coming by way of submission, while Herman is strong in BJJ himself but susceptible to the best in the world. Six of his losses have come via submission, including defeats at the hands of Ronaldo Souza, Demian Maia, Jason McDonald and Joe Doerksen. Leites is at the level of those guys, which is why I suspect Herman will be submitted here.
--------------------------------
Welterweight Division (170 lbs)
Brian Ebersole - 50-15-1 1NC vs. Rick Story - 15-7-0
9:02 p.m. Official decision: Judges had it easy here, and they made it easy: a 30-27 unanimous decision for Rick "The Horror" Story against Brian "The Hairy" Ebersole.
8:59 p.m. Round 3: Story takes him down early, lands some elbows and one big punch, but Ebersole gets up right as Joe Rogan says, "Man is Ebersole durable -- because he's taking some hammers." Yes he is, JoeRo. Yes he is. Still can't get over that awful chest hair. If you're cutting patterns into your chest hair, that's a cry for help. As I say that, Story sinks a right hook into Ebersole's face. Hey, the chest hair pointed him the way. You know what? I'm not down on Ebersole or his chest hair anymore. I just feel badly for him. He doesn't belong in the cage with Story, who dropped Ebersole with a leg kick that sounded like it might have broken a bone. Thwack! Maybe not, but the fight ends with Story buckling him several more times with leg kicks. Another 10-9 round for Story, and a 30-27 win for him.
8:53 p.m. Round 2: Story lands a leg kick, takes down Ebersole and then sighs as Ebersole gets to his feet. Say this for Ebersole: He has moxie and attitude and swagger. He just doesn't have any chance of beating Story unless he lands some sort of a lightning bolt of a shot. Over and over Story is beating him to the punch, and is quicker and stronger to boot. But Ebersole is taller. Hey, I'm trying to be as nice to Ebersole as I can be, and he's clearly the taller fighter. Ebersole also struck a stiff jab, and a standing elbow, around a strong overhand right by Story. Just noticed the chest hair on Ebersole pointing as an arrow to his chin. Not smart, Ebersole. This round wasn't as dominant as Round 1, but Story won it 10-9 easily. Gross chest hair, Ebersole.
8:47 p.m. Round 1: Story has landed some heavy shots on Ebersole's face, and while Ebersole took them well, that's not a good strategy. Ebersole walks forward and Story weaves and lands shots. Ebersole lives and trains in Thailand, so in theory he should have some great Muy Thai, but all he's displaying so far is a great chin. Ebersole's game plan seems to be to get hit a lot and awkwardly feint for a takedown that doesn't work, but with 75 seconds left Ebersole finally landed a punch … right as Story was landing one of his own. Story pounded on Ebersole's liver late in the round, which is as 10-9 a round as a 10-9 round for Rick Story can be.
8:35 p.m. Preview: Interesting that Story is on this card, given that he's the only guy to have defeated main-event fighter Johny Hendricks. Since that victory three years ago, Story has gone 3-4 in the Octagon, albeit against much stronger competition than Ebersole has faced. But Ebersole has faced a lot of competition in his career; this is his 67th professional fight. A decision loss to James Head ended Ebersole's 11-fight winning streak, but I see him embarking on another streak -- of the losing variety -- when the relentless Story hands his fellow wrestler a second defeat in a row tonight.
--------------------------------
Bantamweight Division (135 lbs)
Erik Perez - 13-5-0 vs. Edwin Figueroa - 9-3-0
8:32 p.m. Official decision: The judges had an easy fight to score and didn't screw it up. All three had it 30-27 for Erik Perez.
8:30 p.m. Round 3: Uneventful round for two minutes, which is good for Perez because he can lose only by stoppage. Finally an event happens: Perez takes down Figueroa, moves into half-guard, and tries to set up an arm-triangle choke. Nothing is happening except for the verbal gyrations of Joe Rogan, who knows grappling so well. I'd love to see Rogan roll with one of these guys … Where were we? Oh, right. Perez dominating on the ground, now in side control, landing a brutal knee to the body from that position. They stand for the final 45 seconds, and Perez staggers Figueroa with a right hand. Most obvious 10-9 round of the fight for Perez, who will win 30-27.
8:24 p.m. Round 2: Thirty seconds in, Perez drilled Figueroa with a 5-2 combination -- left hook to the liver followed by a right to the head -- that dropped Figueroa. Then Perez picked up Figueroa and dumped him hard onto the mat. Now Perez is in side control and Figueroa is in trouble and trying to stop Perez from taking his back. Perez eventually steps away with an elbow to the head, but Figueroa finally scores: a good right to the head. Then another. Screw this, Perez says, and takes down Figueroa with 90 seconds left. He's in Figueroa's guard and not doing much, but finishing off another obvious 10-9 round for Perez.
8:17 p.m. Round 1: Never saw this before: Less than a minute into the round, Perez accidentally kicked Figueroa so hard in the, er, groin that Figueroa collapsed in pain. Didn't just wince -- collapsed. Referee Kim Winslow scolded Perez: "You've got to control your weapons." Nicely said, ma'am. After about 90 seconds off, they were back at it. Perez won a clinch battle but didn't land much in the way of scoring blows, but dropped Figueroa with a front kick to the body (more from power than from debilitating pain). Perez took down Figueroa later and was controlling the fight from the top position in a round that didn't see much, beyond that awful kick to the, er, groin. Easy round to score 10-9 for Perez.
8:07 p.m. Preview: Perez is a killer in the cage, with a 3-1 record in the UFC, all three wins via stoppage. Figueroa is more of a victim in the UFC, with a 2-3 record (and one of those wins, via decision over the irritating Alex Caceres, coming only because Caceres was penalized two points for kicks to the groin). What I'm saying is, Erik Perez is going to win this fight, and it won't take all that long.
---------------------------------
Welterweight Division (170 lbs)
Jason High - 18-4-0 vs. Anthony Lapsley - 22-5-0 2NC
8:00 p.m. Official decision: All three judges scored it 29-28 for High. Told you. Jason High was good enough to beat Lapsley thoroughly if not explosively.
7:56 p.m. Round 3: High looks exhausted, but still gets the takedown 90 seconds into the final round. Seen this before. Lapsley does a better job of controlling one of High's wrists, so High is exchanging submission tries for (one-handed) ground-and-pound. Here comes a guillotine try by High, and Joe Rogan says, "This looks good." Lapsley gets out and finds himself in an omoplata with 2:30 left in the fight. They scramble, and High is superior at that, and he rolls into a heel hook that doesn't work. The final minute comes and goes with High exhausted, on top, landing little but finishing off a 10-9 round for a win that should be 30-27 for High but will instead be scored 29-28.
7:50 p.m. Round 2: You're not going to believe this, but High took down Lapsley early and started throwing a series of choke submissions at him. Lo and behold, 90 seconds in, Lapsley rolled into High's guard and found himself finally in scoring position. He dropped some ineffective elbows and slightly more effective hammer fists, then threw a really good right onto High's head. High's 90 seconds on top on the ground were more effective than Lapsley's 3:30 on top on the ground, but UFC judges are the worst and so this round will be incorrectly given 10-9 to Lapsley.
7:44 p.m. Round 1: "The Recipe," huh? Nice nickname, Anthony Lapsley. If you're a quiche. Within 10 seconds you were a takedown victim, and High was relentless in getting to the mount quickly, 45 seconds into the fight. Soon High had Lapsley's back and was trying for the rear naked choke. Didn't work, they got up, and immediately High had Lapsley back on the mat before going for a guillotine. Didn't work, High spun to his back, then threw him down and took his back again. This is silly, though High hasn't landed any good shots. Still, all these submission attempts are impressive. He was in the mount again with 90 seconds left, then to the back mount, and if this were Abu Dhabi he'd be winning HUGE. He's still winning huge, but he hasn't hurt Lapsley once. Easy 10-9 round for High.
7:33 p.m. Preview: At 33, Lapsley's pretty old to be making his UFC debut, but good on him for getting here eventually. High has been fighting in the biggest promotions around the world since 2009, and his competition has been significantly tougher than Lapsley's, and even so High's record is a sterling 17-4. Add it up, and Lapsley -- who gets most of his wins via submission -- could be in over his head. We shall see.
---------------------------------
Bantamweight Division (135 lbs)
Will Campuzano - 13-4-0 vs. Sergio Pettis - 9-0-0
7:30 p.m. Official decision: One judge got it exactly right, but all three had the correct winner as Sergio Pettis won his UFC debut by a unanimous decision: 30-27, 30-27 and 29-28.
7:26 p.m. Round 3: Pettis caught Campuzano in a standing power guillotine early in the round, which is pretty ridiculous for a 20-year-old to even try in his UFC debut. But Pettis is a phenom, as his nickname -- "The Phenom" -- so humbly suggests. Campuzano escaped that submission and took down Pettis, but his time on top was more about Pettis trying submissions than Campuzano landing damaging shots. Pettis toyed with a triangle from his back, but lost it fast. Campuzano stayed on top until the final 75 seconds when Pettis got to his feet. Not much was done by either fighter, though, and Campuzano is going to win this round 10-9. I've got Pettis winning the fight 29-28.
7:20 p.m. Round 2: Another closely contested striking battle early, with Pettis taking down Campuzano 90 seconds into the round and going for a D'arce choke but being unable to finish it. Then he went for a kimura and used that to get the back mount. After all that, though, Campuzano rolled into Pettis' guard at the 2:30 mark. Campuzano maintained control, not scoring greatly but still, controlling Pettis and almost taking his back a few times. But Pettis finished the round by spending 30 seconds on top, going to the feet and burying a knee into Campuzano's body, finishing off another 10-9 round for Pettis.
7:14 p.m. Round 1: Campuzano was a late addition to the card and is truly a 125-pounder, so at 5-9 he was longer but giving up a lot of power and strength to the 5-6 Pettis. Early on Campuzano took down Pettis but had to fight off a guillotine. They were mostly even on the feet midway through this round, with Pettis scoring best on leg kicks and Campuzano landing a body kick. In the final 90 seconds Pettis was demolishing the lead left leg of Campuzano and also bouncing rights off his foe's head. This was a 10-9 round for Pettis, and the future is bleak for Campuzano's poor left leg.
6:53 p.m. Preview: Campuzano is back for his second stint in the UFC, and he came with a bang: an erection, apparently, he sported at the weigh-in on Friday. Here's a link, if you must see it. Campuzano is in trouble for two reasons: One, he wasn't terribly effective last time against WEC/UFC foes, going 2-4 with both wins by decision but three of the four losses by stoppage. Two, Sergio Pettis is the next big thing, the younger brother of 155-pound champion Anthony Pettis. Looks to me like the UFC wanted to feed Pettis a decent-looking win, and Campuzano is the guy the UFC put on the plate.
---------------------------------
Light heavyweight Division (205 lbs)
Cody Donovan - 8-3-0 vs. Gian Villante - 10-4-0
6:43 p.m. Round 1: Donovan blasted Villante early with a head kick and followed with a series of overhand rights, some to the jaw and then one to the temple. Villante remained on his feet because he's not human. It's all I can tell you. Villante scored with leg kicks that sounded like a board breaking on Donovan's thigh. Joe Rogan always says it's the quiet leg kicks that hurt more, but jeez. That much volume has to hurt some. Pretty easy to score this round 10-9 for Donovan. As in, simple.
6:48 p.m. Round 2: Donovan threw a head kick as Villante was throwing a huge right hook to the head. Villante's landed first, Donovan went down, and the fight was stopped a few seconds later. Incredible exchange. Villante by knockout. "I took that thing from right field," Villante said of his sloppy/effective right hook.
--------------------------
More: St-Pierre needs to fight smart against Hendricks
UFC 167 comes to you this Saturday night from the MGM Grand Garden Arena in Las Vegas. CBSSports.com will be bringing you round-by-round coverage of all 12 fights on the card, from the online prelims all the way through the main event for the UFC welterweight crown pitting champion Georges St-Pierre against top contender Johny Hendricks.
Check back in this very same blog on Saturday at 6:30 p.m. (ET) as we'll be bringing you all the coverage and analysis.