2012 Ryder Cup television times and format
The Ryder Cup kicks off on Friday. Here are the formats and the TV times.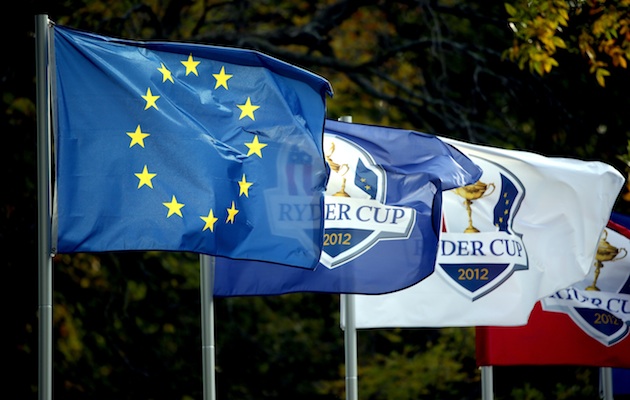 The Ryder Cup kicks off on 8 AM ET Friday on ESPN. (Getty Images)
The Ryder Cup kicks off on Friday, and lucky for us stuck at home, we will be able to see a ton of the coverage.
ESPN will be in charge of the first day of play, with NBC taking over on the weekend.
On Friday morning, the first session will be four foursome matches (alternate shot) followed by the afternoon session of four fourball matches (best ball).
Saturday will be the same, with four foursome matches in the morning followed by four fourball matches in the afternoon.
Sunday features 12 singles matches, meaning every player on both sides will get a chance to compete for his respective team.
The TV times for the 2012 Ryder Cup are below:
Friday -- ESPN, 8 a.m. to 7:30 p.m. ET
Saturday -- NBC, 9 a.m. to 7 p.m. ET
Sunday -- NBC, noon to 6 p.m. ET
The 2016-17 PGA Tour season came to a thrilling end as the FedEx Cup champion was crowned...

It's fitting that the five-time winner also took the year-long race for the grand prize

With so much at stake at East Lake, how will the tournament play out?
Find out when and how to watch the 2017 Tour Championship live this week

Paul Casey looks to shut down the tournament at East Lake on Sunday

The final round of the PGA Tour season is all that stands between Paul Casey and $10 milli...