2012 Superlatives: Awards for best and worst of year in golf
Handing out awards for the best and worst of the 2012 golf year.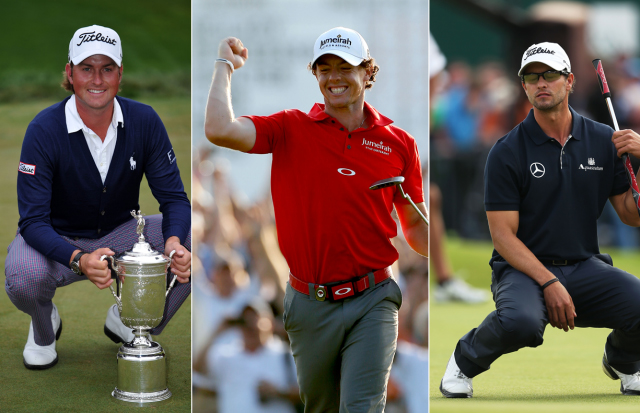 Webb Simpson, Rory McIlroy and Adam Scott headline the best and worst of 2012. (Getty Images)
Handing out awards for the best and worst of the 2012 golf year.
Best major: The easiest choice on the list. Bubba Watson's dramatic win in Augusta is my pick, as it was the only major that didn't involve a blown opportunity or out-and-out rout.
Best player: With all the roundups and year-end lists over the last few weeks, I think you're well aware of who the best player on planet earth is right now.
Craziest shot: You could go with Tiger Woods' chip at the Memorial, Webb Simpson's up-and-down at the U.S. Open or Watson's bender on No. 10 at Augusta. Me, though? I'm going with Louis Oosthuizen and the first televised double eagle at the Masters and David Feherty's classic "Come to Papa!" call.
Best dressed: To the man who won golf's toughest tournament in a cardigan. We salute you, Webb Simpson.
Biggest leap: You're not going to believe this, but Woods made nearly 10 times more money on Tour in 2012 ($6 million) than he did in 2011 ($660,000). Other contenders include Jim Furyk, Zach Johnson and Carl Pettersson, all of whom made about 2.5 times more money this year than last.
Worst loss: Furyk might have had the toughest season, but Adam Scott's gut-punch back nine at the Open Championship was tough to stomach even for nongolf fans -- four up with four to play on a course he had owned for 68 consecutive holes.
Scott bounced back nicely at the PGA Championship for a T11 finish, but Ernie Els raising that Claret Jug at Royal Lytham & St. Annes will be his lasting image of 2012.
Nicest Christmas: After a $4.9 million regular season plus $10 million bonus for winning the FedEx Cup, I'm guessing Brandt Snedeker's wife, Mandy, won't lack for anything on her Christmas list.
Most drama: There was a three-hour stretch on Sunday afternoon of Ryder Cup weekend that didn't see much CO2 emission from yours truly. Sure, I wanted it to turn out differently (we all did), but you're going to have a hard time convincing me anything that happened over the last calendar year was more dramatic.
Weirdest moment: I watched this live and kept yelling "look up!" -- desperate to the point that I almost started texting friends who were at the tournament. The most surreal part of the entire incident is the announcing crew trying to telepathically get Rory McIlroy to look up and find it.
Craziest story: I know we've become a bit immune to these things, but a 14-year-old qualified for the 2013 Masters. A 14-year-old!
Fall from grace: Simpson actually took a big step back (as much as any season with a major can be considered "a step back") from 2011.
Consider...
2011: 26 starts | 21 top 25s | 12 top 10s | 2 wins
2012: 22 starts | 10 top 25s | 7 top 10s | 1 win
The U.S. Open trophy conceals the fact that the Wake Forest grad lost some of the consistency that took him to the brink of winning the 2011 FedEx Cup. And despite that, I bet he would still make the trade for his first major.
For more golf news, rumors and analysis, follow @EyeOnGolf and @KylePorterCBS on Twitter and like us on Facebook.
The Days have had a rough 2017 from beginning to end

Why in the world would a former FedEx Cup winner hop on 24 hours worth of flights this wee...

Following the debacle at the ANA Inspiration earlier in 2017, Thompson has some thoughts
Fowler is as good as it gets on the PGA Tour

The USGA and R&A have decided that you will no longer be able to phone in penalties

The Spaniard captures another piece of hardware during an all-time season