2014 Masters Par 3 Contest: Best photos, GIFs, comments from event
You can follow along with our live blog on the Masters Par 3 Contest all day as we'll bring you the best photos, GIFs, and videos from a beautiful scene at Augusta.
More Masters: Leaderboard | Field | TV Schedule | Course Guide | Champions
Kyle Porter will be updating the live blog with highlights, news, Tweets, GIFS and other fun stuff from Wednesday's Par 3 Contest at Augusta National. Hope you enjoy.
5:00 PM: That's all for us today, folks. Enjoy the golf tomorrow.
4:55 PM: Here's that Rose GIF. It's amazing: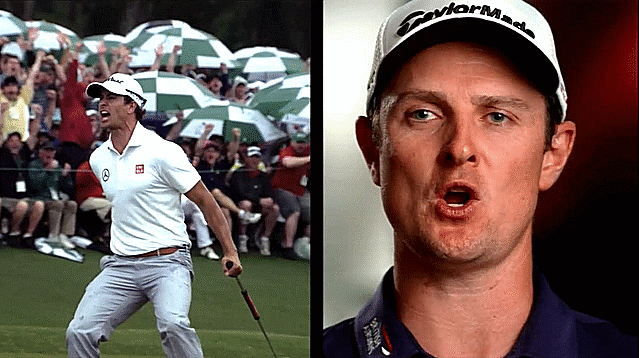 4:50 PM: I didn't want to be the one to say it, but this is true:
Looked like he was struggling @DaveShedloski: Arnie wore out finishing the Par-3 contest. Having back surgery Tuesday for stenosis.

— Bob Harig (@BobHarig) April 9, 2014
4:47 PM: Looking back at the 2013 Masters on ESPN right now. The end was so great. Justin Rose said his son was running around screaming "Come on, Aussie!"
4:42: Curtis Strange on Rory McIlroy: "When he's bad, he's not so good."
4:41 PM: Webb Simpson's son isn't afraid to show off that burly chest:
4:38 PM: Caroline Wozniacki dyed her hair pink for the Masters. Does pink go with green or no?
Pink hair don't care MT @winkerwatson1: Rory McIlroy & fiancée Caroline Wozniacki before the Masters Par 3 tournament pic.twitter.com/zQLakxwIWN

— Shane Bacon (@shanebacon) April 9, 2014
4:36 PM: Jack Nicklaus, Arnold Palmer, and Gary Player finish up their rounds. Palmer was keeping score. Of course he was.
4:25 PM: This photo of Arnold Palmer and Jack Nicklaus is just the greatest photo. Legends:
4:15 PM: Remember when Hunter Mahan pulled out of the Canadian Open for the birth of his daughter? Here she is:
4:10: Ken Duke just did a fist pump that made mid-1990s Jose Lima raise an eyebrow or two. The Duker's daughter is caddying for him. 
4:02 PM: Here's a link to a video of Miguel Angel Jimenez whistling at his first tee shot like it's a dog as only Miguel Angel Jimenez can. It's amazing.
3:56 PM: This celebration by Zach Johnson's kid absolutely cracked me up: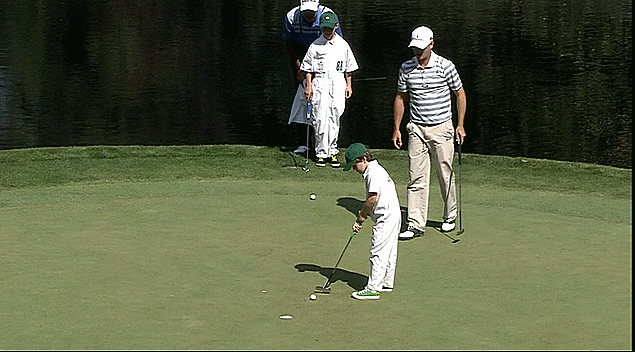 3:53 PM: Webb Simpson and his kids are wearing matching American flag pants. I'm not sure if this is a good look:
Me and the kids in @IZOD #matchingpants #masters #Par3Contest pic.twitter.com/1WaZiB29Wt

— Webb Simpson (@webbsimpson1) April 9, 2014
3:50 PM: If you aren't following the Masters on Instagram, you should be. Here's a shot of theirs from the Par 3 Contest:
3:47 PM: Mississippi State is showing the Par 3 Contest on its massive football stadium video board:
Officially the largest TV I've ever watched the @The_Masters Par 3 on. #HailState #Masters2014 pic.twitter.com/mEHVBs6K2o

— Bill Martin (@MSUBillMartin) April 9, 2014
3:45 PM: The desert fox (Victor Dubuisson) is rolling right now. Can he break the record of 20?
Art Wall (1965) and Gay Brewer (1973) hold the Par-3 Tournament scoring record with 7-under 20. Dubuisson -3 thru 3. #Masters

— Augusta.com (@AUG_Masters) April 9, 2014
3:42 PM: Steve Stricker says his over/under for how long his daughter carries his bag in the Par 3 Contest. I laughed. I'll take the under.
3:36 PM: I can confirm this is a statement that gets said a lot at Augusta:
Masters patron, while stroking the grass: "This is real grass." #themasters

— Ashley Mayo (@AshleyKMayo) April 9, 2014
3:31 PM: Jack Nickalus is 2 under through three holes. It would seriously be a top 10 storyline this week if he won this thing.
3:30 PM: Ryan Moore is your leader in the clubhouse. He finishes at 6 under, three clear of Bernhard Langer.
3:25 PM: This "hole-in-one" is hilarious. I wish golf was actually this easy:
3:21 PM: Luke Donald's kids are pretty much the cutest:
3:20 PM: Here's a look at that awesome Nicklaus tee shot: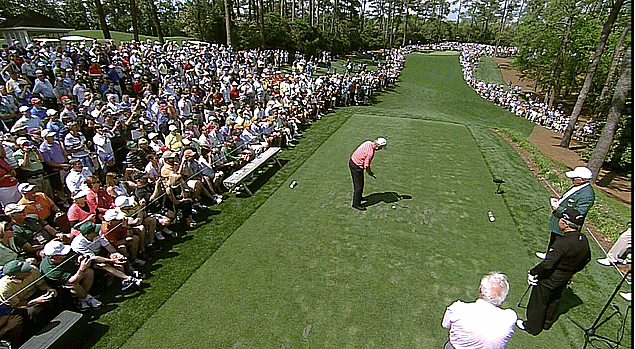 3:15 PM: Here's a look at the Big Three. Palmer made par on the first hole, Player made bogey, Nicklaus made birdie (of course). 
Legendary pic.twitter.com/9IzB5GZBL9

— Eye on Golf (@EyeOnGolf) April 9, 2014
3:12 PM: Andy North says Gary Player has been doing an extra 200 situps every day so he can outdrive Jack Nicklaus and Arnold Palmer at the ceremonial tee shot.
3:10 PM: Mark O'Meara made a hole-in-one today at the Par 3 Contest:
3:00 PM: Let's do this.
2:45 PM -- Did you know?
Masters Fun Fact: The winner of the Par 3 Contest (annually held on the Wednesday) has never won the Masters that year.

— Kevin Maggiore (@CLNS_Kevin) April 9, 2014
2:40 PM -- We're live here, 20 minutes until things get cranking.
For more golf news, rumors and analysis, follow @EyeOnGolf and @KylePorterCBS on Twitter or Google+ and like us on Facebook.
The scores are preposterously low in Greensboro thus far

Dealing with a rib injury, McIlroy considered sitting out the rest of the 2017 golf season

The No. 41 player in the world is all about core strength and his short game
The U.S. team is clearly jacked up for this event

A judge has ordered Green Jacket Auctions to take down some of its merchandise

Another player was disqualified before match play began because he failed to sign his scor...