2014 Masters round two: Best photos, attire, and commentary
All the news, updates, tweets, and photos you can handle from day two at Augusta National.
More Masters: WATCH LIVE | Leaderboard | Field | TV Schedule | Course Guide
Friday was another great day at Augusta -- let's be honest, are there bad days at Augusta? -- and Bubba Watson took over the tournament for a while.
The big-bombing lefty made five straight birdies on the second nine on Friday and assumed pole position for the weekend.
We recapped that streak as well as Fred Couples' magic, Jordan Spieth's wonder, and Patrick Reed's antics in our live blog. Hope you enjoy the recap.
7:34 PM: This seems like a good way to wrap things up. Thanks for joining us all day:
One sentence recap of the leaderboard - "Bubba Blixt'd Augusta, Senden some big-name Couples Walker-ing home early."

— Shane Bacon (@shanebacon) April 11, 2014
7:33 PM: Oh boy, Patrick Reed:
Patrick Reed blows off the media after his round today.

— Augusta.com (@AUG_Masters) April 11, 2014
6:53 PM: Can we get Matthew Fitzpatrick a cap? Even a visor would do.
6:46 PM: I'm openly rooting for Spieth, I don't even care anymore.
6:43 PM: This is truly incredible:
Well here is something you don't see everyday - Sang-Moon Bae didn't make a single par on his back nine today. pic.twitter.com/lsokjhZQP7

— Shane Bacon (@shanebacon) April 11, 2014
6:37 PM: David Feherty just said Rory McIlroy is having a day-mare, which he is.
6:36 PM: Jordan Spieth and Adam Scott are trying to make this thing a tournament. Both at 3 under with just a few holes left.
6:25 PM: Thorbjorn Olesen back to 3 over so it's not looking good for Mickelson.
6:20 PM: A reminder that this man makes millions of dollars a year playing a sport. Athletes, man, athletes.
6:19 PM: On Adam Scott's approach to the 15th hole Stevie Williams said "that's pure, Adam Scott, that's pure."
6:13 PM: This has to be a joke but I know it's not:
When play ends today, Fred Couples will be the only player to be in the top-10 at the Masters after 36 holes each of the last 5 years

— Justin Ray (@JRayESPNGolf) April 11, 2014
6:09 PM: Jimmy Walker did this at the 16th hole and actually got it kind of close to the hole:
Jimmy's got some new moves RT @cjzero: Jimmy Walker is not using the putter correctly pic.twitter.com/coTvbum6x3

— Eric Kay (@ekaycbs) April 11, 2014
6:06 PM: Let this be the year, Freddie. Let this be the year. Also, we always talk about how cool Fred is (and he is) but shouldn't he have a cooler name than..."Fred"?
5:59 PM: Rory McIlroy just hit a sprinkler head on No. 13 and bounced it into the azaleas. Shades of Tiger off the pin in 2013. He's in danger of the cut.
5:52 PM: Of all the golfers who will miss the cut I might be most bummed about El Pato. At least we'll have the Korean Cabrera (KJ Choi) and the German Cabrera (Bernhard Langer).
5:49 PM: Mickelson making the cut is going to be so close. If he makes it, it will probably be by one position.
5:28 PM: ESPN just showed Davis Love III's chip-in at No. 16 and reminded me that Love and David Duval have, by far, the two worst fist pumps in all of golf. Maybe sports.
5:22 PM: Adam Scott and Stevie Williams sporting matching 5 o'clock shadows. Nice.
5:16 PM: Phil Mickelson sounds about as excited about the possibility of watching the weekend from his couch as my wife does.
5:15 PM: I want to be friends with this dude:
5:05 PM: Patrick Reed has lost his mind:
4:59 PM: Nick Faldo said Patrick Reed warms up to this song and I am not even 0.0002 percent surprised:
4:51 PM: Bill Haas gonna Sergio Garcia.
4:48 PM: Remember what was happening at this time of last year's second round? I do, and the USGA rules history on my computer's browser does, too.
4:27 PM: Bubba Wason just told Jason Sobel "I'm back to the level I should be at -- top-25 player in the world. Not going to say top five. Sorry, Patrick Reed."
So that's amazing.
4:14 PM: Where isn't Johnny these days?
At the Masters: Wayne Gretzky, Steve Spurrier, Johnny Manziel, Roger Goodell. I could get a year's worth of work done in 30 mins of chats.

— Jay Busbee (@jaybusbee) April 11, 2014
4:08 PM: Fred Couples just played No. 12 like it was 1992 all over again:
Fred gonna Fred: pic.twitter.com/7zUEEhsTZ5

— Kyle Porter (@KylePorterCBS) April 11, 2014
3:44 PM: Other than Bubba's five birdies on the second nine, this has been the highlight of the afternoon:
Looks like Phil's gonna miss the cut. Shame. Well I know a guy with some extra couch space this weekend... #TrueDetectiveSeason2

— GC Tiger Tracker (@GCTigerTracker) April 11, 2014
3:27 PM: Rory McIlroy nearly just killed Adam Scott with his tee shot on No. 4. Scott was on the No. 5 tee box. If you know how Augusta is laid out you are likely sitting there with your mouth agape.
3:12 PM: This will be interesting, currently only 14 golfers within six strokes:
1-under a number to watch: 76 of 77 Masters winners were within 6 shots of lead or closer through 36 holes.

— Justin Ray (@JRayESPNGolf) April 11, 2014
3:05 PM: Bubba bogeys the last to get in the clubhouse at 7 under. He'll hold the 36-hole lead but the meltdown is always looming..
2:54 PM: Marc Leishman started with three birdies then made six bogeys and two doubles in his next 12 holes so yes, this is appropriate:
2:40 PM: This tweet from Graham DeLaet is why I love the Masters. He doesn't care that he shot 80-72 and will miss the cut:
Still the best week of my life...

— Graham DeLaet (@GrahamDeLaet) April 11, 2014
2:29 PM: I wouldn't have thought this. It really felt similar to last year but the numbers say something different, I guess.
Two million watch first day of Masters on ESPN, down 800,000 from last year. #NoTiger

— John Strege (@JohnStrege) April 11, 2014
2:21 PM: All of the chins:
BUBBA GOLF. pic.twitter.com/hLMqmQXCUM

— Courtney Nguyen (@FortyDeuceTwits) April 11, 2014
2:19 PM: This stat seems relevant for the weekend...
Since it seems like we're going that way: Reminder that Bubba is 1 of 8 when leading after 36 holes. 1 of 7 when leading after 54 holes.

— Adam Sarson (@Adam_Sarson) April 11, 2014
2:16 PM: Bubba Watson is out of his mind. He nearly holed out on No. 16 and will have a near-tap in for his fifth straight birdie. The record at the Masters is seven in a row.
2:12 PM: Bubba is off and running. Somebody save us.
2:08 PM: Well there's about to be two:
In the past 17 years, there's only been one major weekend without Tiger or Phil. (2009 British Open.)

— Chris Chase (@chaztopher) April 11, 2014
1:58 PM: Bye, Phil.
Phil just went bunker, bunker, bunker on 12....hits 4th to back of green... Looking at another triple. #Masters

— Bob Harig (@BobHarig) April 11, 2014
1:53 PM: Wow, Bovada says this is a three-horse race. Current in-game odds have Rory, Scotty, and Bubba all at 6-1 or better. Nobody else in single digits.
1:47 PM: Haas bogeys No. 1. That didn't take long.
1:40 PM: I wanted Sergio to fall in this sand trap. I really did.
1:31 PM: Bode gonna Bode. Related: We really need something to happen at this tournament this afternoon.
1:18 PM: Was just chatting with Shane Bacon of Yahoo and we were talking about how crazy McIlroy winning to get 75 percent of the career slam would be. It's only been done by Tiger, Jack, Sarazen, Player, and Hogan. Big time.
1:11 PM: I'm scared to post it on this site but you need to watch this video of Miguel Angel Jimenez stretching to inappropriate music.
1:00 PM: Branden Grace has the line of the tournament so far. 83-69 and 9 over for the week. No rounds in the 70s, bye bye. 
12:58 PM: This must stop. The Englishman is mad:
Lee Westwood is out of control. Someone stop him: pic.twitter.com/ZTwZ196f0K

— Kyle Porter (@KylePorterCBS) April 11, 2014
12:56 PM: Here are the current in-game odds to win:
Give me my pre-tournament pick of Kuchar at 15-1.
12:50 PM: This is very, very cool:
1985 Masters leaderboard, and today's pic.twitter.com/ahxyNCkncw

— No Laying Up (@NoLayingUp) April 11, 2014
12:45 PM: This seems like it would be tough to play:
Jason Day's ball lands in a spectator's bag. @JDayGolf http://t.co/a1N1Lh0mkV #Masters pic.twitter.com/8yaOClbtDO

— PGA.COM (@PGA_com) April 11, 2014
12:34 PM: Bubba Watson made a bogey. Time for canned goods?
12:27 PM: Larry Mize finished his second round at 2 over and unless the field just goes bonkers this afternoon that's going to be plenty good to make the cut. Something Mize has only done twice since 2000.
12:16 PM: This has to be Derek Ernst's only career Masters, doesn't it? He won last year and hasn't finished in the top 20 since!
12:10 PM: Mix in a par, Ryan Moore:
12:06 PM: This hat is spectacular. I want to have gone to this many tournaments:
11:55 AM: Bubba Watson ties Bill Haas for the lead. Feels like a good time to remind you that I gave you "a lefty will win the tournament" at +1000 before the tournament started.
11:51 AM: The highest holes 11 and 12 have ever played on average is 4.64 and 3.55 respectively. This year they're playing at 4.47 and 3.42.
11:37 AM: This post by FiveThirtyEight on the probability of Bill Haas winning is just spectacular. The percentages on a player from the top 10 winning are 75 percent and basically 100 percent from the top 20.
Don't shoot a 75 today.
Bill Haas shot a 68 in the first round of #TheMasters. But how likely is an early lead at Augusta to hold up? http://t.co/NHEUODLMAe

— FiveThirtyEight (@FiveThirtyEight) April 11, 2014
11:30 AM: See?
April 11, 2014
11:27 AM: Sergio Garcia's Friday pants were inspired by Caroline Wozniacki's hair:
11:26 AM: I make no apologies for loving Alan Shipnuck's writing. He can take nothing and turn it into something really good. See: Rory McIlroy's first-round 71.
11:19 AM: Marc Leishman led by himself for a bit, now dropped back into a tie with Bill Haas at 4 under. Justin Rose, your thoughts?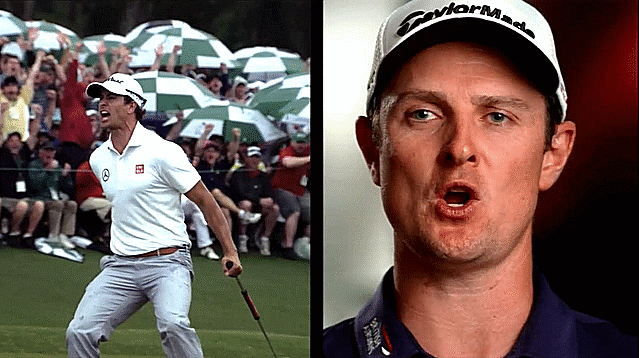 11:18 AM: Speaking of Sergio, I just got into a Twitter spat with somebody trying to convince me that Shaun Micheel is a better golfer than Garcia. Yes, the Shaun Micheel with one PGA Tour win.
11:06 AM: Here is the most Sergio Garcia quote ever from his presser on Thursday:
"I obviously hit some good shots, but when you don't feel too comfortable and you have doubt some of the shots are difficult to hit, it's difficult to hit good shots.  You're going to hit some bad ones out there and this course is going to punish you when you do that.  So that's the way it is."
10:53 AM: Underrated stat on the line today: Phil Mickelson has made 16 straight cuts. The record is 23 by Fred Couples (not current) and Gary Player. Tiger is at 17 (and counting).
10:48 AM: This fascinates me:
Rory on firm conditions Thurs: "It brings the guys that don't hit it as far into the mix a little bit more...It almost becomes like chess."

— Stephanie Wei (@StephanieWei) April 11, 2014
10:43 AM: This quote from Phil Mickelson made me laugh: 
"It wasn't the best day for me," he said. "I've got a lot of work to do (Friday) just to make the cut. So I've got some issues."
You do, indeed, have some issues, Phil.
10:17 AM: This is how I'm starting to feel about picking Kuchar, too:
10:13 AM: By the way, other than right here at CBSSports.com (company man), the best news source for Masters stuff this week is Augusta.com. I love reading their print stuff when I'm in Augusta and online is just as good.
10:10 AM: I do wonder what the leading score will be at after the second round on Friday. It feels like 5 under or maybe 6 under but I think the course will be lightning this weekend. I'm uneasy about my pick for 280 overall to win it. Maybe Scott or McIlroy can get there, though.
9:47 AM: A patron called a penalty on Luke Donald on the 9th hole on Thursday and somebody just emailed me that Webb Simpson's caddie cheated on the first nine yesterday. Cool, everybody wants to be in the news.
9:25 AM: We are underway on the live blog. Merry Christmas part II, everybody!
For more golf news, rumors and analysis, follow @EyeOnGolf and @KylePorterCBS on Twitter or Google+ and like us on Facebook.
Rahm and Landry battled one another through four extra holes on Sunday

The Englishman lapped a monster field on Sunday with a closing 65 that was better than it...

It's the second time Phil Mickelson missed the cut in his first tournament of a season
Everything about the event so far this week has been a home run

Rahm lost his lead, but a 67 keeps him in the chase at CareerBuilder

Koepka is looking to recover in less than three months to play at Augusta National