A Phil Mickelson win at British Open would be shocking
Phil Mickelson might be one of the best golfers of this generation, but him and the British Open have never gotten along.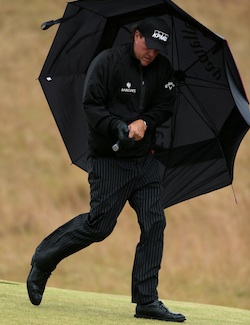 Mickelson has only two top-10 finishes at the Open Championship. (Getty Images)
The British Open has produced some rather obscure winners. Todd Hamilton took down Ernie Els in a playoff, hitting bump and runs with his hybrid club. David Duval capped a historic run in the golf world with his Open victory before disappearing into his golfing graveyard. Ben Curtis won his first ever major start at the Open, making a clutch par putt on the 72nd hole before everyone else decided to fall apart and help a complete unknown get his name etched on the claret jug. 
While all those winners were shocking, maybe the most shocking thing that could come out of this weekend would be the second most talented golfer of this generation, Phil Mickelson, winning the British. 
Crazy, right? 
Bear with me. If Mickelson somehow snagged the claret jug, it would be a bigger shocker than if Lee Trevino had ever walked away with a green jacket.
The comparisons between Trevino at Augusta National and Lefty at the British are downright eerie. Both are pinnacle golfers that were never the best of their respective generations, but darn close. Mickelson and Trevino are both lovable, kookie and interesting guys right down to the latter's throwing the snake at Jack Nicklaus at the 1971 U.S. Open and the former cutting off the announcement of Tiger Woods' accomplishments on the first tee of the 2002 Tour Championship.
But Trevino couldn't win at Augusta because the shot there is a hook, and Phil hasn't been able to win a British because the shot there isn't in the air. For all the superlatives we toss around about Mickelson, the guy absolutely loathes keeping the ball on the ground. He would rather flip that 64-degree wedge as high as possible than pull out a 7-iron for a 20-yard bump-and-run, the shot that nearly every Open champion has had to have in his bag to win.
And on top of that, Lefty's obsessions aren't what the Open calls for. He loves booming the golf ball, something that isn't necessarily the best thing at a British (try hitting a golf shot from 100 yards at Royal Troon vs. hitting a 30-yard shot, and see which one you consistently get closer if you're not much of a links golfer). 
On top of that, the guy has had extremely limited success across the pond. Each year he speaks of a different approach or outlook on the event, and he attends with aspirations far exceeding his resume, but when it comes down to it, he's only had two top-10 finishes ever at the event (granted, one was a season ago). 
Of course, a winner like Todd Hamilton or Ben Curtis is shocking in the sense that none of us had ever heard of them before their wins, but it wasn't like we spent the next week thinking to ourselves, "How exactly did that happen?!" Hamilton was brilliant around the greens at Royal Troon and Curtis got in the clubhouse early enough to let the house of cards tremble behind him. 
A victory for Mickelson, especially in a year when he hasn't played all that well, would be more shocking because any expert worth his weight in Times New Roman gets that Lefty and the British are as likely as Tiger and Hank Haney appearing as Dancing with the Stars partners. 
But it would be brilliant. There are dozens of guys you'd put ahead of Mickelson with a good chance at Lytham. Rory McIlroy and Rickie Fowler sure seem like they will wind up with the claret jug at some point before they retire. Dustin Johnson's length has helped him at this event in the past, and Tiger Woods is coming in as ready to win a major as he has been since 2008. 
So Lefty and the British? It's a crazy thought that would turn golf upside down. But it's fun to think about, isn't it? He's done stranger things in his career, that's for sure. 
This season will fascinate as old stars converge with up-and-coming superstars

With a single golf lesson up for auction, Tiger Woods changed some lives forever in Texas this...

The Days have had a rough 2017 from beginning to end
Why in the world would a former FedEx Cup winner hop on 24 hours worth of flights this wee...

Following the debacle at the ANA Inspiration earlier in 2017, Thompson has some thoughts

Fowler is as good as it gets on the PGA Tour