Adam Scott flirts with history during first round of British Open
Adam Scott had a chance to make history, but settled for the clubhouse lead early in the first round of the 2012 British Open.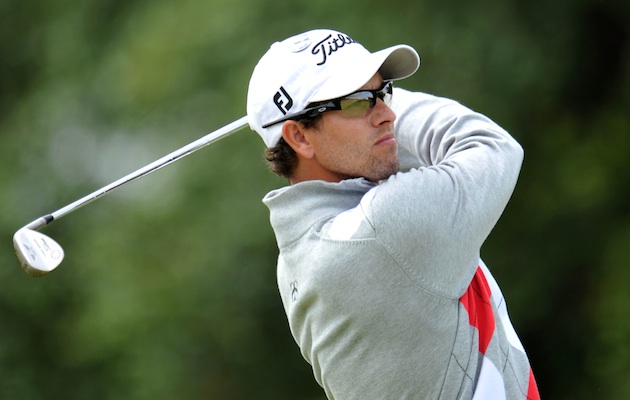 Adam Scott had a chance for the lowest all-time round at a major championship. (Getty Images)
The career of Adam Scott has always been a bit of a strange one to digest. The Australian with the perfect golf swing has shown signs of greatness, but could never really get things going in the majors, especially Opens. Scott has never finished in the top 10 at the U.S. Open and has only one top 10 in the British, dating all the way back to 2006. 
But his golf game has slowly turned around since the addition of Steve Williams to the bag, and while he hasn't been able to win this year on the PGA Tour, he has definitely had his chances, and on Thursday at Lytham & St. Annes, Scott put together his best-ever round in a major championship with a chance at making history.
Scott was standing on the 18th tee needing a birdie to post the lowest-ever score in a major championship, but a pulled tee shot into the rough dashed his chances at that, and an eventual bogey left him a shot away from tying the all-time low score in a major, but gave him a solid 6-under 64 to take the morning lead at the Open. 
It was a different round all together for Scott. Starting out, Scott made two pars before making a bogey on the par-4 third. He backed that up with a birdie, and then started to find his groove, carding seven birdies over his next 12 holes. 
Scott admitted after his round that after his birdie on the par-4 16th, the idea of posting a 62 in a major championship started to creep in his head when he realized it was a par-70 golf course, but he forced the thoughts out of his head and has a chance at leading a major championship after the first round for the first time in his career.
Why was Scott able to go so low? Well the easy and obvious answer is the weather. For all the talk heading into the week about how windy and rainy it was at Lytham, Mother Nature took a vacation day on Thursday and the players took full advantage. Scott's 64 is the lowest in the clubhouse so far, but he's only a shot ahead of Zach Johnson and Paul Lawrie, with a host of other players hot on his heels. 
Tiger Woods is not a human, and the U.S. Open can't escape itself

The Golden State Warriors' superstar is getting things done in professional golf

Jordan Spieth, Brooks Koepka and Patrick Reed are all on this list
We could see Tiger Woods and other stars in some different places next calendar year

SportsLine simulated the 2018 QBE Shootout 10,000 times and came up with some surprising p...

Jon Rahm, Jordan Spieth, Justin Thomas and Tommy Fleetwood are all in the conversation