Adam Scott wants to change Presidents Cup, gives no explanation how
Adam Scott thinks the Presidents Cup needs a change.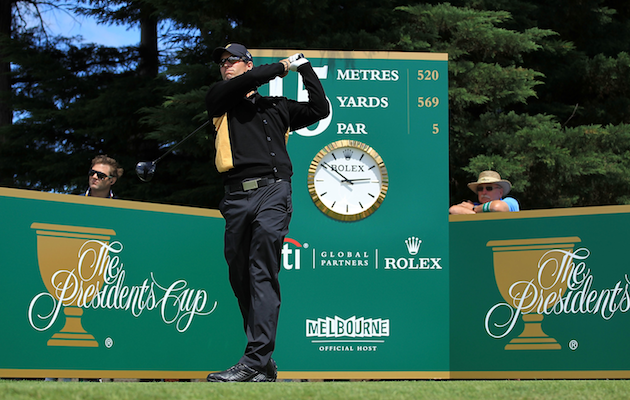 Adam Scott was 2-3-0 in the 2011 Presidents Cup. (Getty Images)
It's no surprise that the Presidents Cup is the Frank Stallone of men's professional golf cups, giving way to the juggernaut that is the Ryder Cup in just about every way possible.
The Ryder Cup is more historic, more competitive and seems to bring a level of pride in country not seen in the Presidents Cup. The best moment to come out of the Presidents Cup might not have even come from a player, but a caddie, a hat, and a simple inscription: "Tiger Who?"
And Adam Scott wants to change that. He wants the Presidents Cup to be better. He wants it to be on the same level as the Ryder Cup, and dangit, he wants all of that to happen now. Problem is, Scott didn't really give any idea of how to do that when he talked with Channel News Asia.
"Someone needs to take a lesson from the Ryder Cup," Scott told reporters while preparing for this week's Australian Masters in Melbourne. 

"We've got to get the competition back in the event. The last three have been walkovers to the US, to be quite honest. We need to change the format so it's not all done by Sunday."
The Australian has a point there. Since the infamous tie in 2003, the U.S. team has won four straight Presidents Cups by at least three full points. The Americans have snagged at least 19 points in the last three Presidents Cups and it seems that when the Internationals show up, the Americans play anti-Ryder Cup golf.
So the simple question is how could they change this to make it more competitive? Stop forcing captains to play players before singles matches? Pack the event into three days like the Ryder Cup in hopes that the smaller schedule makes the whole thing more competitive? See if Ian Poulter can get duel citizenship in Canada?
The problem is simply that the Presidents Cup just hasn't been as competitive. It isn't a knock on the players on the International team, but they approach this event like the Americans approach the Ryder Cup, and for some reason, that doesn't work.
Scott has a point, but for now, it seems that the Presidents Cup is simply going to be second fiddle to an event that has been around since 1927. 
The year's opening tournament has a new Wisconsin-based backer

Rory McIlroy, Rickie Fowler and Henrik Stenson tee it up from the wrong side

Lefty just reached the century mark, and he'll keep going from there
The South Korean will be back in September

Get ready for eight events in seven weeks

The final event of the year is all about keeping your card for 2018