As tour plays at Hogan's Alley, a personal tale of a brush with the mercurial Hawk
Flinty Ben Hogan was a hard one to judge, but there are those who swear he was misunderstood and downright personable at times. This reader email is from one of those people.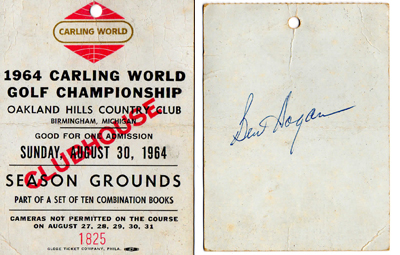 Screenwriter Stephen Peters' ticket and autograph he received from Ben Hogan at the 1964 Carling World Open at Oakland Hills Country Club. (Stephen Peters)
Usually, we get missives from readers who like to underscore the occasional typo, error in grammar or scathing criticism from those who reiterate the notion that, just because the beat guys at CBSSports.com spend months each year on the road covering the subject matter detailed in these spaces, we still don't know anything about anything.
The delete button gets a workout.
But occasionally, an email is received that's downright pertinent and illuminating.
This week, after we posted a story about
Ben Hogan
's many interesting personality quirks, one landed in the inbox all the way from Hawaii, sent by screenwriter Stephen Peters, best known for his 1998 thriller
Wild Things
, with Matt Dillon, Kevin Bacon and Denise Richards.
Peters grew up in the Detroit area, and he wanted to share a personal tale about his brush with greatness -- a.k.a. The Hawk.
"I started playing golf at 11. Later, when I was 15, my neighbor and classmate turned out to be the grandson of
Al Watrous
, who had a good pro career and then became the head pro at Oakland Hills. I got to know Mr. Watrous, he was aware I played a lot, and that summer 1963 he asked me if I wanted to caddie. I said, 'Twist my arm.'
"I carried a bag a hundred times on that great course, and the caddies got to play it once a week late in the day after the members had retired to the bar. Going forward to the summer of 1964, I was no longer a caddie and hadn't seen Al for months. But in late August, they held the Carling World Open at Oakland Hills. It's allure? It offered the biggest prize money pool in the history of golf to that time.
(He's not exaggerating, as 
this story notes
.)
"Many call that tournament the beginning of the silly season. At any rate, every famous pro showed up. I got a phone call from Al Watrous, who said he had a ticket for me for the final round. So I show up at the pro shop on Sunday and Al gives me my ticket.
"This is what he said: 'Steve, I know you want to see Palmer and Nicklaus and Venturi and
Julius Boros
and all those guys. Go watch them at the range. Because there's a man playing here today that you need to watch. He's not going to do this much longer, so don't miss your chance. When you hear them announce at the first tee Mr. Ben Hogan -- you get your butt over there and don't miss a shot.'
"I did as instructed. Your use of the word hypnotic to describe Hogan was perfect. I couldn't take my eyes off him. There was some almost silent, mysterious whoosh to his swing and the way ball sounded and flew. I followed him for all 18 holes. I knew his reputation for being taciturn, even aloof or harsh. I didn't see it.
"He joked with the gallery, smiled. I think he still loved the course, the 'Monster' he'd once tamed to win the 1951 U.S. Open. When his round was over, I waited as Hogan walked off the 18th green. I said, 'Nice round' and asked him to autograph the back of my ticket.
"I got a big smile, he put his arm around me and gave me his autograph. In arguably the best field of the year at a non-major, Hogan shot 68 that day and finished 4th. He was 52 years old.
"I still have that ticket."
A PGA Tour rookie looking for his first win will take a nice lead into the final round of the...

Tommy Fleetwood is hot on his heels as the European Tour winds down

A tour rookie is leading a tour veteran by one at the halfway point in Georgia
Jonathan Thomson has had a quite a ride, and it had a happy ending on Thursday

He's still chasing, but Fleetwood is now in premium position in Dubai

A local has his eyes set on his first PGA Tour win since 2015