Augusta National loses Eisenhower Tree to icy winter
Terrible, terrible news from Augusta National this week -- the Eisenhower Tree will not survive Georgia's rough winter.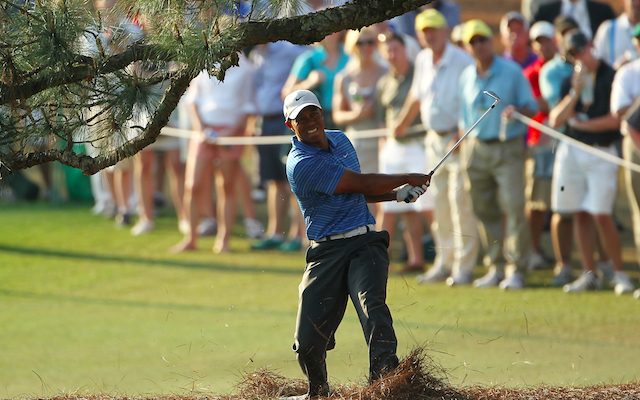 More Golf: Leaderboard | Rankings | Schedule | Equipment | FedEx Cup | Masters
There are a number of famous landmarks at Augusta National but Eisenhower's tree in the middle of the 17th fairway is right at the top.
Or I guess I should say was at at the top.
According to Scott Michaux of the Augusta Chronicle the recent ice storms that hit Augusta have damaged the tree beyond repair and the club will proceed with removing it.
"The loss of the Eisen­hower Tree is difficult news to accept," said Augusta National and Masters Chairman Billy Payne. "We obtained opinions from the best arborists available and, unfortunately, were advised that no recovery was possible."
"We have begun deliberations of the best way to address the future of the 17th hole and to pay tribute to this iconic symbol of our history – rest assured, we will do both appropriately," Payne said.
Michaux also reiterated the great story about how the tree originally got its name.
"Eisenhower was a club member from 1948 until his death in 69 and reportedly hit into the tree so often that he campaigned to have it removed. At the club's 1956 governors meeting, the sitting president proposed cutting it down only to have Augusta National founding chairman Clifford Roberts promptly rule him out of order and adjourn the meeting. The pine has been known as Eisenhower's Tree ever since."
A huge bummer for the Masters and the crew that's been in clean-up mode for the last few days.
For more golf news, rumors and analysis, follow @EyeOnGolf and @KylePorterCBS on Twitter or Google+ and like us on Facebook.
SportsLine simulated the 2018 CJ Cup 10,000 times and has some surprising picks

It's never too early to start looking at their Thanksgiving match

Leishman held off Bronson Burgoon and Emiliano Grillo for his fourth PGA Tour win
Woodland, Leismhman and Sharma all leading should create an interesting final round

Justin Thomas is hanging tough as well as the second event of the season rolls on

I have no idea how this went in