Bacon 'Bag: A look ahead at all things Ryder Cup
The Ryder Cup has taken over our weekly Eye on Golf mailbag.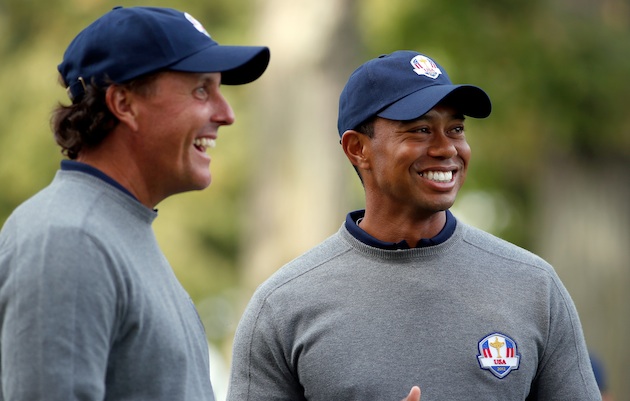 Even Phil Mickelson and Tiger Woods are all smiles for Ryder Cup week. (Getty Images)
Golf is full of questions. How do I hit it farther? How do I break 90? What is wrong with Tiger Woods? Why are you such an idiot?

It's a game that will never be figured out in the millions of years people will play it, but it's fun to try to figure it out. Every week it'll be you guys who help us answer the in-depth (and ridiculously fun) questions about the game. Have a question? Fire them our way on Twitter to either @shanebacon or @eyeongolf with the hashtag "#eyeqs". We will pick out the best of the week, answer them as best we can, and continue this throughout the rest of the season.

So we begin right here with our weekly Q and A with the readers …
@shanebacon what would be Captain Shane Bacon's 2 twosomes that play all 4 sessions Fri & Sat (for each side if you'd like) #eyeqs

— Rob in WI (@WisconsinRob) September 24, 2012
A. Hey, glad you asked! If, for some reason, Davis Love III and Jose Maria Olazabal called me on Thursday asking for some help with their steadfast twosomes, here is who I'd go with.
More on the Ryder Cup
More Golf coverage
For the Americans, it's Tiger Woods and Steve Stricker. I know that's a boring pick that everyone would go with, but it's impossible to answer anyone else because this seems like the only team that will definitely play all the matches together (Maybe Keegan Bradley and Phil Mickelson do, but if they struggle early Love might shake up that group.
For the Euros, I'm going with Northern Irishmen Rory McIlroy and Graeme McDowell. Graeme looks like he loves to play with Rory, and it's a pretty easy pick to go with the best golfer in the world right now as one of the two Olazabal will definitely put out in every match.
And if I may, could these two play against each other in all the team matches? Thanks.
@shanebacon #eyeqs Who do you like for top European point scorer? I'm going with Garcia. He'll be raring to go after missing out in '10

— Sam Morgan (@samamam) September 24, 2012
A. I think it's nearly impossible to pick who is going to get the most points, because it's a combination of playing good golf and having your opponents struggle, and while I like your pick of Sergio, I'm going Ian Poulter.
He hasn't played his best golf this season, but Poulter is one of the better match-play golfers in the world, and I think this week brings out the best in him. 
I expect Poulter to be that irritating, annoying, frustrating genius on the golf course that he always is, and the competition will only benefit if he gets in that mode and starts getting fired up (because American fans will heckle the hell out of him and Euros will get behind him … a win-win).
Also, Rory probably won't be horrible. 
And although you didn't ask, I think Bradley gets the most points for the Americans. I talked Monday to someone who knows him well and he said the guy is literally shaking with excitement for this week. He's either going to pummel his opening tee shot 390 yards or whiff it, and Bradley seems like the type of golfer who can channel his emotions and beat up on the Europeans. Also, word is that he really, really wants to play against McIlroy, and I for one am all for that. 
@shanebacon What're the odds that US fans display boorish/embarrassing behavior this year? -140? #eyeqs

— Greg Howard (@GregoryHoward) September 24, 2012
A. Higher. Way higher. Like -300. It's what we do best! 
(And hey, the trash talking has already started!)
@shanebacon Which capt is most likely to secretly call the other & propose Tiger vs Rory as the mano-a-mano Sunday leadoff match? #eyeqs

— W'ern Golf Alliance (@westerngolf) September 24, 2012
A. Oh, man, what a great question. I feel like Olazabal isn't the type to pick up his cell phone at all, so I'm going with Love to make the call, but just by a hair.
I'd actually love to get this on video, but why not let the vice captains or advisors do this? Could Michael Jordan and Miguel Angel Jimenez sit down and discuss this? How many cigars would they smoke together? How much would you pay to be at that table, $4 million? $8 million?
I'd rather see them discuss this than all the presidential debates at once.
It was a star-studded week in Los Angeles, and this tournament (as always) delivered the g...

Long John pumped one in at TwinEagles Golf Club in the final round

Woods confirmed that fans have cost him shots and trophies over his career
Augusta National could be planning to make some changes to the fifth hole

Bubba Watson is cruising, Justin Thomas is coming and Patrick Cantlay is still lighting it...

Watson got his jumper trashed by former NBA All-Star McGrady on Friday, but was more in his...