Bacon 'Bag: Masters favorites, peak golf age, and my best shot ever
Our weekly mailbag takes a look at who we think might take down the 2013 Masters.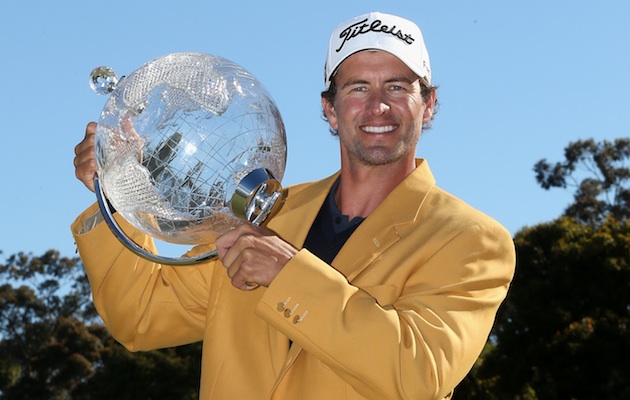 Was Adam Scott's winner jacket better than Luke Donald's? (Getty Images)
Golf is full of questions. How do I hit it farther? How do I break 90? What is wrong with Tiger Woods? Why are you such an idiot?

It's a game that will never be figured out in the millions of years that people will play it, but it's fun to try to figure it out. Every week it'll be you guys who help us answer the in-depth (and ridiculously fun) questions about the game. Have a question? Fire them our way on Twitter to either @shanebacon or @eyeongolf with the hashtag "#eyeqs". We will pick out the best of the week, answer them as best we can and continue this throughout the rest of the year.

So we begin right here with our weekly Q and A with the readers …
@shanebacon It's never too early for those Masters favorites..... #eyeqs

— Dillon Mays (@dillonmays_) November 21, 2012
A. I absolutely agree that it's never too early to talk about the Masters. Actually, why don't we all take a moment to hear that sweet, sweet tune by Dave Loggins. 
Ahhhhh, Augusta, how I miss thee! 
Okay, now to the picks. The good people at Bovada have Rory McIlroy the favorite next year at Augusta National at 11/2, with Tiger Woods right behind at 13/2 and Phil Mickelson coming in at 12/1. But I'm not picking any of those guys.
My pick for the next green jacket winner is a guy that nearly snagged it this year, if it wasn't for some long-hitting lefty. Yep, I like Louis Oosthuizen to take the first major of next season after his runner-up finish a year ago, mostly because i think Louis is as good as it gets out there on tour when he's swinging, and he's had a pretty solid year despite the fact that he hasn't won anything since April.
Oh, and since we're remembering things, why not take a second to look back at that double-eagle Oosthuizen had in the final round of this past year's Masters? It's still hard to believe even after seeing it for the 205th time.
@shanebacon Jimenez won last week at the age of 48. If you had to pick a peak golf age, what would it be? #eyeqs

— Kiwi Golf Update (@KiwiGolfUpdate) November 20, 2012
A. It's an interesting question because there is no real answer for this because golf is so all over the map. Some players peak early in their careers (Arnold Palmer never won another major after he turned 35 and Tiger obviously got off to a hot start at an extremely young age) and some golfers seem to do better as their games mature (Kenny Perry and Vijay Singh come to mind).
Jack Nicklaus broke the mold of how majors can be won in 1986, and Rory is currently showing us that you can still collect them before turning 24.
But for the whole, I think that it takes time for most great golfers to get comfortable in their own skin. For every McIlroy there is a ton of pros that will never see the light of the PGA Tour until they turn 30. I think when you get to be 38 or so, your mind might be in a good place but you aren't as physically gifted as you once were, so I think around the age of 33 is the peak time for a professional. 
(And just food for thought - the average age of our four major winners this year was 31.)
@shanebacon Luke Donald & Adam Scott - Who came away with the sweeter winner's jacket last weekend? #eyeqs

— Golfwerkz (@golfwerkz) November 21, 2012
A. It wasn't so easy finding a picture of what Luke Donald was wearing after his Dunlop Phoenix win this past weekend, but after locating an image, I'd say his jacket trounced that gold thingy that Adam Scott had on. 
Why is it so big on Scott? Did they only have one size and it was Ernie Els? 
@shanebacon what is the Best Shot you've ever hit? Know its not a hole in one! #eyeqs

— Josh Sanford (@J_Muscle) November 20, 2012
A. Oh, so the mailbag is just becoming one big bash on the fact that my family is cursed and will never allow me or anyone else to make an ace? That's what we're doing now?!
Fine, I'll admit, I'm still suffering from One's Disease, but I will say I nearly cashed one last week and as my sister told me, "2013 might be your year!" (She says that every year.)
A couple of years ago I was fortunate enough to head across the pond with my dad and on the third hole at Kingsbarns I knocked a ball in for a double-eagle, but I honestly don't think that was my best shot ever. No, maybe my best one came a couple of years ago at Pebble Beach. Playing with Lexus for their Champions for Charity event, my shotgun start came on the 18th tee at the world famous links. I hadn't hit a single range ball, it was cold and it was my first go-round at Pebble. 
There are times in a golfer's life when you literally have no idea what just happened. You might make a closing birdie to post your best round ever or you might completely fall apart and be standing over the 18th green wondering what went wrong, and for me, this came on Pebble's 18th tee. A gallery in tow that included a multiple PGA Tour winner, I pipped my first swing of the day down the gut with a little cut. 
No matter what happened the rest of the day, or week, or even year, I can still remember walking down that 18th fairway to my ball, knowing I pulled off a shot I'll probably never forget (and I'm not saying anything about my 3-iron I pushed into the left bunker … nope, not a thing about that swing).
The Spaniard captures another piece of hardware during an all-time season

The man who ended on his bag in 2017 will apparently begin on it next year

This snowboarding ball flip and drive is simply spectacular
The Ulsterman is starting to put his 2018 schedule together

Golf -- as athletic as it gets

In an era when sponsors have sometimes been tough to come by, the PGA Tour scored big with...