Bacon 'Bag: Tiger's next major win, the Turkey event and closing out the Ryder Cup
Our Eye on Golf mailbag focuses on Tiger twice, and Turkey once.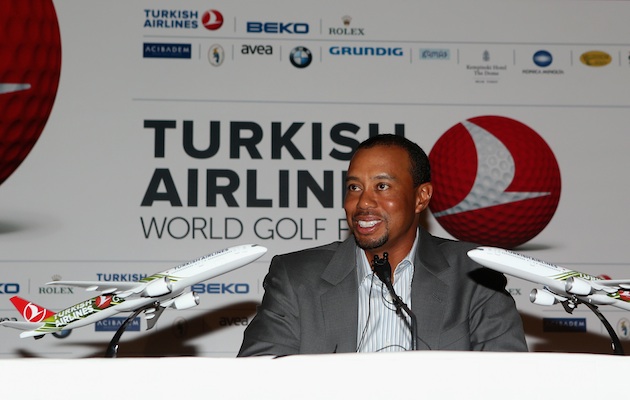 Will the trend continue of big names taking money in offseason events over PGA Tour events? (Getty Images)
Golf is full of questions. How do I hit it farther? How do I break 90? What is wrong with Tiger Woods? Why are you such an idiot?

It's a game that will never be figured out in the millions of years people will play it, but it's fun to try to figure it out. Every week it'll be you guys who help us answer the in-depth (and ridiculously fun) questions about the game. Have a question? Fire them our way on Twitter to either @shanebacon or @eyeongolf with the hashtag "#eyeqs". We will pick out the best of the week, answer them as best we can, and continue this throughout the rest of the season.

So we begin right here with our weekly Q and A with the readers …
@shanebacon which upcoming major do you see tiger having a realistic chance at? #eyeqs

— Matthew Chewning (@Matt_Chewning) October 8, 2012
A. A realistic chance or a chance at winning?
I think in every major Tiger has a "realistic chance" because he is one of the top-five best players in the world right now. But which major do I think Tiger has the best chance at winning?
Honestly, I think it's the British. Despite the last couple of months, I still think Tiger is scared of the driver, and that doesn't help him out at the Masters or the U.S. Open, and I think the PGA Championship is too wide open these days to peg anyone as "a favorite" there.
But the British suits him well, I believe. Tiger is the type of player that can play a ton of creative golf shots, and Muirfield isn't exactly a bomber's paradise (stinger, stinger, stinger for Tiger).
I think that looking back on Tiger's golf game as a whole for the entire 2012, you'd have to say that the British might be his best chance at winning because it's the one major that can hide his biggest golfing flaws. 
Woods has been criticised for not caring about the RC. Do you think that perception will change since Sneds revealed Woods' apology? #eyeqs

— Sam Morgan (@samamam) October 8, 2012
A. I think a few years ago Tiger and Phil Mickelson spoke up about possibly getting money for playing in the Ryder Cup, but I'm not sure it's fair to say they "didn't care" about the event. Looking back, you can see passionate moments by both when playing in some heated matches, and while it might be a point to bring up before the Ryder Cup or Presidents Cup begins, when competitors are on the course, they want to win, money or no money.
I think Tiger has really done a good job the last few months of making sure we understand that he's trying to change. He didn't have to say anything to the rookies about his performance at the Ryder Cup (and it wasn't like his camp broke this story), but I thought it showed a lot of leadership on his part to do so. 
We all have wanted to know when Tiger would, for lack of a better term, "grow up" off the golf course, and I think we've really seen it lately by Woods. 
@shanebacon Do u think we're gonna see more events like the "World Golf Final" in Turkey with no tour affiliation & is it good? #eyeqs

— Cam Gordon (@Cambo_Gordon) October 8, 2012
A. Well trust me, this isn't the first time guys have taken money in the offseason. Before things like the World Golf Final, there were plenty of places to earn a few extra bucks when the PGA Tour season ended.
A part of me wishes that this wasn't true, but how can you hate on a golf event that pits Rory McIlroy and Tiger Woods against each other? I know that they're only there to earn a big payday, but isn't that what golf is these days? Guys playing in events (hello FedEx Cup!) to earn a big wad of cash and enjoy it. 
I think something like the World Golf Final gives fans a chance to see guys go head-to-head and does it in a country that doesn't ever get to see the best in the world compete at this game. That can't be all bad, right? 
Next season's FedEx Cup is full of opportunity with $363 million on the line

Fowler will finally get win No. 2 of the season and take home $10 million

One of the best soccer players in the world challenges one of the best golfers in the worl...
DFS millionaire gives optimal DraftKings lineup for the 2017 Tour Championship

The final tournament of the 2016-17 PGA Tour season is finally upon us

The former Quicken Loans National has pulled out of Congressional over the next few years