Bacon 'Bag: Watney's Ryder Cup chances, Sergio's career and changing equipment
The weekly Bacon 'Bag focuses on Nick Watney's push for the Ryder Cup, Sergio Garcia's career potential and how often you should change equipment.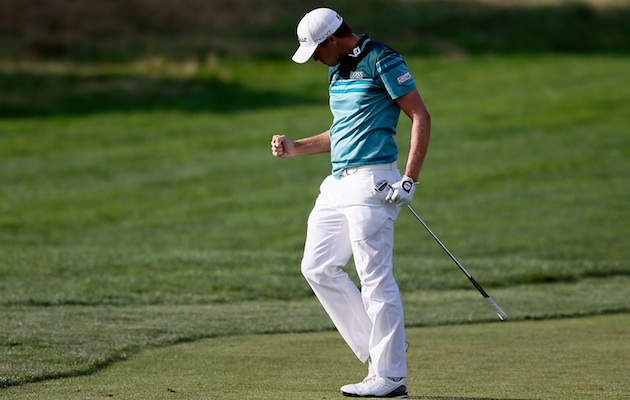 Nick Watney will need another strong week if he wants to make the Ryder Cup team. (Getty Images)
Golf is full of questions. How do I hit it further? How do I break 90? What is wrong with Tiger Woods? Why are you such an idiot?

It's a game that will never be figured out in the millions of years people will play it, but it's fun to try to figure it out. Every Tuesday, it'll be you guys that help us answer the in-depth (and ridiculously fun) questions about the game. Have a question? Fire it our way on Twitter to either @shanebacon or @eyeongolf with the hashtag "#eyeqs". We will pick out the best of the week, answer them as best we can, and continue this throughout the rest of the season.

So we begin right here with our weekly Q and A with the readers …
@shanebacon Odds of Nick Watney being a captain's pick for the Ryder Cup now? #eyeqs

— Hack Till We Die (@HTWDsports) August 27, 2012
A. Well before last week, I would have said slim to very, very slim. Watney, one of my favorite guys to watch when he's playing well, had struggled mightily all season, especially heading into the playoffs, but when you win things definitely change.
If I was the Ryder Cup captain making these tough choices, I'd put the following things in some sort of order; experience, confidence, and quality of play heading into the matches. 
Right now, Watney is killing it in the latter, and I think if you were to put him and, say, Hunter Mahan up against each other on paper, you'd probably lean towards Watney.
Now, that said, any PGA Tour pro can have a good week like Watney did at the Barclays, so he will have to keep the momentum going into this week if he really wants to catch the attention of Davis Love III. 
My percentage for Watney making the team right now? 45 percent, just because I think it's hard to change the mind of a captain this late (check Keegan Bradley in 2010), but I think, as they say around March Madness time, he's the first team in if someone on Love's short list keeps dropping.
@shanebacon #eyeqs Sergio's had three wins worldwide in the past 12 months. Is this as good as it gets for him? Do you like his new 'tude?

— Sam Morgan (@samamam) August 27, 2012
A. Maybe I'm just infatuated with the way Sergio hits the golf ball when his swing is clicking, but I think he still has a major championship under his belt. I used to really think that Garcia would snag a major now, in his early 30s, when he realized how to manage his emotions for 72 holes, but now I'm starting to think he is more of a late major career guy. 
The fact is, when Garcia is playing well, it's as good as anyone else out on tour, and I think that his still has the potential to beat the field at a British Open because of his ability to hit low, solid shots into tough winds (that is, if the wind ever blows again at a British Open). 
I think with his talent level, three wins worldwide in a year should be the norm, but we all know how he acts when things go sour, so it'll be fun to see how he bounces back from a disappointing Sunday at the Barclays when he had a chance to go back-to-back, but I'm glad he's taking this week off and will be fresh for the final run in both the playoffs and the Ryder Cup. 
Oh, and did his attitude change? He still seems mad at everyone to me. 
@shanebacon #eyeqs if you were to change format of fedex cup playoff scoring, what would it be?

— Alex Dusza (@AlexDusza) August 28, 2012
A. My problems with the FedEx Cup (And I said last week, I think it's actually starting to work for the first time since it's inception) is that it is just too dang long. It is. Four weeks of golf when all the other sports are firing up? That's the tough part for golf fans.
As for scoring, I'm not sure there is anything to change. To get the best out of the event, you have to make each event worth more and more, and I think that each year we've had a pretty deserving champion.
The idea of "playoffs" is to reward the guy or team playing the best at the end of the year, so despite the fact that Watney limped into the FedEx Cup doesn't change the fact that after one event he's the only one with a trophy. If he keeps it up, like the Giants in the Super Bowl a season ago, he will win despite not being the best in the regular season. That's why I like the scoring system.
(But one thing I would change is how many people get into the playoffs. It just seems like too much confusion with all those players.)
@shanebacon #eyeqs with club manuf. releasing new models every few months it seems, how often should I update my set?

— Tyler (@tylerjdonnelly) August 28, 2012
A. Ahh, a very good question for any golf fan in need of equipment (or thinking they're in need of equipment).
I get asked this quite a bit, and my answer looks at a few things.
First, never change equipment if you're hitting the old stuff good. This is the old Payne Stewart theory, and holds true to amateurs alike. Too many times golfers want the latest and greatest stuff when their old stuff is working fine, so changing golf clubs when things are going well is as crazy as getting new tires when your tread is still thick.
The crazy thing about professional golfers is you'd be surprised at how few switch to new equipment from their manufacturers when it's released. Sure, you've heard stories of Hunter Mahan winning his first week out with the Ping Nome putter, but a lot of the times, guys stick with their old stuff and are slow to change (Lee Westwood is a great example of this). 
But, just so my equipment company buddies don't scream at me, the technology is changing so fast that a driver three years ago is really putting you at a disadvantage. 
So, that's my answer. Three years is probably the number you need to look at. Golf is an expensive sport as is, so giving yourself some time to get used to the old stuff before changing will save you some bucks and probably improve your game.
Phil Mickelson returns and the Web.com Tour is cleaning up

Lefty returns at the CareerBuilder Challenge this week
Find out when and how to watch the 2018 CareerBuilder Challenge live this week

The Ulsterman played solidly down the stretch on Thursday

With three months left before the first major, let's look at the field