Bethpage Black goes from muni to PGA Tour mainstay
Bethpage Black might not have been known to a ton of people before 2002, but now it's one of the most popular municipal courses in the world and plays host to this week's Barclays.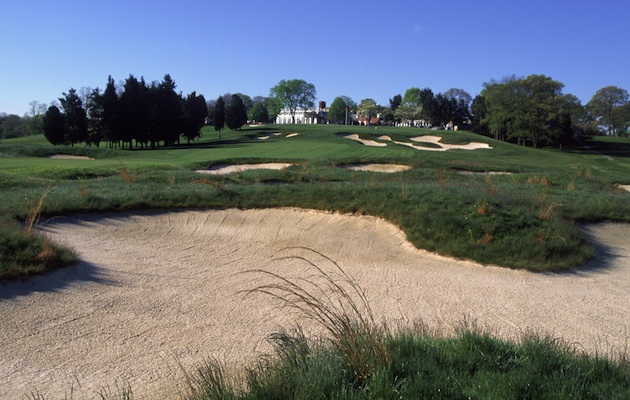 The 18th at Bethpage Black. (Getty Images)
Imagine a great public course in your area. You know of it. Your friends know of it. And when the good weather rolls in, the course fills up with all types of golfers, from kids learning the game to retired gentlemen trying to get in 18 holes before brunch. 
Before 2002, the Black Course at Bethpage State Park was simply a golf course locals knew as one of the stiffest tests in the area, and a place that forced you to spend the night in your car if you hoped to get a tee time over the weekend. Now, Bethpage Black is set to host it's third PGA Tour tournament after becoming one of the most known public golf course in the entire nation.
Yes, Bethpage Black has changed.
Back in '02, people weren't sure how the municipal course famous for it's warning sign near the first tee would host the biggest, and stiffest, test of golf in the United States, but that U.S. Open was a total success, highlighted by a battle between Tiger Woods and Sergio Garcia, right down to the winning score (3-under) being just what the USGA ordered. Bethpage played 7,214 yards back at that Open, and when word came out that the USGA would be revisiting the Black sooner than later, everyone seemed genuinely excited.
Of course, distance needed to be added, and three years ago the U.S. Open ran 7,426 yards and saw a winner in Lucas Glover that was similar to Tiger's score (just a shot better, at 4-under).
Now comes the first leg of the FedEx Cup, with Bethpage hosting the Barclays for the first time and PGA Tour players seem pretty pumped about it. 
"I think it's great.  I mean, it's right out in front of you.  It's not hidden.  There's certain holes you've just got to get off with a great shot, starting the tee box through the green, and that's what separates a championship course from an okay course.  I think this does it," Zach Johnson said on Tuesday about the course.
Personally, I love the idea of bringing these championship events to municipal courses. It gives the everyday golfer a chance to not only say they've played that course, but to actually relate to certain positions and holes. I know when golf tournaments are at courses I've played with my dad, he usually calls me at some point and mentions shots we hit or bunkers we couldn't get out of, and you can hear the excitement in his voice. 
Bethpage is exactly the same, and it seems like a golf course set for the PGA Tour rotation for years to come, especially with the Barclays returning in 2016. 
Big Cats odds are dropping as good news continues to come out of his camp

You won't be able to stop watching this video of a golfer hitting a low drive with a putte...

All the aces and hole-outs over the years have been pretty amazing
From one former No. 1 player in the world who has struggled with injuries to another

Two of the top players in the world are headed down under this week

Please do not try this at home