Branden Grace on Tiger Woods: 'Nicest guy I've ever played with'
Australian Branden Grace has been paired with Tiger Woods for three straight days at the Bridgestone Invitational and had some unusual comments for the biggest name in the sport.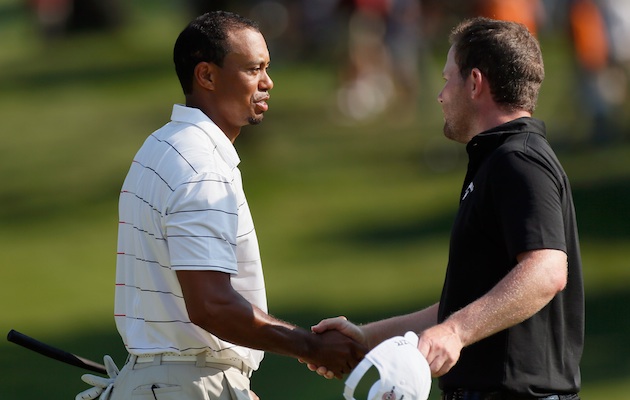 Tiger Woods and Branden Grace shake hands after round one of the Bridgestone Invitational. (Getty Images)
There have been plenty of words spoken about Tiger Woods over the years, some good, some bad, but few in the same category as what his playing partner said on Saturday at Firestone Country Club. 
Branden Grace, a 24-year-old South African, was paired with Woods for the first two days and after both players shot a total of 142 through the first two rounds, found themselves paired together again on Saturday. Grace called playing with Woods "a dream come true" but it was what he said about Tiger as a person that might have been the most surprising statement of the week coming out of the Bridgestone.
"I hadn't played with him before, but now, to have played with him three days in a row, has been unreal," Grace said. "I've learned a hell of a lot from playing with him. The way he plays shots, the way he handles himself and things like that, has been great.  He's there because he is the best in the world. I've seen it now, and I think people really criticize him, that is wrong.  He's one hell of a guy, and he's pretty much the nicest guy I've ever played with."
The nicest guy he's EVER played with?! I mean, Tiger is without a doubt one of the top three golfers to ever live. He's intimidating. He's exact. He's focused and measured and keeps to himself, but to say he's the nicest guy this dude has ever played with is an incredible, incredible statement.
Maybe Tiger really liked the guy, and enjoyed playing with him during a stretch of golf that hasn't been Tiger's best. Maybe Grace understands The Rules of Woods, that simply state, "thou that remarks poorly of the Tiger is never allowed in thy circle again." Whatever the circumstance, I'm pretty sure I've never heard a person compliment Tiger on being a super nice guy (I read that entire Hank Haney book and if the word "nice" is in there once, it sure wasn't about his former employer). 
So, yeah, Tiger Woods … nicest guy ever. What next, John Daly leads another PGA Tour event?!
Live scores, highlights and updates as Tiger Woods takes the course at the Honda Classic

The field for the Honda Classic this week is fabulous, and Tiger is just one of the big dr...

Big Cat is back at it for the second straight week, this time near his home in Florida
Find out when and how to watch the 2018 Honda Classic live this week

SportsLine simulated the 2018 Honda Classic 10,000 times and has some surprising picks

This is truly an unbelievable feat from Paul Shadle at this show in Minneapolis