Bubble boys: Which golfers are making serious moves at Disney?
We look at which guys are giving themselves a chance to have a job next season.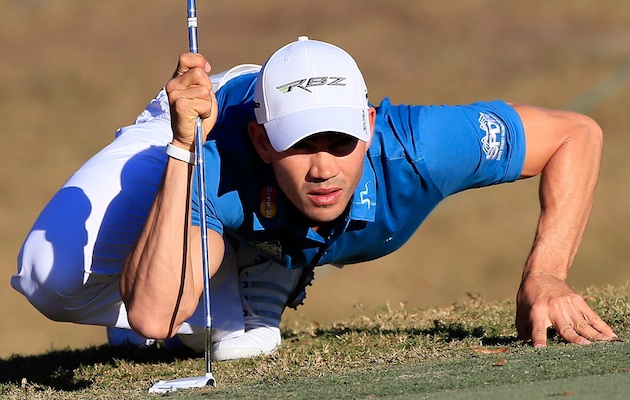 Camilo Villegas is making the biggest move of the week. (Getty Images)
The last event of the PGA Tour season normally doesn't matter much to the general public. Tiger Woods, Rory McIlroy, and most of the other big names who regularly give us our golf fix aren't anywhere close to the Children's Miracle Network Hospitals Classic, but there are plenty of guys who are fighting for a job next season.
This week is the last chance for guys to move up or down on the 2012 money list. Finish in the top 125 and you earn your card for next season. Don't, and life is a lot less glamorous as you skip between the PGA Tour and the Web.com Tour. 
Here are some guys who have made moves so far this week in Disney.
Charlie Beljan -- The guy who nearly couldn't finish his round on Friday because of health reasons knows that it'll almost take him passing out to not finish this week. Beljan is 139th on the PGA Tour money list, but a win would jump him into the top 70, meaning not only a card for 2013 but another season with the two-year exemption that comes with a PGA Tour victory. No matter if he wins or not, his play has almost guaranteed that he will be with the big boys again in '13.
Kevin Chappell -- When you're 123rd on the PGA Tour money list, the end of the season is one big, long night of restless sleep. Chappell was there, but he's playing his way into a gig for next year as he comfortably made the cut with opening rounds of 67-69.
Boo Weekley -- He was 121st to start the week and made it to the weekend, all but wrapping up his position on the money list for next year.
Camilo Villegas -- The three-time PGA Tour winner has struggled mightily this year and currently sits 150th on the money list, but he's playing great this week and can finish inside the top 125.
There will be plenty of movement over the next couple of days, but the PGA Tour has a current projections page that updates and tells you exactly where people sit at that moment. Check that out here.
Thomas Pieters and his Ryder Cup partner could go at it for a title this weekend

Phil Mickelson returns and the Web.com Tour is cleaning up

Lefty returns at the CareerBuilder Challenge this week
Find out when and how to watch the 2018 CareerBuilder Challenge live this week

The Ulsterman played solidly down the stretch on Thursday