Casey Martin, 42-year-old golf director are biggest stories out of U.S. Open qualifying
There were golfers all across the country trying to make the U.S. Open on Monday and we picked the biggest stories from a crazy day in golf.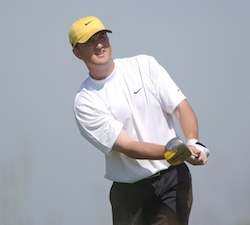 Casey Martin, now a college golf coach, will be back with the pros at Olympic Club. (Getty Images)
They call Monday the longest day of the golf year, and if you spent a few hours watching The Golf Channel coverage you would probably agree. There were 11 sectional qualifying sites all running on Monday, and story lines were abound all across the country. 
Some big names punched their ticket to next week's U.S. Open while others will be watching the same way you and I will be watching; from a really nice television and a couch. 
Here are some of the biggest story lines to come out of sectional qualifying and some of the biggest misses that will miss out on Olympic Club.
Casey Martin -- Probably one of the most controversial moments in golf over the last 20 years, Martin is best known for his Supreme Court case that allowed him a golf cart because of a right leg defect called Klippel Trenaunay Weber syndrome. Martin, now 40, is the golf coach at the University of Oregon but will be in the field at Olympic Club after winning medalist honors at Emerald Valley Golf Club in Oregon. He admitted after qualifying that he hadn't touched his golf clubs for five days leading up to the qualifier. 
Dennis Miller -- You've seen the video, but just in case you missed it, watch this incredible putt that landed my favorite story of the week a spot on the Olympic Club range. 
Davis Love III -- One site each year offers more spots and has an influx of PGA Tour players show up (Miller was one of the "regular guys" that stole a spot from the pros), but Davis Love III got in as well. Sure, Love is 48, but the guy has finished T-6 and T-11 the last two years at the U.S. Open, so don't count him out just yet. 
Steve Marino -- Another pro that got through the Ohio qualifier, but it was a little different for Marino, who is still coming back from injury and has played in just one PGA Tour event since January. 
Cameron Wilson -- One of six amateurs that qualified on Monday, Wilson was the lone one to steal medalist honors, and he did so at Canoe Brook Country Club in New Jersey after rounds of 71-65. 
Bob Estes -- Estes, a four-time PGA Tour winner, is 46, but that didn't stop him from winning the qualifier in Houston and making his second U.S. Open in the past three years. 
Rory Sabbatini and Spencer Levin -- You would think that both of these guys would head into their sectional qualifying with some confidence after they both had great weeks at the Memorial, but neither was able to put it together and both are going to miss out on the second major of the year. 
Andy Zhang -- This Dave Ledbetter product would have been the youngest player ever to make a U.S. Open field at the ripe age of 14, but he lost in a playoff for the final spot in the Florida qualifier to Brooks Koepka. 
(Reminder -- the Germantown qualifier in Tennessee had weather troubles on Monday and will finish up on Tuesday.) 
This season will fascinate as old stars converge with up-and-coming superstars

With a single golf lesson up for auction, Tiger Woods changed some lives forever in Texas this...

The Days have had a rough 2017 from beginning to end
Why in the world would a former FedEx Cup winner hop on 24 hours worth of flights this wee...

Following the debacle at the ANA Inspiration earlier in 2017, Thompson has some thoughts

Fowler is as good as it gets on the PGA Tour