Darren Clarke's autobiography reminds you that his life is probably better than yours
Darren Clarke wrote a piece for The Telegraph that reminds everyone that being a pro golfer isn't a bad gig.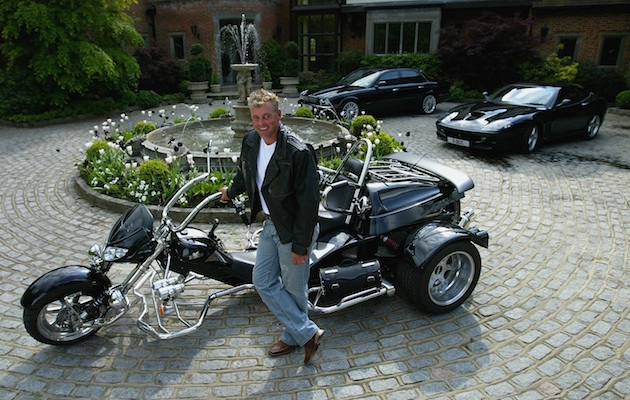 Darren Clarke said he owned seven cars at one time. (Getty Images)
I've always loved Darren Clarke. The big-hearted Northern Irishman has always seemed easy to root for, no matter if he was on the opposing Ryder Cup team or battling for his first major championship.
Clarke wrote a piece for The Telegraph about his life. While it is pretty intimate at times, the part that I thought was the craziest was when he talked about how much he liked to splurge.
Here is what the 2011 British Open winner said about his shopping sprees in his younger days:
One thing that has been a constant throughout my career and for most of my life is that when it comes to shopping and spending, I have few rivals. My excesses often have to be seen to be believed.

If I said I once bought 60 pairs of Calvin Klein underpants, would you believe me? Didn't think so, but I did. Or 40 pairs of trousers on the same day from the same shop? Yes, I did. Or thirty belts? Yes, that's me. I've had 15 Ferraris, three Lamborghinis and an assortment of Jags, Bentleys, Mercedes, BMWs and Porsches. The most cars I've ever had at once was seven and I'll admit that was a little excessive. I'm more sensible now.
Forget the seven cars that he had at once or the fact that MTV obviously dropped the ball by not visiting Clarke during its "Cribs" days, but 30 belts?! At the same time?! You are a wild man, Mr. Clarke.
Go read the entire thing if you have a minute, because he touches on more important things like all the rumors of his drinking and what is and isn't true. 
If you didn't think Clarke was a guy you'd want to hang with before reading that article, you probably wouldn't mind enjoying a fine Guinness when you finish. 
Following the debacle at the ANA Inspiration earlier in 2017, Thompson has some thoughts

Fowler is as good as it gets on the PGA Tour

The USGA and R&A have decided that you will no longer be able to phone in penalties
The Spaniard captures another piece of hardware during an all-time season

The man who ended on his bag in 2017 will apparently begin on it next year

This snowboarding ball flip and drive is simply spectacular