Davis Love III on the Presidents Cup? Sure, why not
Davis Love III wants to be a part of the Presidents Cup next year ... as a player.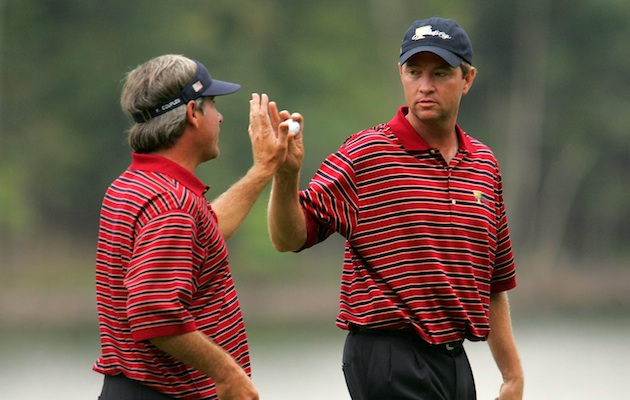 Davis Love III last played on a Presidents Cup team in 2005. (Getty Images)
There are plenty of things Davis Love III could do after that epic loss as captain of the United States Ryder Cup team a couple of weeks ago. He could disappear, avoiding the media and the fans wanting to know what happened. He could come out and say what went wrong and why he thinks the collapse on Sunday at Medinah happened. Or the 48-year-old could just go out and start playing golf the way he used to when he was making American Cup teams year after year. 
The latter is what's happening with Love, who has improved every week of the Fall Series after the Ryder Cup ended, finishing T-66 in Las Vegas, T-35 last week at the Frys.com Open and then his Thursday at this week's McGladrey Classic, posting a 5-under 65 to sit T-6 after just one day. 
Love's round was his best since an opening-round 64 at the Honda Classic in March, and has him not just eyeing another PGA Tour win (it would be his 21st), but possibly a spot on the Presidents Cup … as a player.
The Golf Channel's Rex Hoggard reported after the opening round, that Love was joking about a back-and-forth the Ryder Cup captain had with Fred Couples, the Presidents Cup captain next year, about an assistant coaching position.
The thing is, Love isn't looking to be an assistant. He wants to play.
"The way I'm hitting it the last three weeks I'm having fun and I want to try to play (on the U.S. Presidents Cup team)," Love said. "(Zach Johnson) asked if I was over the Ryder Cup yet and I said, 'No, I don't think I'll ever get over it.' It was so much fun to be part of that team. I'd love to be a part of that again, whether it's to play or drive a golf cart or help out Freddie. I want to do whatever I can."
The notion isn't completely insane. Love has made 11 of 18 cuts this season, including six top-25s, and definitely can still post some good scores (his T-10 at the Wyndham in August featured just one round over 67 for Love). He might be somewhat joking about making the team, but if there is a guy that can still swing it, and knows about the team dynamic, it's Love.
Sometimes all a golfer needs is a little motivation to get going. Maybe that Ryder Cup loss, while bad for him at the time, will get him back to his golf game and we will see another couple of seasons out of Love before he decides to take on the Champions Tour. 
The former FedEx Cup champion won't be participating this season

Find out when and how to watch the 2017 Wyndham Championship live this week

The year's opening tournament has a new Wisconsin-based backer
Rory McIlroy, Rickie Fowler and Henrik Stenson tee it up from the wrong side

Lefty just reached the century mark, and he'll keep going from there

The South Korean will be back in September