Eye on Golf Equipment: Bushnell Tour Z6 Rangefinder
Our Eye on Golf Equipment reviews continue with the Bushnell Tour Z6 Rangefinder.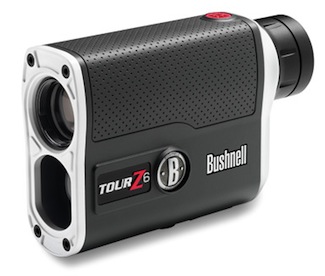 The Bushnell Tour Z6 can hit yardages up to 450 yards. (Bushnell)
Golf is a sport with ever-changing tools. There are drivers, putters, balls, towels, bags, socks, grips and everything in between. Here at Eye on Golf, we're reviewing the latest in golf equipment each week in hopes our words will help you make a better decision on what's best for you. This week, we look at the Bushnell Tour Z6 Rangefinder. 
Ideal handicap: All golfers
Bushnell rangefinders are the best on the market, nobody is going to argue that, so it's tough to sit around and find new things that make the thing that much better.
We've already checked out the Bushnell Pro1M, but what about the smaller, lighter, Tour Z6? 
We got our hands on the Tour Z6 and were big fans from the start. First, I'm a fan of the smaller rangerfinder. I like being able to hit a flagstick with one hand, and I like when it fits in the cupholder of a golf cart (check on both with the Z6). Like the Pro1M, the Tour Z6 has a beautiful white finish that catches your eye, and it can snag a flag up to 450 yards (although if you're trying to hit a flag from 450 yards, you might need a psychiatrist and not a rangefinder). 
The sleek look is the first thing you notice, but this thing performs. 
One of the cooler advances with rangerfinders (that most of us might not need but it helps get exactly what you want) is the addition of decimal points when you get close to the flag, something the Tour Z6 offers, and the fact that you can adjust the magnification up to six times allows you to tinker with how the flag looks from different yardages, or different eyesights. 
A few points after spending a few weeks with the Tour Z6:
-- Bushnell has definitely made it easier to hit flags with their rangefinders. This thing makes it so easy to hit a flag, even if the flag doesn't have a reflector on it. If the flag does have a reflector on it (even something as simple as the tape), it'll get you the yardage within a second of you firing it at the flag.
-- The thing is tough. I'm pretty careful with technology while in the golf cart, but sometimes rangefinders will bounce around or fall out on a cart path. My Tour Z6 has done that a couple of times and has barely any scratches. Also, the actual lenses are coated to keep it as clear as possible, and avoid any scratches even if you have it for a real.
-- It's a great size. Like i said earlier, I like the checkpoints of how it fits on the golf cart, but I also like having something that I can put in my back pocket if I'm firing something close to a green and want to walk up. The Tour Z6 does that, all in a small package.
So, again, I'm impressed by Bushnell. This product is awesome and it will stay in my bag for a while. 
Steve Stricker and his team will not take a knee at Liberty National

A look back on the year that was on the PGA Tour

Matthew Southgate got maybe the worst beak of all time last weekend
J.T. finally showed the media what was on his phone to start the year

The $10 million man got a party when he got to New York

Malnati had some strong words for the POTUS